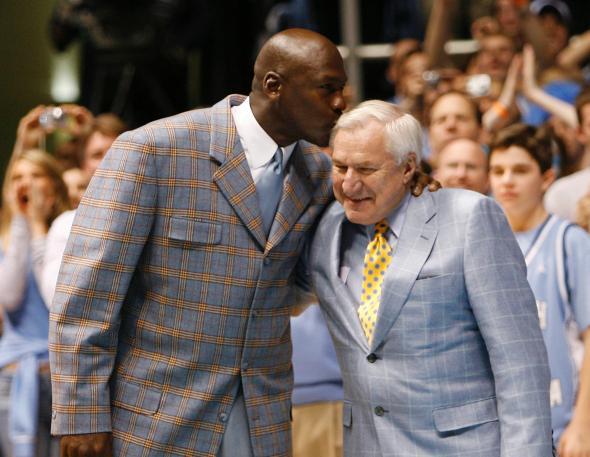 Dean Smith, the North Carolina basketball coaching legend who won two national championships and was known for nurturing players on and off the court, died "peacefully" at his home on Saturday night, his family said in a statement. The retired Hall of Fame coach led the Tar Heels from 1961 to 1997, racking up 879 victories, which when he retired made him the winningest coach in college basketball history. Smith now "ranks fourth all-time behind longtime rival Mike Krzyzewski (1,003), Jim Boeheim (963) and Bob Knight (902)," details USA Today.
"I'd like to say on behalf of all our players and coaches, past and present, that Dean Smith was the perfect picture of what a college basketball coach should have been," Roy Williams, the current North Carolina coach who spent 10 years as Smith's assistant, said in a statement. "We love him and we will miss him."
What made Smith such a popular figure went far beyond his ability to take a team to victory. "Unlike many, he ran a program that was never accused of N.C.A.A. violations, and some 97 percent of his players graduated," notes the New York Times. Smith coached some players who went on to become household names, most notably Michael Jordan. But he always made a point of emphasizing that basketball was a team sport, one of the characteristics that earned him loyalty among his players and fans.
Smith saw his role as a coach as more than simply winning games. The News & Observer explains:
Smith took boys and molded them into basketball players, took basketball players and molded them into men.
He was their coach at the University of North Carolina but he was a mentor. He was a father figure. He was a friend. He was the one they could they call on, rely on, confide in, throughout their lives, in good times and bad.
In 2010, Smith's family said he was suffering from a progressive neurological disorder that was affecting his memory.
---