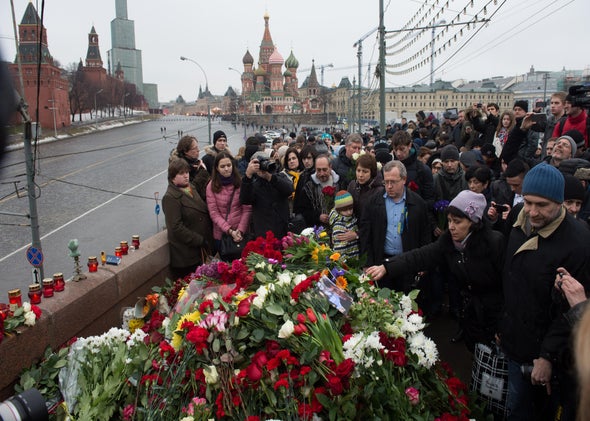 Thousands of shocked Russians gathered on Saturday to lay flowers and light candles on the bridge where opposition politician Boris Nemtsov was shot and killed in Moscow on Friday in what amounted to the country's highest-profile killing of a political figure in more than a decade. And even though the investigation into the murder is just getting started, several reports claim Nemtsov was preparing to release information about the Kremlin's involvement in the Ukraine conflict.
Ukrainian President Petro Poroshenko himself put forward the theory on Saturday. "He said he would reveal persuasive evidence of the involvement of Russian armed forces in Ukraine. Someone was very afraid of this … They killed him," Poroshenko said, according to Reuters. He's not alone. The New York Times talks to the New Times magazine editor who met with Nemtsov two weeks ago. Nemtsov reportedly told his old friend he wanted to publish a pamphlet titled "Putin and the War" about the country's involvement in the Ukraine conflict. He knew the risks. "He was afraid of being killed," the editor, Yevgenia Albats, said. "And he was trying to convince himself, and me, they wouldn't touch him."
For its part, Russia's top investigative body said it is looking at several possible motives for the killing, including "murder as a provocation to destabilize the political situation in the country." The Investigative Committee said it was analyzing whether he had been killed as a "sacrificial victim for those who do not shun any method for achieving their political goals," reports the Associated Press. The thinking is that fellow members of the opposition could have killed Nemtsov in order to create a martyr, an assertion that many immediately dismissed as ridiculous. The Investigative Committee is also examining whether the killing had anything to do with Ukraine, or if there was any connection to Islamic extremism.
World leaders, including President Barack Obama and U.K. Prime Minister David Cameron, condemned the killing and have called for a thorough investigation, notes the Guardian. "I am shocked and sickened by the callous murder of Boris Nemtsov as he walked in the heart Moscow last night," Cameron said in a statement on Saturday morning. "This despicable act must be fully, rapidly and transparently investigated, and those responsible brought to justice." Obama also called on "the Russian government to conduct a prompt, impartial, and transparent investigation into the circumstances of his murder and ensure that those responsible for this vicious killing are brought to justice."
---