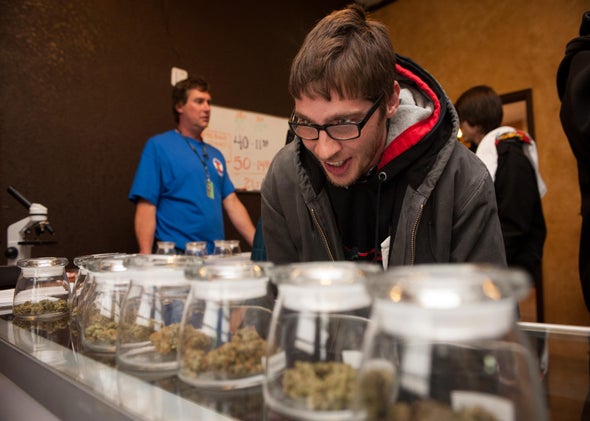 Tuesday was a good day for people who like to smoke pot. First off, Alaska became the third state where recreational marijuana use is legal, joining Colorado and Washington.
The Alaska Dispatch News described what the newly implemented law means:
For anyone aged 21 and older: It's legal to possess, transport and display up to 1 ounce of marijuana and accompanying accessories, such as a pipe. It's also legal to possess, grow, process and transport up to six marijuana plants, three of which may be flowering.
Adults can give each other up to an ounce of weed, or up to six immature plants.
So how much pot can you have in your home? Past court cases have identified personal possession as 4 ounces or less. The initiative, however, states that a person can have any amount in their home that is harvested from their six personal plants.
It's still illegal in Alaska to drive under the influence of marijuana, smoke in public, and sell the drug, but the state has nine months to craft regulations before handing out business licenses to legally authorized marijuana-selling establishments.
As Time notes, Alaska officials have already visited Colorado to see how their experiment in legalization has gone—the answer is sweepingly well—and they also intend to visit Washington for ideas on how to run the business regulation side of lawful pot.
Current Alaska Gov. Bill Walker introduced a bill on Monday to create a Marijuana Control Board to regulate the industry, while the hometown of former Alaska Gov. Sarah Palin responded more negatively to the news. On Monday, Wasilla's city council—where Palin used to be mayor—passed stringent new marijuana laws that banned the making of pot brownies and other edibles.
But outside Wasilla, there was still more good news for pot smokers, as the Washington Post reported on Monday about a new study that said marijuana might be even safer than previously thought.
The study, published in Nature's subsidiary journal Scientific Reports, sought to quantify how deadly various drugs were and determined that alcohol is 114 times more deadly than marijuana. "Marijuana is also the only drug studied that posed a low mortality risk to its users," the Post reports.
Alcohol, heroin, cocaine, and tobacco were listed in that order as "high risk" of death drugs.
The third reason Tuesday is a good—nay, great!—day for marijuana smokers is that Krispy Kreme is giving away free doughnuts.
Finally, as our friends at Vulture note, Warren G and Kenny G just fulfilled the "dream of '90s stoners" everywhere by performing "Regulate" together.
---