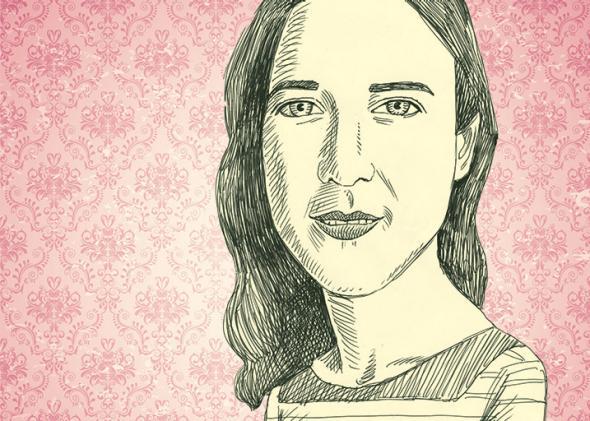 Hi, Slate Plus, I'm Julia Turner, Slate's editor in chief. We're just a few weeks into the new year, so I wanted to pause and ask you all: What are your resolutions for Slate in 2015? What would you like to see more of? What should we do less?
We last spoke in late July, when I was Slate's freshly appointed new boss. (Here's an edited transcript of our state of Slate discussion). Much has happened since then! We hired Betsy Woodruff to cover politics and Leon Neyfakh to cover criminal justice. Today, Alec MacGillis (late of the New Republic) brings his prodigious investigative skills to our team.
The news has also been keeping us busy. We've had extensive coverage of a spate of troubling events. Jamelle Bouie reported from Ferguson, Missouri, after Michael Brown was killed there, offering insights on the fractured history of the place. Science editor Laura Helmuth produced some of the most clear-eyed coverage anywhere of the Ebola epidemic. When the Charlie Hebdo offices in Paris were attacked two weeks ago, we had extensive analysis of the cultural and political context for the massacre (with some help from our colleagues at Slate.fr, a French-language sister site). And that's not to mention our coverage of Cosby, violence in the NFL, Rolling Stone's poorly sourced account of gang rape at UVA, Gaza, ISIS, the midterm elections, or the first stirrings of the 2016 presidential campaign.
Meanwhile, our podcast empire has been humming. Dahlia Lithwick launched a terrific new show, Amicus, tracking the doings of the Supreme Court, and we also released David Plotz's swan song: a fascinating podcast called Working, about how people (from Stephen Colbert to a waiter to a porn star) do their jobs. And I can let you Slate Plus members in on a little scoop: With Plotz's blessing, we're in the process of securing a terrific host to produce a second season. (This past week Gwyneth Paltrow gave Working the Goop seal of approval—maybe we can get her to spill the beans about being a newsletter kingpin next.)
We've also published a series of ambitious long-form stories and packages, including: a terrific history of podcasting, 10 years in; an inspiring tale of dental heroism; a harrowing report from the Central African Republic; an eyewitness account of one of the greatest feats in chess history; a surprising history of the myth of the self-made man; and a fascinating meditation on the future of the dictionary. We also published two projects that got nominated for National Magazine Awards, which are the magazine-biz version of the Oscars (but with better hardware). These were Emily Yoffe's report on "The College Rape Overcorrection," which shows how the move to support victims of rape has in some cases abrogated the rights of men, and our comprehensive survey of the year in OUTRAGE.
I've really enjoyed reading your thoughts in our other members-only open-thread discussions this fall—your feedback about our political bias and about how we could improve commenting on the site both helped inform our planning conversations around the office. (We still owe you a transcript for the commenting discussion—it's coming!)
So please, sound off! The thread is yours. In the comments area below, tell us what you think—how did Slate do in 2014? What should we do differently in 2015?
I'll keep an eye on this thread all week, until Friday, Jan. 23. I'll do my best to answer questions and respond to your comments. When we're finished, we'll post an edited transcript of our discussion. (And please note, Slate's usual commenting policies apply.)
Thanks everyone! —Julia
---