When the Republican National Committee assembles later this week in San Diego for its winter meeting, it's hoping that Dave Agema doesn't make the trip. That's because Agema—the Republican National Committeeman for the state of Michigan—has become an embarrassment for much of the party. Specifically, he has a bad habit of posting racist, Islamophobic, and homophobic screeds on Facebook. He's expected to attend the Winter Meeting in San Diego later this week, and some conservatives say the RNC isn't doing enough to muscle him out.
Agema, formerly an Air Force fighter pilot, served three terms in the Michigan House of Representatives—the maximum allowed by the state's term limits—and then challenged Saul Anuzis for his spot as RNC committeeman at the 2012 Republican state convention. MLive reported that consultant John Yob, now the national political director of Sen. Rand Paul's RANDPAC, "engineered Agema's victory," a win that capitalized on the state delegates' Tea Party fervor. Paul Welday, the chairman of the Michigan GOP 14th district committee, said that contest was a proxy war between Yob and Anuzis, who have feuded in the past.
"Dave Agema proved to be the beneficiary as the result of that fight," Welday said.
Before becoming committeeman, Agema had a controversial tenure in the Michigan statehouse. He has said that Muslims intend to implement Sharia in the state, energetically opposed same-sex marriage, and was known as one of the most far right members of the chamber. "He's not a shrinking violet," said Susan Demas, the editor and publisher of Inside Michigan Politics. "He's been very vocal about his opinions about Muslims and the gay community for a long time."
After becoming committeeman, Agema got a lot more vocal. In March 2013, according to MLive, he linked to a blog post on Facebook saying that "the homosexual agenda" is looking to "get the public to affirm their filthy lifestyle" and "turn people from Christianity." Then, in January 2014, also per MLive, he posted an anti-Muslim rant on Facebook that asked, "Have you ever seen a Muslim do anything that contributes positively to the American way of life?"
Two weeks ago, on Dec. 31, 2014, he was at it again, posting the text of an article that ran in the white supremacist magazine American Renaissance. "Very interesting article by a public defender," Agema wrote. "We are in a cultural battle. Very enlightening for anyone who is concerned about crime in America …" Nearly every line of the piece is astonishingly racist. For instance:
[B]lacks are different by almost any measure to all other people. They cannot reason as well. They cannot communicate as well. They cannot control their impulses as well. They are a threat to all who cross their paths, black and non-black alike.
"This guy is essentially the RNC's David Duke, and they refuse to give him the boot," said Dennis Lennox, a Michigan Republican consultant and 2008 delegate to the Republican National Convention.
Not everyone on the right agrees. Agema was the keynote speaker at an event last weekend for grassroots and Tea Party activists in Michigan called "The Powwow." One attendee, who spoke anonymously, said Yob and Agema both spoke on Friday evening. Agema's presence at the event stirred controversy; both the Mackinac Center for Public Policy and Heritage Action, the lobbying arm of the Heritage Foundation, withdrew their sponsorships of the event because of Agema's involvement. Other groups were steadfast. The event's site lists the John Birch Society, Americans for Prosperity Michigan, Rick Santorum's Patriot Voices, Michigan NORML, and Tea Party Patriots as sponsors.
Yob's participation at the event is somewhat odd, given that he's called for Agema to resign from his RNC position.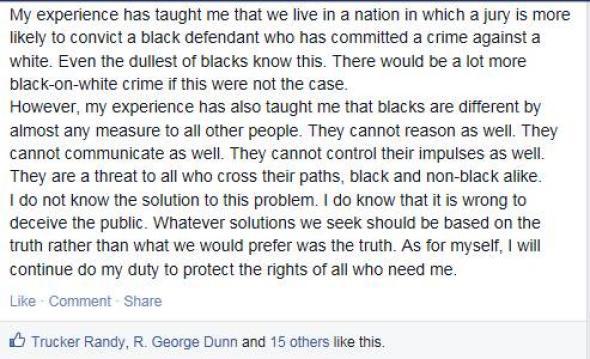 Despite Agema's toxicity, Demas said he still has substantial support in some quarters of the Michigan Republican base.
"If they were to remove Dave Agema, I think it certainly would enrage some of these people," she said.
That said, many national and state-level Republicans have vociferously decried the committeeman. RNC Chairman Reince Priebus has called for him to step down. So have Michigan Republican Chairman Bobby Schostak and numerous other prominent Republicans in the state.
Priebus reiterated his position in a statement to Slate.
"I've previously called for Dave Agema to resign and my position remains the same, he should step aside," he said. "The tone and rhetoric from Agema is consistently offensive and has no place in politics or any rational conversation."
Agema, however, refuses to budge. He didn't respond to a request to comment on whether he plans to attend the RNC's winter meeting in San Diego. Ali Akbar, a Republican strategist and senior advisor to the Black Conservatives Fund board, says the RNC should do more to rid themselves of Agema.
"Agema should be denounced in a formal resolution by the rest of the Committee," he emailed. "The Chairman, who is a brilliant lawyer, ought to explore the legalities of refusing to seat Agema at the RNC Winter Meeting."
Lennox, the Michigan GOP consultant, said he shares that view.
"They clearly have various parliamentary mechanisms at their disposal," he said. "What does Dave Agema have to do or say for Republicans to show him the door? Does he have to show up in a white bedsheet in San Diego?"
One clear answer to that question: Commit a crime. According to a Jan. 7 Michigan Radio report on Agema, national Republicans said they couldn't kick out a committeeman unless he's convicted of a felony. And the Detroit Free Press reported in December 2013 that the state party does not have the power to remove Agema from his position.
Lennox doesn't buy it, and argues that all parliamentary bodies have ways to suspend their members.
"It's just a question: Do they really want to do it?" he said.
Demas concurs.
"I've covered enough organizations that if someone's become an embarrassment, you find some way to get rid of them," she said.