A Scientology-run anti-drug program that promotes discredited pseudoscience has worked extensively with the New York City public schools and NYPD youth programs, DNAinfo reports:
The Foundation for a Drug Free World, which was founded in 2006 by the controversial church, visited 30 city public schools last year, providing free anti-drug programs to elementary, middle and high school students in all five boroughs, according to its Facebook page.
The city's Department of Education denied any partnership with the group and said it did not recommend its services.
DNAinfo points to a 2014 story on the City Limits site in which a Drug-Free World presenter informs at-risk teenagers of a nonsense fact derived from the work of Scientology founder L. Ron Hubbard:

Tidman is Drug Free World's lead presenter in New York City. He took a fatherly tone with the teens while explaining how all drugs, not just LSD, can cause flashbacks.
"A certain amount of that drug or medicine stays in your body for weeks, months, even years, and later on what happens is it can dislodge from the fat tissue and reactivate in your body," he said.
The concept of the human body storing lipid-soluble drugs for years comes from Clear Body, Clear Mind, a self-help book compiled from materials written by L. Ron Hubbard, founder of the Church of Scientology.
New York's Drug-Free World chapter, City Limits says, is run out of Scientology's offices in Times Square. (The group appears to be internationally active.)

Drug-Free World's founding coincides with the California Department of Education's 2005 finding that the curriculum of Scientology's Narconon education program, which had been used in some state schools for years, did "not reflect accurate, widely-accepted medical and scientific evidence." (The San Francisco Chronicle reported in 2014 that Narconon continues to give presentations in California schools.)
"He said he'd love me forever if I smoked crack with him," says a woman in a testimonial-style voiceover on Drug-Free World's homepage, which features at least a few claims that are dubious or obviously wrong: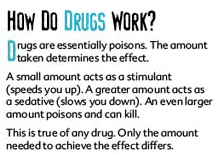 The site also lists "shit" as one of the street names of hashish.