On Tuesday night, Sen. Joni Ernst will join a tiny but power-packed club. She'll be the 16th woman to deliver a response to the State of the Union, putting her in an elite group of women who have left a mark on history—or, in some cases, were forgotten by it. We haven't had a female president yet, but more than a dozen women have gone head to head with commanders in chief with these carefully scripted rejoinders. Some of these women are inspiring heroes. Others aren't. They are worth remembering because they show how much things have changed for female politicians—and also how much they haven't.
Rep. Charlotte Reid, an Illinois Republican, made history in 1968 as the first woman to deliver a State of the Union response. She inadvertently garnered even more attention a year later by being the first woman to wear pants on the House floor. The Washington Post reported that many congressmen were gobsmacked and rushed to the floor to see if the rumors of a woman sporting a woolen bell-bottomed pantsuit were true. "I was told there was a lady here in trousers, so I had to come over and see for myself," said one. Reid said she didn't get any criticism for her historic outfit and noted that then-Rep. Gerald Ford told her she should rock a pantsuit more often. But she didn't. "I am really quite serious about my service in the Congress and I wouldn't want to do anything that seemed facetious," she said at the time. "Neither would I want to do anything to take away from the femininity of the women in the House, even though I think pants are feminine-looking."
Her State of the Union response—which she presented along with more than a dozen other congressional Republicans—got less press and tougher reviews. A St. Petersburg Times editorial that ran on Jan. 25, 1968, called the Republicans' response "political vaudeville."
"Some performances were only in bad taste," it continued, "such as Illinois Rep. Charlotte Reid figuratively wrapping herself in the American flag and waving the banner of motherhood, in an effort to discourage protest over Vietnam."
You'll find more reporting on Reid's historic pantsuit than her historic State of the Union response. Make of that what you will.
Rep. Patsy Mink, a Hawaii Democrat whose time in the House overlapped with Reid's, joined six male colleagues to respond to Richard Nixon's 1970 State of the Union. Like Reid's, her speech seems to have garnered minimal coverage. The (Kingsport, Tennessee) Daily News reported that Mink and her fellow female House members made news more often just for doing lady stuff. Mink and Massachusetts Republican Margaret Heckler "frequently show up on such lists as 'prettiest woman in the Capitol.' " Heckler had a sense of humor about it. "I suppose when compared to most of the men, I am among the prettiest congressmen," she said. "But what does it all prove?"
Like Mink and Reid, Missouri Democratic Rep. Leonor Sullivan joined a host of colleagues to respond to Nixon's 1972 address. Again, Sullivan's response didn't earn headlines, likely because she had to share the stage with tons of dudes. A recent St. Louis Beacon story called her "the Elizabeth Warren of her day," detailing her work on consumer protection issues and in food stamp policy. The passage of the Consumer Credit Protection Act was one of her biggest victories.
Rep. Martha Griffiths of Michigan was also part of the gaggle of Democrats that responded to Nixon in 1972. Though little was reported on her talk, it was probably pretty good. Her bio page on the House's history, art, and archives site describes her as "peppery and quick-witted. Her Los Angeles Times obituary notes that she once wrote a letter to an airline president whose company required flight attendants to be young and attractive, asking, "Just exactly what are you running—an airline or a whorehouse?" Griffiths was an outspoken advocate of the Equal Rights Amendment, and she fought to include sex discrimination in the 1964 Civil Rights Act.
After 1972, women had a bit of a dry spell on State of the Union night. For Gerald Ford's and Jimmy Carter's presidencies, the multimember jumbo-respond-a-thons fell out of favor, and fewer responders meant no women. That changed in 1983, when Barbara Kennelly, a Connecticut congresswoman, was part of a 28-minute multimember prefilmed response to Ronald Reagan's State of the Union. An AP story about the speech noted that then-Sen. Joe Biden responded to the president's speech by saying, "It's time we put up or shut up." It sounds like Kennelly took a slightly wonkier approach; she talked about the Democrats' plan to require the Federal Reserve Board to automatically lower interest rates during times of inflation.
When she wasn't talking about monetary policy, Kennelly didn't shy away from criticizing her own party. In a January 1983 Miami Herald story on the differences in voting patterns between men and women, Kennelly said Democrats needed to give more time to issues women cared about. "It's a typical Democratic reaction of taking those they have in their corner for granted," she said.
The year after that, then-Rep. Barbara Boxer of California joined a group of a dozen Democrats—also including Biden and Speaker of the House Tip O'Neill—to pile on Reagan's next State of the Union address. Boxer's moment didn't make for major national news, but it doesn't seem to have hurt her any. The tenacious liberal went on to win a Senate seat—one that she will retire from next year—and became a hero for supporters of abortion rights. It's doubtful her response was particularly acrimonious. When Reagan died in 2004, she issued an affecting tribute of the former president, writing that she keeps a picture in her home office from an evening she spent in the White House with him and his wife, Nancy.
Missouri Lt. Gov. Harriett Woods was the last woman to go up against Reagan. She joined four other prominent Democrats to push back against the president, and per University of California–Santa Barbara's American Presidency Project, she's the only lieutenant governor (male or female) to deliver a response. The Democrats' response to the president's speech that year was tricky; the State of the Union had been postponed because of the deadly crash of the Challenger space shuttle, and Reagan had just given a historic speech on the tragedy. Woods' speech, which you can watch here (it starts at 9:30), took a nonpartisan, feel-good tone, and didn't even mention Reagan. But her political legacy was much harsher for Republicans. After almost beating conservative Republican incumbent Sen. John Danforth in a Senate race that shouldn't have been close, some of her allies started Emily's List, a group that backs pro-choice female Democratic candidates. Emily's List deserves significant credit for the fact that Democratic women outnumber Republican women by 14 to six in the Senate and 62 to 22 in the House (65 to 23 if you count delegates). Woods' role in inspiring the creation of Emily' List is part of the reason Democrats dramatically outpace Republicans in getting women elected.
The first woman from either party to go solo responding to a State of the Union address was Republican Gov. Christine Todd Whitman in 1995. She spoke to a raucous crowd in the Trenton, New Jersey, legislative chamber (also the first response given to a live audience) and described "a revolution of ideas" in favor of tax cuts and smaller government. She praised fellow Republican governors, and the room erupted in lengthy cheers and whistling when she mentioned her own New Jersey tax cuts.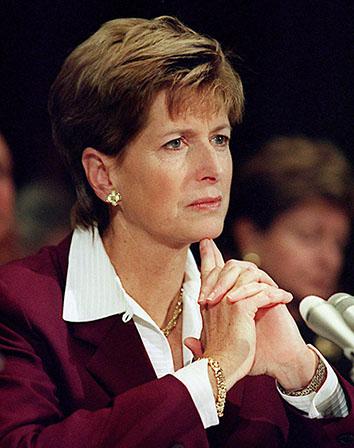 On the history of Republicans sometimes choosing a woman to respond to the State of Union, Whitman told the Los Angeles Times last year, "It's hard for me to phrase this politely: Sometimes Republicans think that just putting a woman up front means somehow that women are going to feel good about the party." She continued: "It is not about the messenger. It's about the message. And until we figure that one out—while it's nice that we have a woman as a spokesperson—if the message itself doesn't get changed a bit, it's not going to work."
Rep. Jennifer Dunn of Washington in 1999 (with Oklahoma Rep. Steve Largent) and Sen. Susan Collins of Maine in 2000 (with Tennessee's Sen. Bill Frist) were the next two women SOTU responders, both also following up Clinton. Their Washington careers suggest that the theory of a State of the Union responder curse—detailed exhaustively by Politico, Time, Salon, and plenty of other publications—is goofy nonsense. Dunn, who had already become the first woman on the House Republican leadership team, continued to exert substantial influence in Washington. And Collins coasted to easy re-election win after easy re-election win.
Counterpoint on that SOTU curse, though: Then–Kansas Gov. Kathleen Sebelius delivered the Democratic response to George W. Bush's 2008 address, and it didn't go so well. (Here's video.) She spoke in a soporific monotone and drew sneering from Jon Stewart. "Wow, flat and boring," he said. "What state is she governor of again?"
Sebelius' fame—or infamy—really skyrocketed when, as secretary of health and human services, she oversaw the notably awful rollout of healthcare.gov. Ultimately, she resigned. SOTU responders, beware (maybe).
Nancy Pelosi, who needs little explanation, responded to two back-to-back Bush States of the Union, accompanied by then-Sen. Tom Daschle one year and Sen. Harry Reid the next. And in 2008, Texas state Sen. Leticia Van de Putte (who made an unsuccessful bid for Texas lieutenant governor in the 2014 midterms, alongside Wendy Davis) delivered Democrats' Spanish response.
And finally, Reps. Cathy McMorris Rodgers and Ileana Ros-Lehtinen teamed up to deliver, respectively, English- and Spanish-language responses to Obama's 2014 address. (Ros-Lehtinen, a Cuban-American member from Florida, also gave a Spanish-language response in 2011.) McMorris Rodgers has dealt with some of the same nonsense that's been around since the days of Patsy Mink and Charlotte Reid. A few months ago the National Journal promoted a story on the congresswoman with a headline that blithely asked, "Is Cathy McMorris Rodgers More Than a Token?" And Minority Whip Steny Hoyer, per Roll Call, called the congresswoman "a very pleasant person. … She gives a good appearance [and] she speaks well," adding that he believed Republicans only picked her because they wanted to "project some diversity." Female privilege!
Ernst has plenty of experience dealing with the same cheap digs. A few days before the midterm elections, retiring Sen. Tom Harkin said Iowans shouldn't care if Ernst was "as good looking as Taylor Swift"—the suggestion being, of course, that women only rise to power and prominence because they're so dosh garn pretty. Even Emily's List made a similar jab, blasting out a press release about her coming SOTU response that dubbed her "window dressing." It's an age-old, bipartisan strategy for glossing over the accomplishments of women like McMorris Rodgers—a savvy politician who built a coalition of conservative and moderate Republicans to propel her ascension to House leadership—and Ernst, a combat veteran and the first woman to represent Iowa in the House or Senate.
But if diversity gets projected—as Hoyer put it—and nobody hears it, does it make any sound? Whitman says no. "Nobody much listens to it," she flatly told the Los Angeles Times of the SOTU response speech. They come on late in the evening for an audience that's probably already had its fill of political pontification.
This year may have a little more interest than most. Ernst is a rapidly rising Republican star—the rare figure adored by both Palinites and Romney nostalgists—who last November took down a Democrat whose win was supposedly inevitable. On Tuesday night, she'll join a small club of women who have stepped up to rebut the commander in chief. And who knows? Maybe the main story won't be about what she's wearing.