Charlie Hebdo, the French publication that was the victim of a horrific terrorist attack today, is no stranger to courting controversy and even danger with its no-holds-barred satire.
Formerly known as Hara-Kiri, the paper first gained national notoriety in 1970 with a headline mocking the death of former President Charles de Gaulle— "Tragic dance at Colombey [de Gaulle's home] - one dead"—that led to it being shut down by the government. Undeterred, the paper quickly reconstituted under its current name and has been taking shots at sacred cows ever since.
In the last decade or so, Hebdo has been needling the delicate sensibilities of Islamic extremists, with often tragic consequences. In 2006, it reprinted the cartoons of the Prophet Muhammad that had been originally published in a Danish newspaper several months earlier and had provoked rioting and attacks on Danish and European facilities throughout the Muslim world. The paper's editors were charged with inciting racial hatred, which is illegal in France, but eventually acquitted.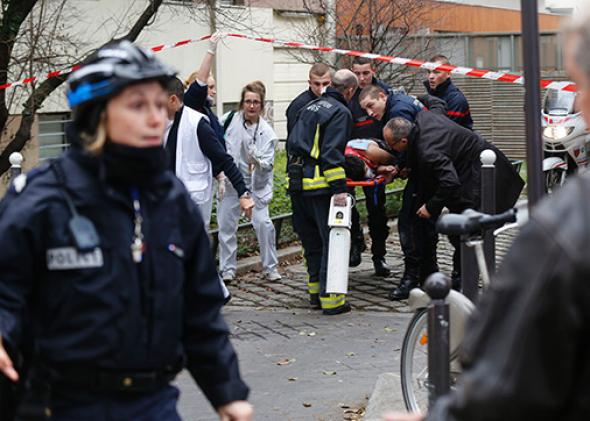 In 2011, it published "Charia Hebdo," a special issue "guest-edited by Muhammad," whose cover promised readers "100 lashes if you don't die laughing." The paper's offices were firebombed and its website hacked in response.     
The following year, at the height of the controversy over the YouTube video, The Innocence of Muslims, it again published cartoons of Muhammad, this times naked in mock advertisements for a film guaranteed to "set the Muslim world ablaze." (Hebdo's cartoonists are equal-opportunity offenders: One faced charges of anti-Semitism in 2009 for a cartoon suggesting that Nicolas Sarkozy's son was converting to Judaism for financial reasons.)
Reactions to Hebdo's provocations from other French media outlets and the political establishment has been mixed. In 2011, some newspapers stood up for the publication's right to free speech, but others, including the conservative Le Figaro, criticized its "silly provocations,"  saying that they play into the hands of extremists. During that controversy, France's prime minister and foreign minister at the time criticized the decision to run the cartoons at a time when tensions were already running high and lives could be in danger. The paper's editor told Le Monde at the time, "I'm not putting lives at risk. When activists need a pretext to justify their violence, they always find it."
That appears to be remain true. It's unclear at the moment whether today's attack was a reaction to Charlie Hebdo's past actions or whether it was linked to the newspaper's latest issue, which features the satirical novelist Michel Houellebecq, whose newest book, according to the New York Times, imagines "a future France run by Muslims, in which women forsake Western dress and polygamy is introduced." The issue's cover features a picture of a cigarette-smoking Houellebecq with the caption: "In 2022, I will do Ramadan." Like Charlie Hebdo, Houellebecq also does not shy away from controversy, particularly when it comes to Islam.
Houellebecq, probably the best internationally known French writer working today, first rose to prominence with his 1994 novel, Extension du domaine de la lute, translated into English as Whatever, a kind of updated French existentialist anomie for the digital age. In 2001, shortly before the 9/11 attacks, he released Platform,  in which the protagonists open a profitable sex tourism business in Thailand before being gunned down at the end in a massacre by men in turbans.  
In an interview surrounding the release of that book, Houellebecq described Islam as "the most stupid religion," prompting legal charges of inciting hatred by Muslim groups in France that were eventually dropped. The affair inspired then-president Jacques Chirac to remark that "sometimes we should have these intellectuals spanked bare-arsed in the streets."
While Houellebecq, whose feelings about Islam are more than matched by his publicly voiced disdain for his home country, is France's most successful literary export in years, reaction to him is more mixed back home where his books, Platform in particular, are often derided by critics as misogynistic and juvenile. In 2010, he was somewhat vindicated by winning the Prix Goncourt, France's most prestigious literary prize, though it was a bit of a backhanded compliment since the awarded work, Map of the Territory, depicts the brutal murder of a character named Houellebecq.
Invariably fearless, sometimes excessively so, both Charlie Hebdo and Houellebecq are leading examples of an intellectual tradition that holds giving offense and provocation as both a right and a duty, even in the face of fanatical acts of violence like the one seen today.