As a kid growing up in Baton Rouge, Louisiana, I watched Louisiana State University play basketball at the Pete Maravich Assembly Center. On Saturday, instead of basketball, I watched as a man lay with his face pressed against the floor, for half an hour. Robin May, a photographer standing next to me in the press area, asked the security guard if the man was OK.
"He's just praying," the guard said, "he must have a lot of people to pray for."
We were at The Response, an evangelical prayer revival organized by the American Family Association, a known hate group. More than 3,000 people had gathered to save America, through prayer and fasting, from the threats of Sharia, homosexuality, pornography, and abortion. Materials promoting the event described natural disasters including Hurricane Katrina, as well as the national debt, as the just result of America's sins, punishments akin to the biblical wave of locusts.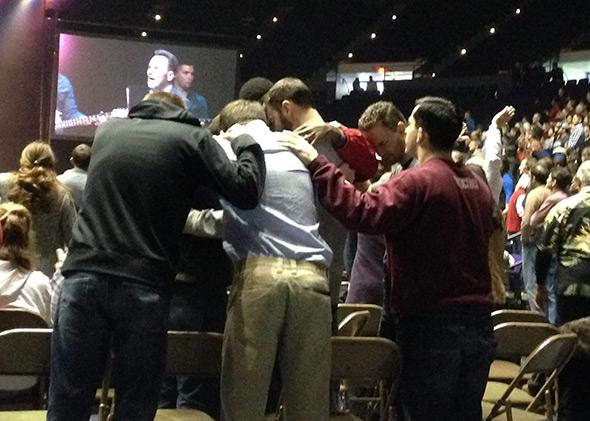 People cried as they sang along to Christian rock. A woman wearing a blue T-shirt with the word "Life" stood in front of TV cameras and raised her arms. One preacher, as if he were speaking to a classroom, exhorted the audience to pray together, saying, "Get in your groups." He specified, "Small groups." I watched as young men huddled together, a few speaking in tongues. One of them, Jesse, told me, "We don't want revival, we need revival." 
Me? Instead of fasting, I sinned and snuck in a root beer float from Frostop, a Baton Rouge institution.
The headline speaker of The Response was Louisiana Gov. Bobby Jindal. He provided personal testimony about his conversion to Christianity while he was a student at Baton Rouge Magnet High School, which is also my alma mater. The event was supposed to be apolitical in nature, but it was widely viewed as part of the rollout for Jindal's inevitable run for president. New Orleans' Gambit described Jindal's presidential ambitions as the "worst-kept secret in Louisiana politics."
In 2011, Rick Perry, then Texas governor, held his own gathering of The Response in Houston's Reliant Stadium. Perry announced his campaign for the presidency five days later.
The promotional materials for Jindal's event were the exact same ones Perry used. Someone even forgot to change the dates. Before they were taken down, prayer guides for The Response said Hurricane Katrina happened six years ago (it has been almost a decade).
Jindal's staff and political allies have insisted The Response was a religious gathering rather than a political one, in an attempt to avoid the appearance of exploiting faith. Timmy Teepell, Jindal's former chief of staff and his most important political adviser, attended the rally with his family. When I asked Teepell about the politics of the event, he told me that there were "no political implications, just spiritual" ones.
Still, the political overtones of Jindal's participation in the event were obvious. On letterhead from the governor's office, Jindal invited the 49 other governors to attend the event. None did. Jindal's current chief of staff, Kyle Plotkin, was darting around the event, ensuring it went off without hiccups. Even Jindal's giant belt buckle declared, "Bobby Jindal State of Louisiana."
Jindal and other speakers prayed for the different branches of government and for President Obama. Louisiana state Sen. Jonathan Perry called for more "born-again Christians" to be elected to political office. Another speaker said, "When our government sanctions [abortion], it brings reproach upon our land." She insisted that "the right to abort will be overturned," but in the meantime, the "payment for bloodshed is blood." Pastor Bob Phillips announced that a group of pastors was "rising up" against "America's pestilence" and fighting against people who wanted to "silence the voice of those who would make biblical application" to politics. He said that pastors were ignoring requirements of their churches' tax-exempt status that they not make political speeches from the pulpit, and they were sending the IRS videos of themselves endorsing political candidates in their sermons.
The event was so political that the Louisiana Conference of Catholic Bishops, despite participating in a pro-life march nearby, declined to take part. Rob Tasman, the LCCB director, said, "The event was viewed more as an evangelical event with a political tone to it, and the bishops don't participate in such events."
In the crowded GOP field for 2016, Jindal needed this event to be a political kick-starter. Congressman Steve King held a summit in Iowa at the same time as The Response, and Jindal missed out on the opportunity to meet with crucial Iowa voters and reporters covering the race. So The Response needed to pay for itself politically. But while Perry brought out 35,000 people to listen to him in 2011, Jindal's rally was about as crowded as my high school graduation ceremony, which was also held in the PMAC. By the time Jindal spoke in the afternoon, hundreds of people had already left, and entire sections of the bottom ring of bleachers were empty. It was a bust.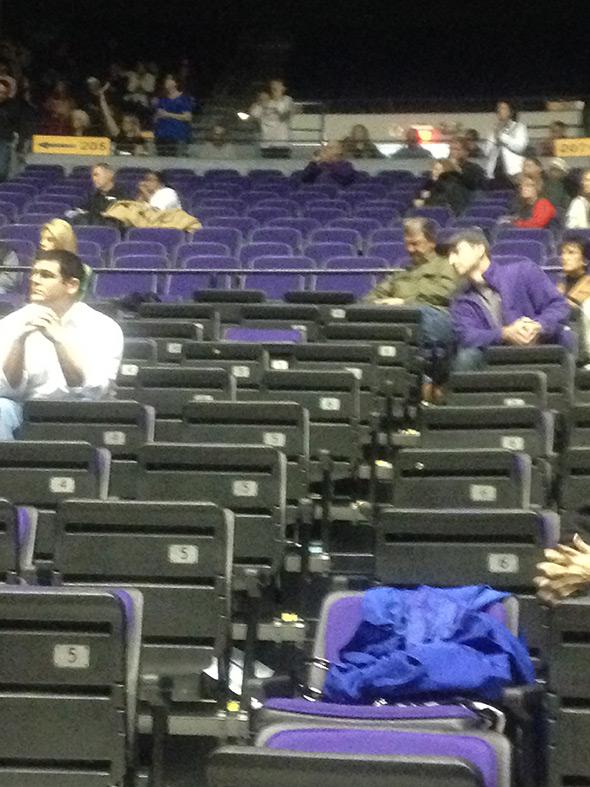 Even among the 3,000 attendees who were there, there wasn't much excitement about Jindal 2016. The attendee named Jesse told me, "We gotta put all that denominational, all that political junk aside." The couple running the intercessory prayer room (when evangelicals throw an event, they have volunteers not just as ushers and security but also volunteers who pray for the event itself) explained that it would be wrong for Jindal to use this event to run for president.
The Response kept reminding me of high school. Jindal's story of his conversion was couched entirely in his high school experience, including a pivotal moment in which he talks with a "pretty girl," whom he had a crush on, about her dream of becoming a Supreme Court justice and overturning Roe v. Wade. Everything was superficial and black and white, in the way adolescents see the world. Jindal didn't want to look deeper than this: "In the end, our God wins."
Another feature of high school was prominent at the event: bullies. In recent days, Jindal has expressed support for a constitutional amendment to ban gay marriage and claimed that Europe has Islamic "no-go zones" ruled by Sharia law. Another bully present was the organizer itself: the American Family Association. Bryan Fischer, the AFA's director of issue analysis, has made statements such as: "Homosexuality gave us Adolf Hitler, and homosexuals in the military gave us the Brown Shirts, the Nazi war machine and six million dead Jews." Fisher made some particularly offensive statements in a blog post about Pocahontas: "She not only recognized the superiority of the God whom the colonists worshipped over the gods of her native people, she recognized the superiority (not the perfection) of their culture and adopted its patterns and language as her own. … Had the other indigenous people followed her example, their assimilation into what became America could have been seamless and bloodless."
This sort of nastiness was on full display Saturday. Hundreds of LSU students and professors showed up to protest Jindal and the AFA. One of them, Majdal Ismail, was speaking about her family's experience with Islamophobia, when one of the attendees of The Response harassed her and shouted: "Why aren't you wearing a burqa?" It took police intervention to make him stop.
Jindal may say, "our God wins," but, thankfully, in the end he almost certainly won't do so by making Bobby Jindal the next U.S. president.