A video has been released showing Amedy Coulibaly pledging allegiance to the "Islamic State." The video, which was released on a Twitter account linked to the militant group, was verified by the SITE Intelligence Group. The video is a compilation of several clips and bears many similarities to other videos released by ISIS. The man who appears in the video is described as a "soldier of the caliphate" and appears to pledge allegiance to Abu Bakr al-Baghdadi, the leader of ISIS. Coulibaly can be seen in the video exercising and next to weapons. He speaks fluent French and at some points in the video he utters "stumbling Arabic," as the Guardian puts it. The Associated Press agrees his Arabic is poor, noting that he "mangles grammar as he gives his allegiance to the head of the Islamic state."
In the video, Coulibaly claims he worked with the Kouachi brothers, who are responsible for the Charlie Hebdo massacre, but they decided to move separately in order to be more effective. "We did some things together, some things separate, that way we would have more of an impact … we arranged it to synchronize (our movements) so we would go out at the same time, which was not a problem." Despite this claim that Coulibaly was teaming with the Charlie Hebdo shooters, Chérif Kouachi told a French television station that he and his brother were working for al-Qaida, points out the Independent.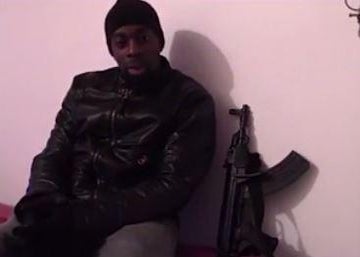 Considering that Coulibaly specifically references the killing of a police officer and the Charlie Hebdo massacre, it seems likely at least part of the video was filmed while he was on the run. In the background a radio report can be heard that appears to be giving news on the Charlie Hebdo attacks. "What we are doing is completely legitimate, given what they are doing," Coulibaly says in French. "You cannot attack and not expect retribution, so you are playing the victim as if you don't understand what's happening." At the end of the video, Coulibaly calls on others to carry out similar attacks.
On Sunday, a Paris prosecutor said that Coulibaly has been linked to the nonfatal shooting of a 32-year-old jogger in a Paris suburb that took place on the same day as the Charlie Hebdo massacre. Ballistic tests showed the shell cases from the shooting belonged to the same weapon used in the kosher store on Friday, the Associated Press reports. The jogger was seriously wounded.
The Jerusalem Post has posted a copy of the video.