On Monday the House of Representatives' majority whip, Steve Scalise of Louisiana, confirmed that he gave at least one speech to a recognized white nationalist hate group, the European-American Unity and Rights Organization. EURO was founded by David Duke, a former Ku Klux Klan grand wizard. The May 2002 conference Scalise participated in was billed as a workshop on protecting white "civil rights" and "heritage."
According to a conference attendee who posted on Stormfront, a white supremacist forum, Rep. Scalise spoke about how the Department of Housing and Urban Development was a "slush fund" that gave money away to "a selective group based on race."
Scalise's spokeswoman, Moira Bagley, said that when the congressman spoke to EURO as a state representative, he had been unaware of the group's views.
Mark Potok, a senior fellow at the Southern Poverty Law Center, told me, "EURO already was well-known as a racist hate group at the time that Steve Scalise apparently spoke to its workshop, and it is hard to believe that any aspiring politician would not have known that. In any case, it's worth noting that Scalise apparently did not leave even after hearing other racist speakers spouting their hatred."
Why would a congressman speak to this group? Scalise's choice to speak shows the incredible power prejudice still wields in modern Louisiana. 
My friend Lamar White, a Louisiana journalist, broke the story about Scalise by publishing the Stormfront posts about the speech on Sunday.
Louisiana has had a long history of racism, and White knows it well. His great-aunt, historian Sue Eakin, rediscovered the book that was the basis for the film 12 Years a Slave. Earlier this year I tagged along as White was interviewed by the BBC for a series about the movie's reverberations in Louisiana. 
Solomon Northup, the movie's main character, spent the 12 years that he was kidnapped and enslaved on various plantations in Central Louisiana, and the descendants of the people in the film, slaves and masters, still live in the area. Names like Epps and Ford, two of Northup's owners, are recognizable from the churches, the cemeteries, and the family names of people in the area.
Some Louisianans viewed the film, and the brutality toward blacks depicted in it, as an attack on their families. The Daily Mail found one of slave owner William Prince Ford's descendants, who called the film "exaggerated" and said that during slavery "I don't think there was widespread brutality."
This is, of course, completely untrue. Ed Baptist, a Civil War historian at Cornell, told me that during slavery the "evidence shows that torture was widespread" and "the records of enslavers consistently report whippings. Ads for runaways mention scars, again and again."
When I visited the sites from 12 Years a Slave with White and the BBC, it was clear that Louisiana needed to confront not just its dark past, but also its present.

As I pulled up to the site of the Ford Plantation a few miles outside Cheneyville, White called me, saying, "Get here now, there's a noose in a tree!"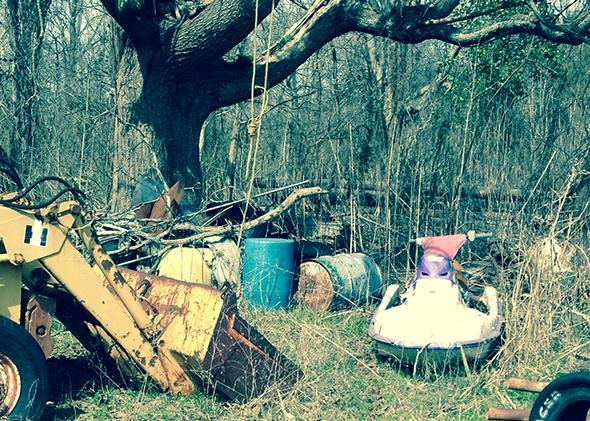 This noose was only a hundred feet from where Northup had been enslaved, a hundred feet from where Northup was hanged and nearly killed by a white carpenter with whom he'd had a disagreement. (Northup lived only because his owner owed a mortgage on him.) It was only a hundred feet from a place where hundreds of blacks had been enslaved, whipped, beaten, raped, had their families ripped apart, and been murdered. There were still nooses in the trees, and they weren't relics left over from the antebellum. They were a clear signal: Blacks aren't welcome near this property.
These attitudes reverberate in our politics and our justice system. Sen. Mary Landrieu lost re-election in December because she was linked deeply to President Obama. The New York Times interviewed local Louisianans, including one who accused Landrieu of creating "an environment where 'everything catered to the black.' " Landrieu, with a bit of understatement, summed up the opposition toward the president, and by extension herself, by saying, "The South has not always been the friendliest place for African-Americans."  
Landrieu came under fire immediately. Gov. Bobby Jindal accused her of "living in a different century." But, when it comes to race, Louisiana is nowhere near the 21st century.
David Duke, the KKK leader, was a Louisiana state representative who ran for governor in 1991 and beat out the sitting Republican governor, Buddy Roemer, in the primary. (This election is one more reason why I struggle to believe that Scalise was unaware of Duke's or EURO's views—Duke praised Scalise, and suggested it wouldn't have been surprising for Scalise to speak at one of his events, saying, "I had a huge amount of Republican support.")
My freshman year of high school in 2007, my classmates and I wore black to protest the treatment of the Jena 6. After constant racial provocation in this small North Louisiana town, including white students hanging nooses from the "white tree" after black students sat under it, a fight put a white kid in the hospital.  The black students were charged with attempted second-degree murder.  
When Scalise showed up at the EURO workshop in 2002, he was a small-fry Louisiana state representative looking for political support, and it worked. A couple of years later, Stormfront members were still recommending voting for Scalise for Congress because he had shown "support for issues that are of concern to us." Over the years, Scalise has been a reliable voice on these issues, from being one of only six votes in the Louisiana House in 2004 against making Martin Luther King Jr. Day a state holiday to saying he wouldn't rule out impeaching President Obama.  
Most trees in Louisiana don't have nooses in them, but there are enough racists, who are still voting, that politicians cater to them.