The tweet above was sent out by the St. Louis County Police Department's official account this morning. It links to a Facebook message that cites the shooting death of 12-year-old Tamir Rice in Cleveland and urges parents to tell their children not to play in public areas with replica or pellet guns, as Rice was doing when he was shot. Here's a screenshot of the Facebook post: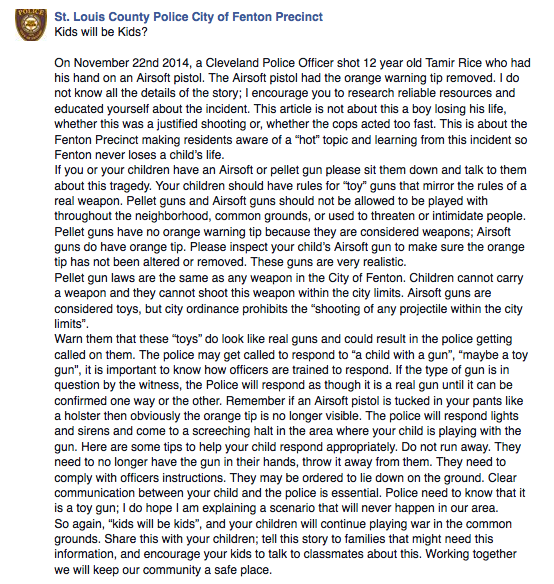 The message warns that children playing with toy guns may encounter police who use "lights and sirens and come to a screeching halt" and that parents should prepare them to throw their gun down and lie on the ground according to officers' instructions. While the post doesn't defend Cleveland officer Tim Loehmann for killing Rice, the decision to cite a dead child in the course of communicating with residents who may already believe that their local officers use dangerous and excessive levels of force might be said to be a questionable one. The St. Louis County Police brass seem to agree; the post appears to have been deleted and a spokesman told a Guardian reporter the department is "trying to figure out" who wrote it.
Update, 10:20 a.m.:
Update, 4:45 p.m.: St. Louis County Police Chief Jon Belmar has apologized for the message.