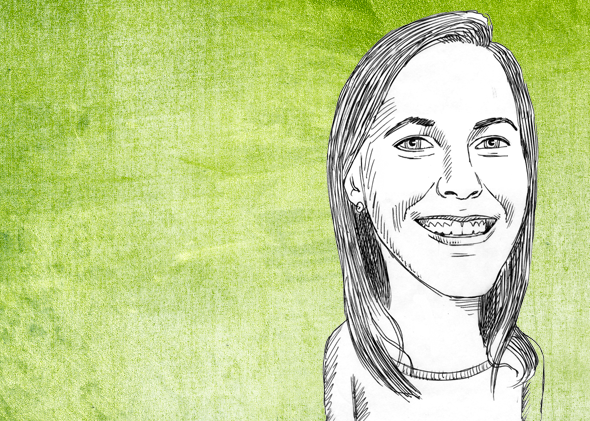 Hi guys!
I'm Betsy Woodruff, and I just started writing about politics here. (This is my seventh week, if I'm counting right—I'm not on the math beat, wokka wokka wokka.) Before working at Slate, I covered the midterm elections for the Washington Examiner and, before that, wrote for National Review magazine. My claims to fame at NR include living on bitcoin for a week and trying out for Star Wars. I didn't get the Star Wars gig—their loss—so here we are.
Working here has been really fun and really busy. I followed Scott Walker around Wisconsin and Ferguson protesters around Walmart. On Wednesday, I wrote a story on how conservatives are winning the clickbait wars. But if you want to read about something other than the Tea Party News Network, there's been tons of great stuff on the site this week.
Simon Doonan and Troy Patterson are owning the #WarOnChristmas beat (kidding! kidding!) They argued against the red/green color combo and advised writers on holiday greeting etiquette, respectively.
More seriously, Joshua Keating had a thoughtful piece on how Congress' 2001 authorization for use of military force is allowing the U.S. to remain at war forever, and how President Obama has expanded Bush's War on Terror. It's not the cheeriest topic, but it's complicated and important, and Keating lays it out in a way that's accessible and straightforward.
And, of course, Slate's analysis of Rolling Stone's disastrous campus rape story has been unparalleled. Just start at the top of Hanna Rosin's archive, and be sure to read her piece on how Rolling Stone made life terrible for their source, Jackie.
While we're on that topic, Emily Yoffe's piece, "The College Rape Overcorrection," couldn't have come at a more important time. It's really long, and all of it matters. Yoffe raises serious, difficult questions about the nature of our country's college rape problem, the quality of the data that gets thrown around about it, and the right way to make college safer for women. If you're short for time, read Section 6 on the trouble with affirmative consent laws.
Pieces like these make me feel really lucky to be part of the Slate team. Thanks for reading!
Betsy
---