Thousands of New York police officers attended the funeral Saturday for Rafael Ramos, one of the two police officers killed in Brooklyn last week, and they were joined by colleagues from across the country for what the New York Times says was "one of the largest send-offs in the history of the department." At a time of increased tension between police and the communities they serve, many felt the need to express support for the cops. But it was clear that requests to leave politics out of Ramos' funeral in Queens had fallen on deaf ears as soon as New York Mayor Bill de Blasio got up to speak.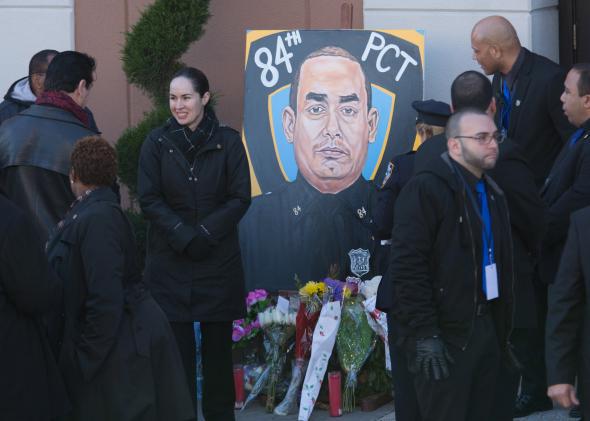 Hundreds of police officers who were outside the church turned their backs to the monitors that were broadcasting the service as soon as de Blasio took the podium. The move was a stark illustration of how tensions between police officers and de Blasio have not cooled a week after police officers turned their back on the mayor at the hospital after the shooting.
Before the funeral started, a sign reading "Dump De Blasio" was held up as the mayor entered the church.
The sign came out a day after a coalition of retired police officers hired a pilot to fly across the city with a message: "De Blasio, Our Backs Have Turned To You," notes the New York Post.
Inside the church, there was "polite applause" for the mayor, according to the Guardian. "Our hearts are aching, we're feeling this physically," de Blasio said. "All of this city is grieving … for so many reasons but the most personal is that we've lost such a good man." The New York Daily News says de Blasio was "emotional" as he described the NYPD as "the finest police force in the country."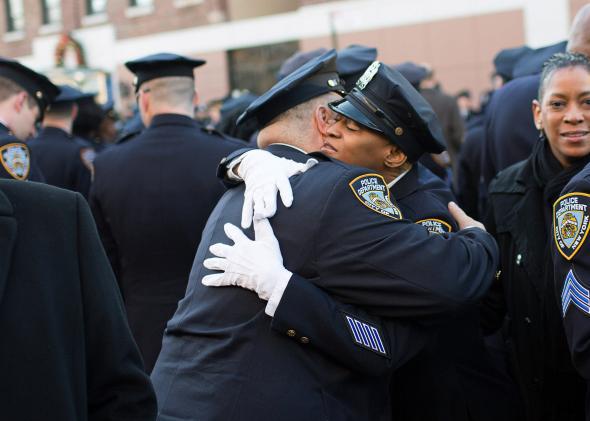 Vice President Joe Biden, New York Gov. Andrew Cuomo, and NYPD Commissioner Bill Bratton also spoke at the service.*
Biden was the first to speak and praised both Ramos and his partner, Officer Wenjian Liu. "Being a cop was not what they did, it was who they were," Biden said, according to USA Today. He then addressed the police officers at the church: "You all joined for essentially the same reason. There was something about you that made you think that you could help. That you had a duty." And in what seemed to be a thinly veiled reference to the tensions between the mayor and police, Biden said, "I believe that the police force in this incredibly diverse city will show the nation how to bridge any divide."
For his part, New York Gov. Andrew Cuomo called the shootings "an attack on all of us" and said that "threats against New York's police are an insult to law-abiding New Yorkers and they will not be tolerated."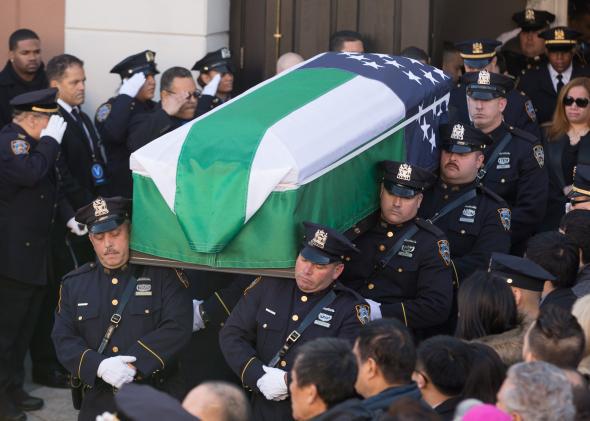 *Correction, Dec. 29, 2014: This post originally misspelled NYPD Commissioner Bill Bratton's last name.