Thousands of angry protesters swarmed the streets of New York City to protest the police killing of an unarmed black man. They were met by hundreds of police officers determined to keep order. Somehow, what transpired was both cathartic and largely peaceful.
"Hands up, don't shoot," protesters chanted as they poured into the arteries of Lower Manhattan, stopping traffic and streaming past the rows of cars. As one group of thousands gathered at the Staten Island Ferry terminal, prompting police to block the entrance and shut down ferry service, another marched across the Brooklyn Bridge, which authorities also closed. A third contingent shut down the West Side Highway for the second straight night, and still more packed Times Square, Union Square, and Foley Square.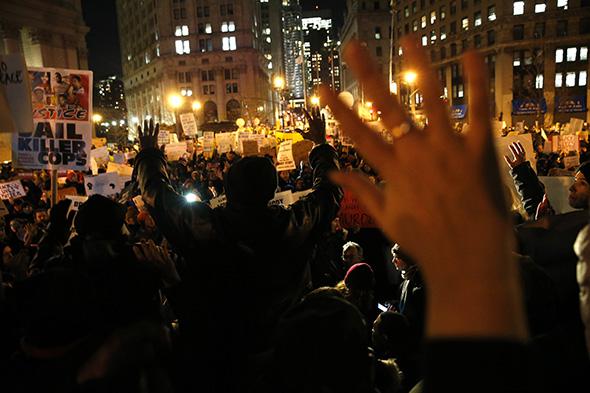 Uptown at Columbia University, hundreds of students disrupted the school's holiday tree-lighting ceremony in the quad by staging a "die-in"—lying on their backs as though slain by police officers. Hours later, a far larger crowd staged a die-in in the middle of Brooklyn's Atlantic Avenue. That brigade was led by three mothers, who told reporters they had each lost a son to violent confrontations with police.
The protesters were furious at what they see as the endemic racism that has led police officers to kill unarmed black men and boys in Ferguson, Missouri; New York City; and Cleveland—and led prosecutors and grand juries in St. Louis and New York to excuse them from criminal trials. Black protesters marveled at the diversity of their cohorts. Black people, they told me, are used to being alone in the struggle against racist police. On this night, they were not. If anything, whites outnumbered blacks in the crowds I saw in Lower Manhattan. But no one was counting.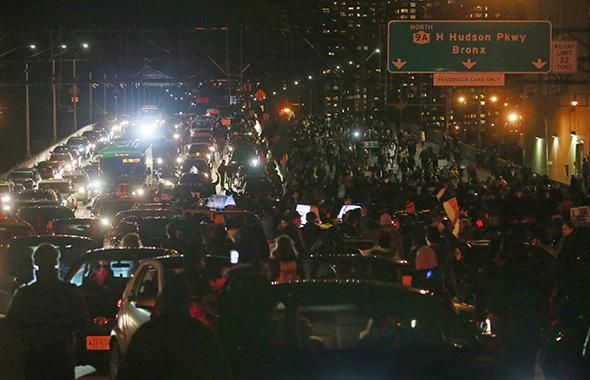 On the West Side Highway, a tall black man stood on top of a utility box, leading the crowd below in chants as they surrounded the stopped cars. A recent transplant to the Bronx, Vic Oyedeji, 29, told me he was deeply moved by the outpouring of not just anger but racial solidarity. "There was a lady on the sidewalk, a middle-aged white woman, and she was crying," he told me. "I told her to come in. So she came in and we marched for about 20 minutes, and she said she'd never been a part of something like this in her lifetime." He paused and surveyed the crowd. "Can you see this? This is not just black. This is not just Hispanic. This is every race together for a common cause. Obviously something has to change. I see our generation as a generation of change."
What's more, the famously impatient New Yorkers whose lives were interrupted by the unrest seemed not only to tolerate the protesters, but sympathize with their cause. Alex Leon, a 33-year-old from Brooklyn who works in sales, found himself in the back of a yellow cab mired in standstill traffic on the West Side Highway. It was clear he would not be getting home soon. "It's cool," Leon told me through his rolled-down window. "I mean, I think their anger is justified."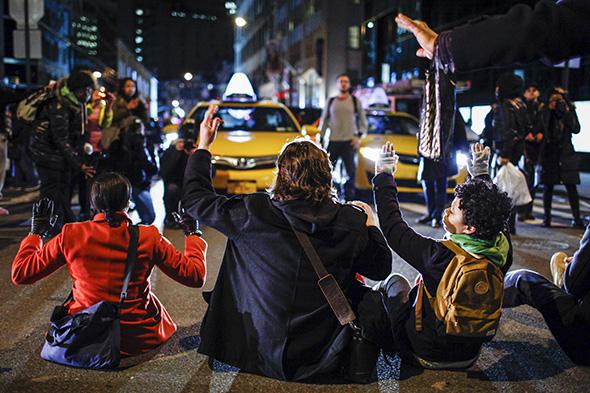 Later, on Seventh Avenue near the Meatpacking District, I visited another stopped taxi and asked a well-dressed, middle-aged white woman how she felt about the demonstrations blocking her path. "I think it's great," said the woman, who turned out to be the award-winning Broadway producer Anita Waxman. "I only wish I could get out and join them."
How did the protesters bring Lower Manhattan to a standstill without either inflicting or sustaining much damage? It helped that the police dressed and behaved like police, and not like shock troops in a ground war. No tanks, no assault rifles, no riot gear. Unlike in the Ferguson protests that quickly turned violent, the NYPD picked its battles carefully. Well-coordinated battalions rushed to arrive at key landmarks either just ahead of or just behind the protesters, blocking traffic and closing key transportation hubs to limit the chaos.
It wasn't all "Kumbaya." There were harsh words and some physical confrontations. Police arrested more than 200 people, not all of them gently. An activist took a swing at a cop outside the Staten Island Ferry terminal. The police attempt to divert one march from the West Side Highway onto the winding side streets of the West Village sparked a tense standoff between officers and demonstrators, who stood nose to nose as activists hurled epithets. Some pushed back as the police pressed forward. Officers grabbed several of them, slapped them into handcuffs, and hauled them away. As one woman was being dragged roughly from the crowd by a pair of large officers, I asked her what she had done to get arrested. "I didn't do anything," she cried. "They were just pulling people out of line."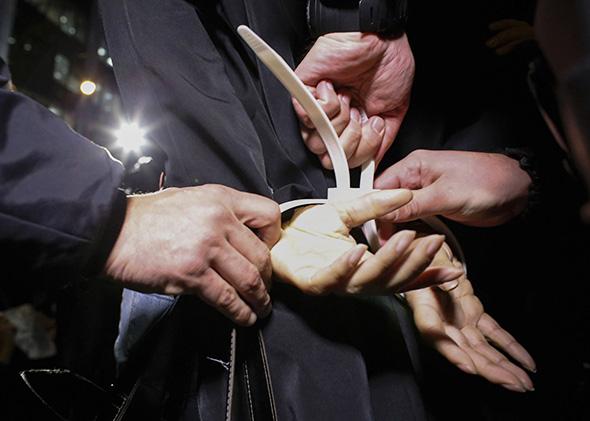 The officers deposited her on a sidewalk against a brick wall next to two other protesters in handcuffs. All three appeared to be white. One, a young man who had his wool cap pulled over his eyes, was agitated. "Your job is to forcibly hurt people, and that's why you shouldn't exist, you piece of shit," he yelled at one of the cops who stood over him. A minute or two later, he complained that his left handcuff was cutting off his circulation. The officers ignored him at first. But when he had quieted down a bit, one said quietly, "I'll take a look at your cuffs." He helped the young man to his feet and adjusted the tightness.
It was clear that some of the unofficial leaders of Thursday's marches had picked up lessons from the Occupy Wall Street demonstrations that gripped the city three years ago. On 14th Street, several marchers were maced, and froth spilled from their eyes and noses. A young man picked up a megaphone and called "mic check," employing the "human microphone" tactic widely used in the Occupy protests. "Mic check," the crowd responded, without hesitation. He called on his fellow activists to help their maced comrades out of harm's way and get them treatment.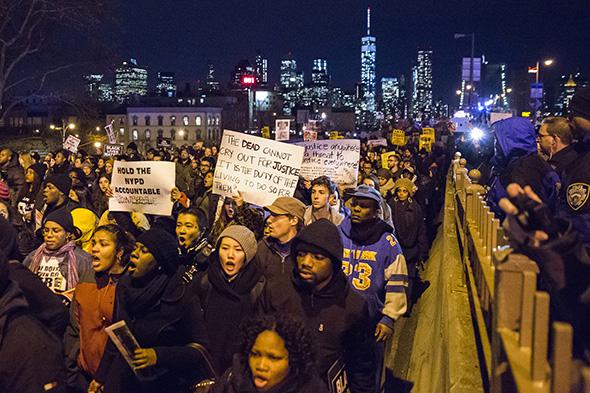 On the whole, the New York City protests felt less personal and more political—more theoretical and idealistic—than the rage that gripped Ferguson in the wake of Michael Brown's death. That may have had a lot to do with the composition of the crowd in affluent Lower Manhattan and Brooklyn, many of whom were not victims of racially tinged police violence themselves. And not all of them seemed fully invested as they marched past the prim row houses of the West Village, the sleek lofts of the Meatpacking District, and the steel-and-glass skyscrapers and quaint pubs of the Financial District. At Union Square, some peeled off into a Whole Foods for refreshments.
Still, this wasn't a case of professional protesters and college kids jumping on the latest bandwagon. The outrage was genuine. While New York has become one of the country's safest big cities, it has also been divided by aggressive police tactics directed disproportionately at poor blacks. In recent years, the police department has responded to criticism by pulling back sharply on its controversial stop-and-frisk tactics.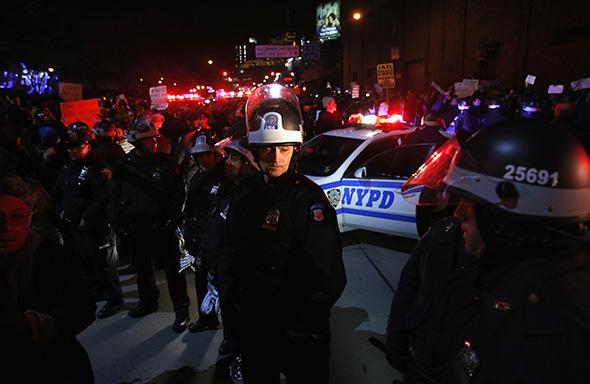 But real resentment lingers. And the Garner case, on the heels of the Michael Brown case and even to some extent the Trayvon Martin case, has brought that resentment to the surface in a very public way. On Friday night, the protests will continue.