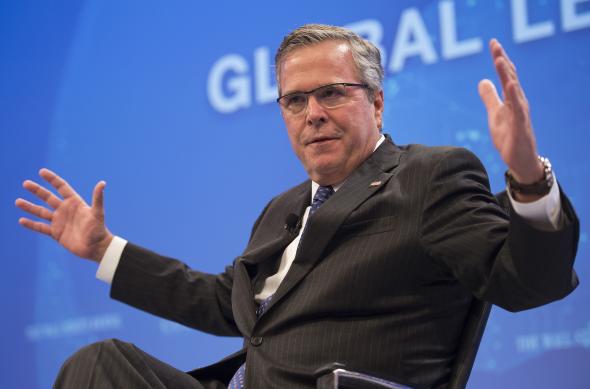 You could almost call this week the official start of the 2016 presidential race. Yes, the "invisible primary" of jockeying and influence has been going on since the end of the last election. But it's only been in the last few days that the structure of the field, on both sides, has become clearer.
For Democrats, clarity means the picture is still static. Hillary Clinton still towers over every potential competitor, the most popular person in the Democratic Party not named Barack or Michelle. Need proof? In a survey released this week, 50 percent of Americans said they could support Clinton in an election. And in a hypothetical primary—drawn from an average of available polls—almost two-thirds of Democrats support Clinton over everyone else in the field, from Massachusetts Sen. Elizabeth Warren to Vice President Biden. And, contrary to some observers, this isn't like 2006 or 2007. Then, Clinton was a modest favorite in the field. Now, she's the undisputed leader.
Where things have changed are in the internal dynamics of the party. A year ago, the left of the Democratic Party didn't have an ideological leader. Now, it arguably does in the form of Warren. Many see this as a prelude to a presidential run, but it's just as likely that she tries to institutionalize her influence as a party broker, someone who speaks for liberal Democrats and can claim concessions in return for support. Or, as Dana Milbank argues for the Washington Post, a left-wing analogue to former South Carolina Sen. Jim DeMint, who now serves as president of the conservative Heritage Foundation.
If that's true, then the ambiguity of Warren's status in the presidential race—"Is she running?"—is a strategic choice. The more Clinton, or anyone else, is worried about a Warren insurgency, the more likely it is that that person will try to adopt her positions or assuage her concerns as an ideological leader. No, the eventual Democratic nominee won't be Elizabeth Warren, but she might sound like her.
On the Republican side, chaos still reigns. On Thursday, political scientist Larry Sabato's Crystal Ball at the University of Virginia published a ranking of the GOP presidential field. It has seven sections—from an empty "first tier" of front-runners to a seventh tier of shameless hucksters—and 21 candidates, including Wisconsin Gov. Scott Walker, Texas Sen. Ted Cruz, Michigan Gov. Rick Snyder, and Louisiana Gov. Bobby Jindal.
But of all of these candidates and potential candidates, we now have a standout. On Tuesday, former Florida Gov. Jeb Bush announced that he was exploring a presidential run, following discussions with family and supporters over the Thanksgiving holiday. "As a result of these conversations and thoughtful consideration of the kind of strong leadership I think America needs, I have decided to actively explore the possibility of running for President of the United States," Bush wrote in a message on Facebook.
The case for Bush is easy to make. The son of one president and the brother of another, he has deep ties to the donor class of the Republican Party, which—according to the New York Times—might try to coalesce around a single candidate in the early stages of the primaries. Indeed, with his moderate beliefs on immigration and conservative orthodoxy on taxes, he appeals to the business-oriented and "establishment" officials and lawmakers in the party.
And while it seems Bush would have trouble with actual Republican voters, who favor hard-line leaders like Walker or Texas Gov. Rick Perry, it's also true that these are voters who chose an architect of Obamacare—former Massachusetts Gov. Mitt Romney—to run against President Obama. Bush's heresies on immigration and Common Core are big, but they're not fatal. And they're balanced by his staunch social conservatism—Bush, remember, was the man who ordered doctors to keep Terri Schiavo on life support in 2003.
With all of that said, I am very skeptical that Bush could survive the primaries. It's not so much his qualifications as it is his skill, drive, and personality. The first warning sign is his stated aim for a candidacy. Here's the New York Times:
"I think people are ready for somebody honest, frank, and willing to tell them what they think," said [former Secretary of State James] Baker, adding of Mr. Bush, "I think he could run in a primary where he's true to himself, his values, and policy positions."
That is the campaign Mr. Bush's small inner circle is hoping he will run.
"We often say, 'Let Jeb be Jeb,' " is how Mike Murphy, a longtime adviser, put it.
Mr. Bush seemed to be musing on such an approach last week before a gathering of chief executives in Washington, when he said that a Republican hopeful had to be willing to risk the nomination in order to remain competitive in November. "Lose the primary to win the general without violating your principles," Mr. Bush said at the event, sponsored by The Wall Street Journal.
Unless Bush plans to drag the Republican Party in a different direction than where it is, this is just untenable. As a candidate, Bush will have to reconcile himself to where the party is, and if he can't do that—if he refuses to do it—then he'll lose.
There's also the fact of his long sabbatical from the groundwork of politics. Bush hasn't run a competitive race in more than a decade. He's spent little time on the trail, and he can't seem to connect to grassroots Republican audiences; during a campaign stop in North Carolina this year, he alienated the headliner—Thom Tillis—with pro-immigration and pro-Common Core rhetoric, forcing Tillis to distance himself from Bush. It was a disaster.
For as much as observers have compared Bush to Romney—center-right politicians in a hard-right party—there's a key difference: Romney spent half a decade courting the various factions of the GOP before winning the nomination in 2012. If Bush has that kind of hustle, he just hasn't shown it.
 In pop-cultural terms, Republican insiders want to believe that a Bush campaign would be the Watch the Throne of politics, a triumphant return to form for a once-successful figure. But there's a good chance it becomes the Kingdom Come—an expensive, high-profile failure.
---