Editor's note: Some of the following images are graphic, viewer discretion advised.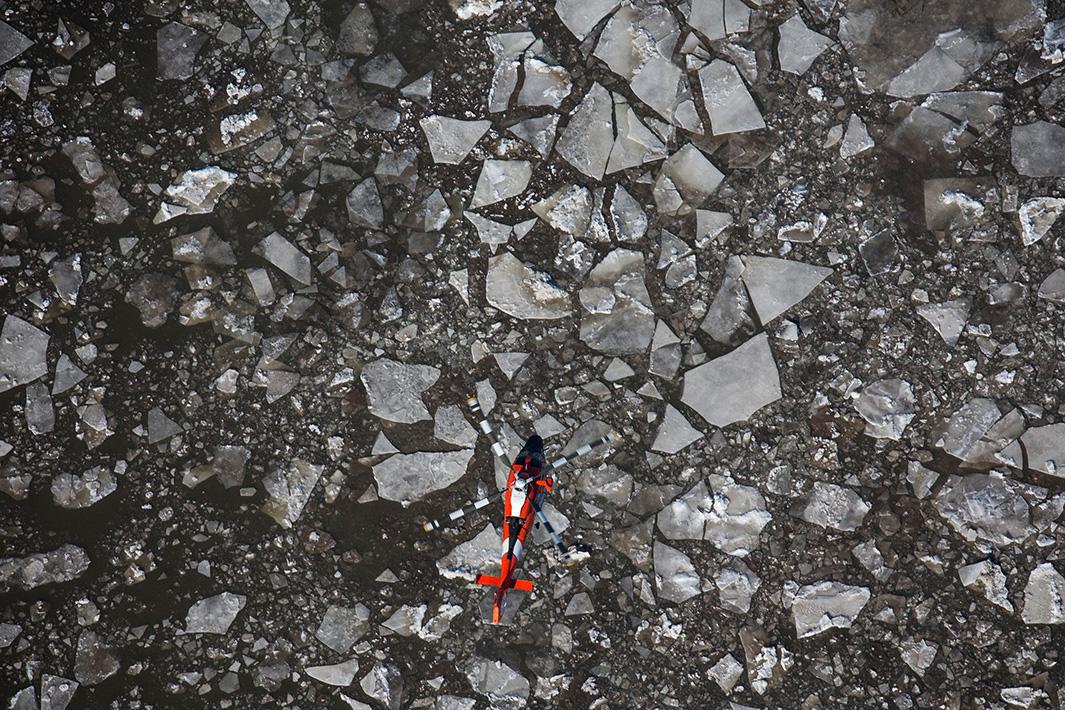 A Coast Guard helicopter flies along the Hudson River, which is full of ice floes after a cold spell caused by the migration of a polar vortex, on Jan. 9, 2014, in New York. Record low temperatures were recorded throughout the Midwest and Eastern regions of the U.S. (Note: Winter does not disprove global warming.)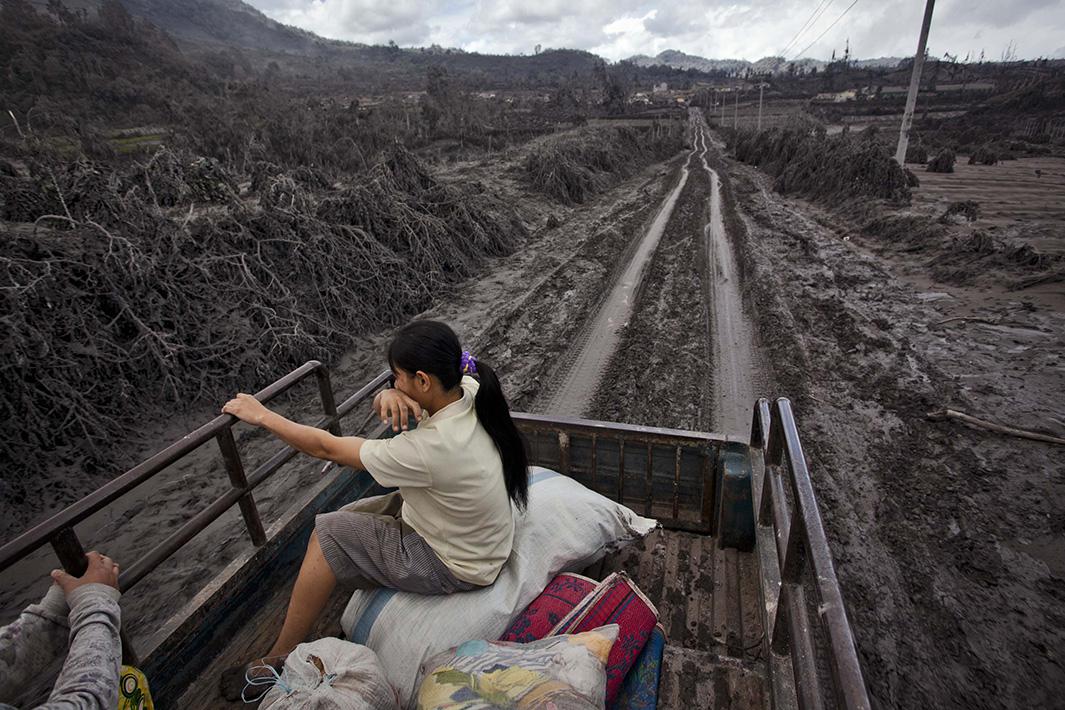 Villagers sit in the back of a truck as they are taken to a temporary evacuation center after their village was hit by ash and mud from an eruption of Mount Sinabung on Jan. 11, 2014, in Sigarang-Garang in the Karo district of North Sumatra, Indonesia. A subsequent lava dome collapse on Feb. 1 created a pyroclastic flow, a rapid wave of hot gas and rock, killing at least 17 people, at times forming tornado-like vortices of ash.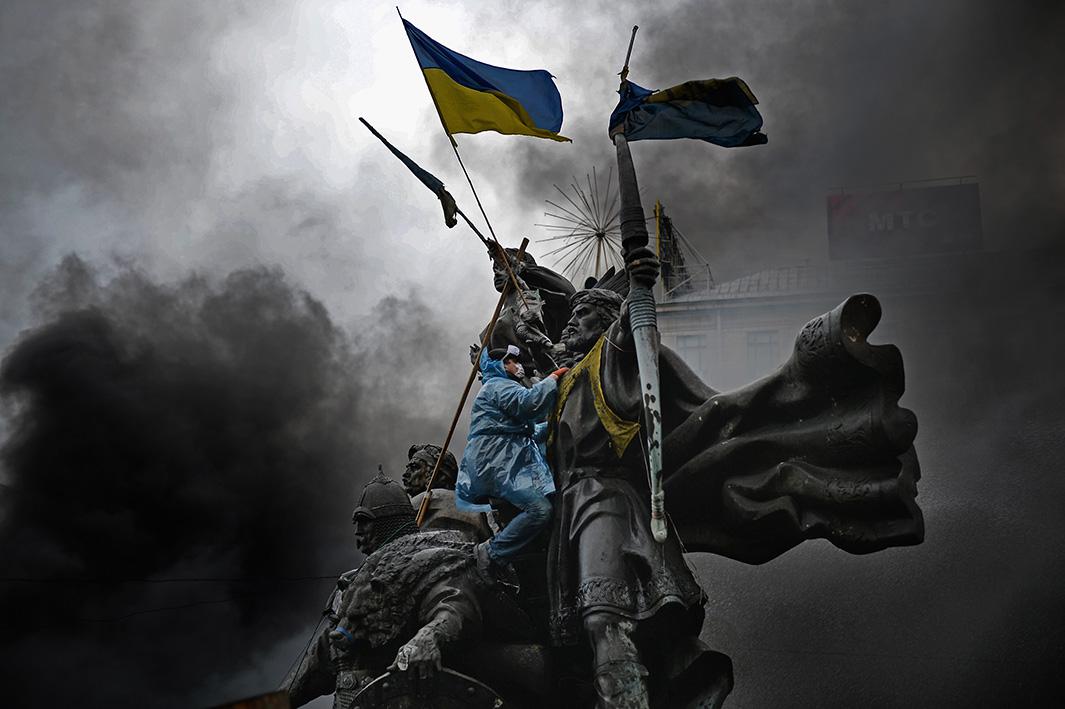 Anti-government protesters clash with police in Independence Square despite a truce agreed upon between the Ukrainian president and opposition leaders on Feb. 20, 2014, in Kiev, Ukraine. The crisis in the region emerged from an uprising of anti-government protesters who called for the ouster of President Viktor Yanukovych over corruption and an abandoned trade agreement with the European Union.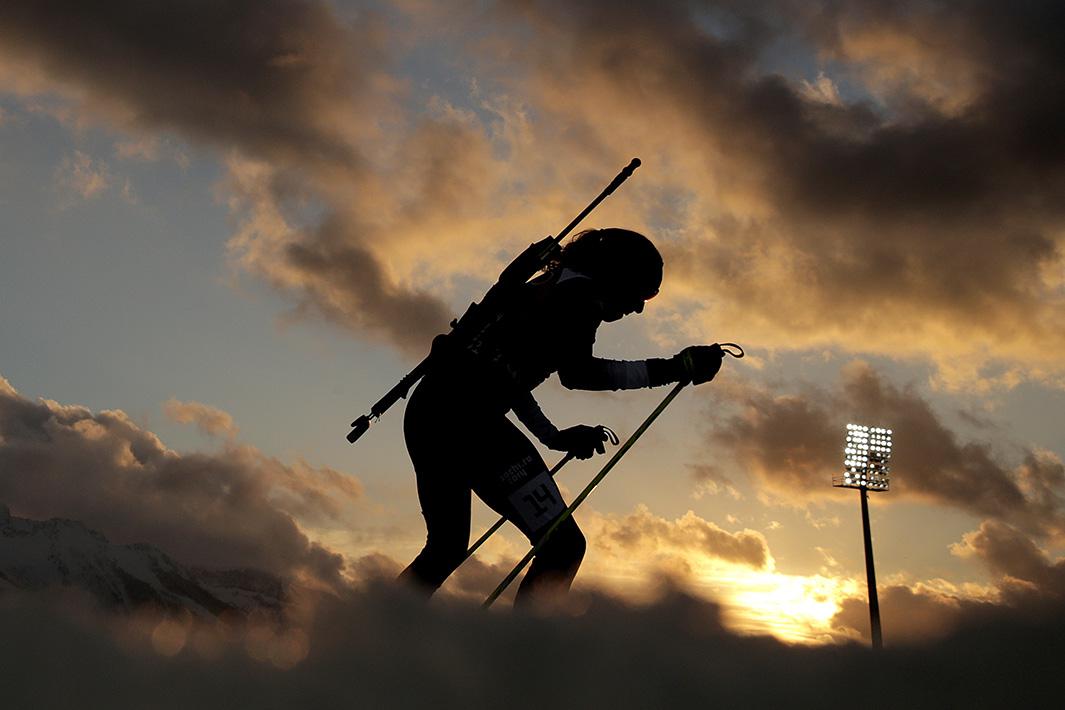 Susan Dunklee of the United States competes during the women's 4x6 kilometer relay biathlon on Feb. 21, 2014, at the Winter Olympics in Sochi, Russia. "The Florida of Russia, but cheaper," yet also the site of a genocide, the city's culture is as complex as was the reception to the games themselves.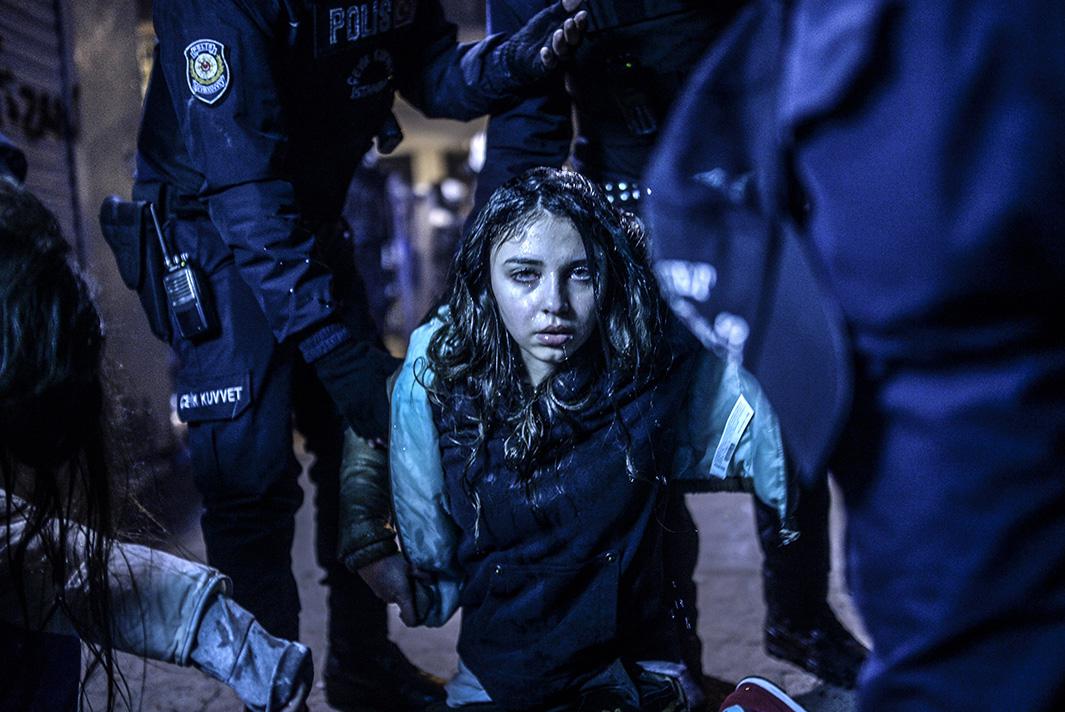 A young girl is pictured after she was wounded during clashes between riot police and protesters after the funeral of Berkin Elvan, a 15-year-old boy who died from injuries suffered during last year's anti-government protests, in Istanbul on March 12, 2014.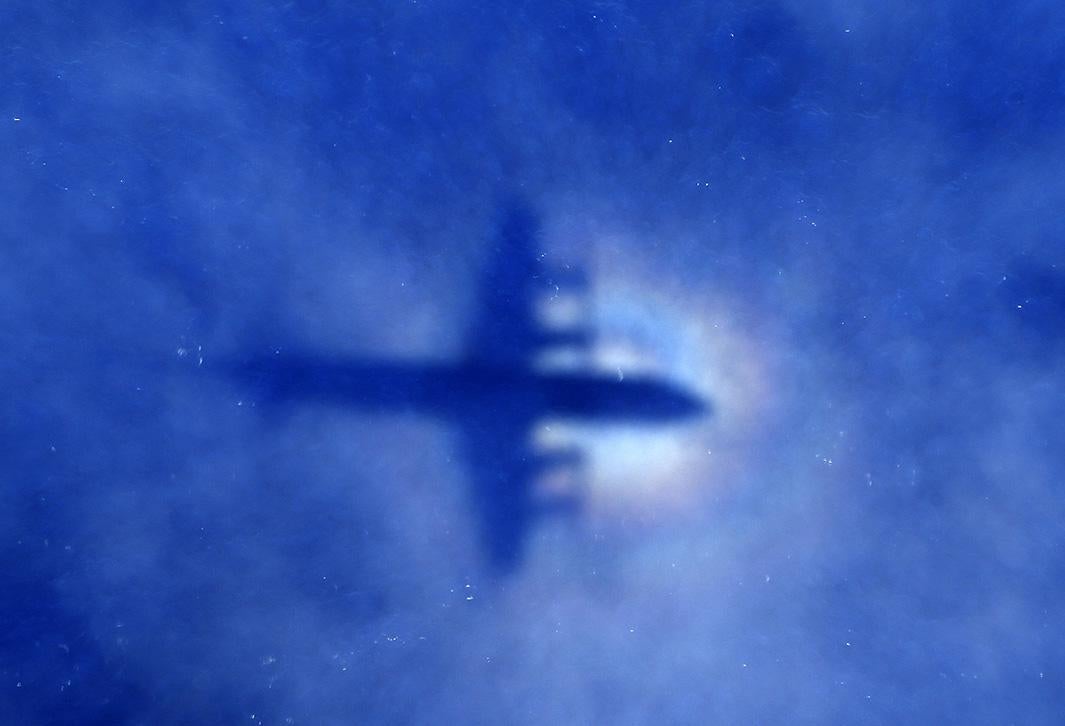 The shadow of a Royal New Zealand Air Force maritime search aircraft can be seen on low-level clouds as it flies over the southern Indian Ocean looking for missing Malaysia Airlines Flight 370 on March 31, 2014. The flight's disappearance on March 8 was unprecedented in aviation history for the scarcity of any trace of the plane, passengers, or evidence of an accident altogether.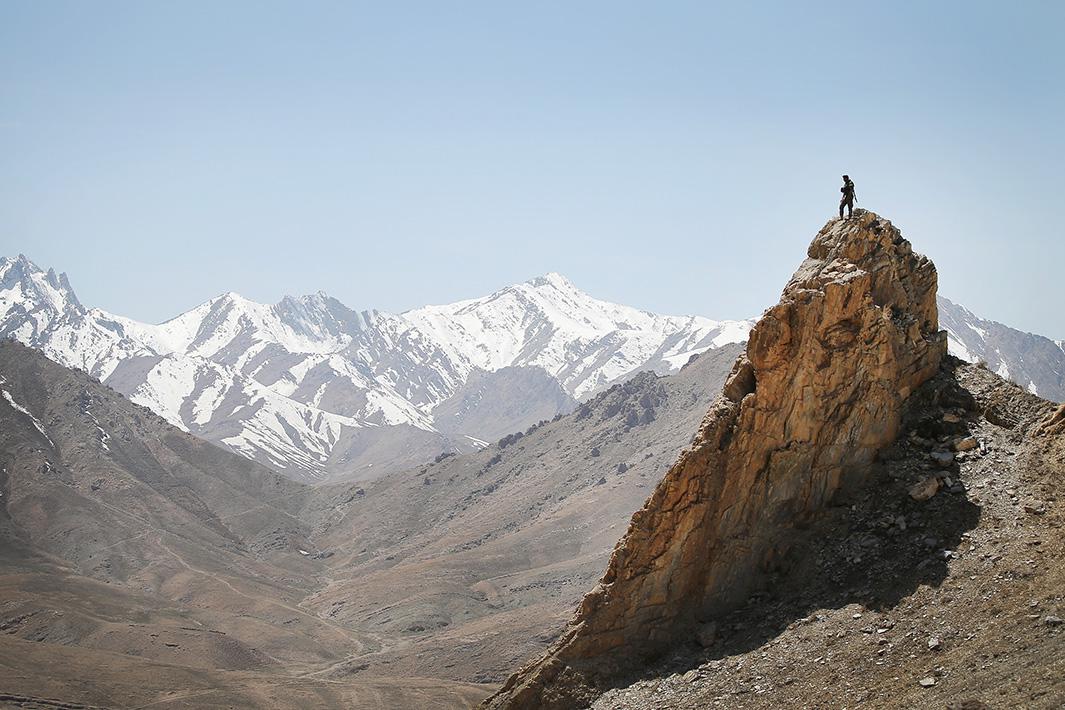 An Afghan National Army soldier gazes out from a rocky overlook as soldiers with the U.S. Army's 2nd Battalion, 87th Infantry Regiment, 3rd Brigade Combat Team, 10th Mountain Division patrol below on March 31, 2014, near Pul-e Alam, Afghanistan. Security was heightened throughout Afghanistan in the lead-up to the presidential election, the ensuing months of tension following a flurry of fraud accusations, and the formal conclusion of the NATO combat mission on Dec. 28, 2014.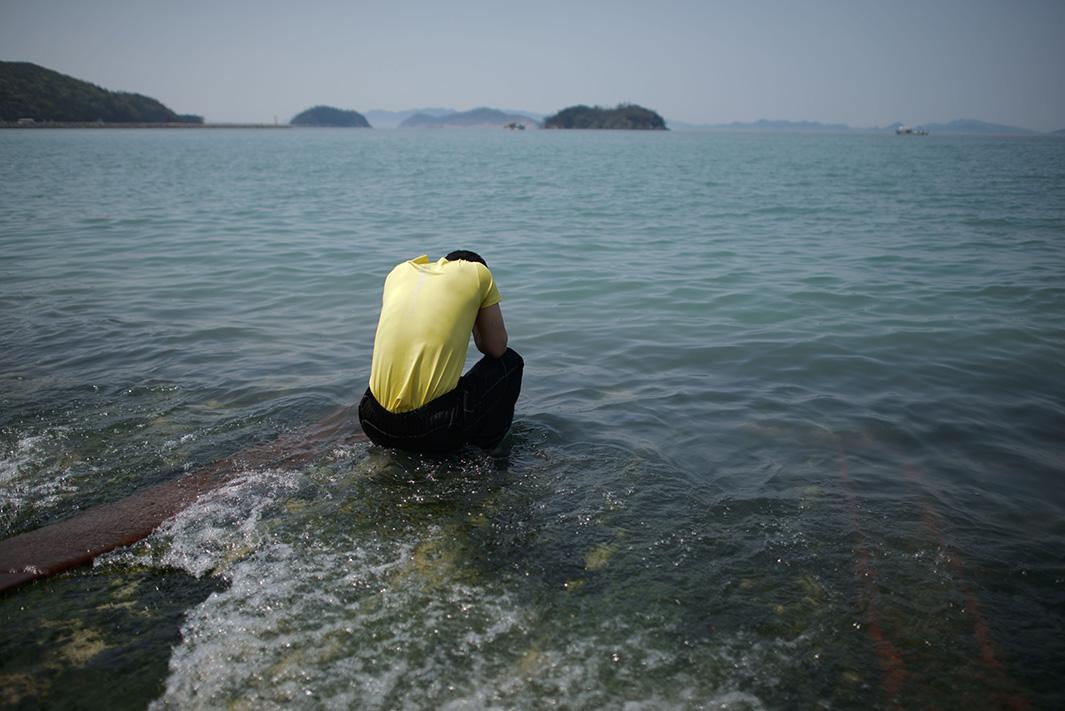 A man offers prayers before the sea for victims of the Sewol ferry disaster in Jindo, South Korea, on April 25, 2014. The captain, though acquitted of homicide charges, was sentenced to 36 years in jail, and 13 other crewmembers were sentenced to no less than 20 years for gross negligence leading to the deaths of nearly 300 passengers. Yoo byung-eun, the chairman of the ferry operating company, became a fugitive after the wreck, and following a massive manhunt, was found dead in an orchard under surreal circumstances.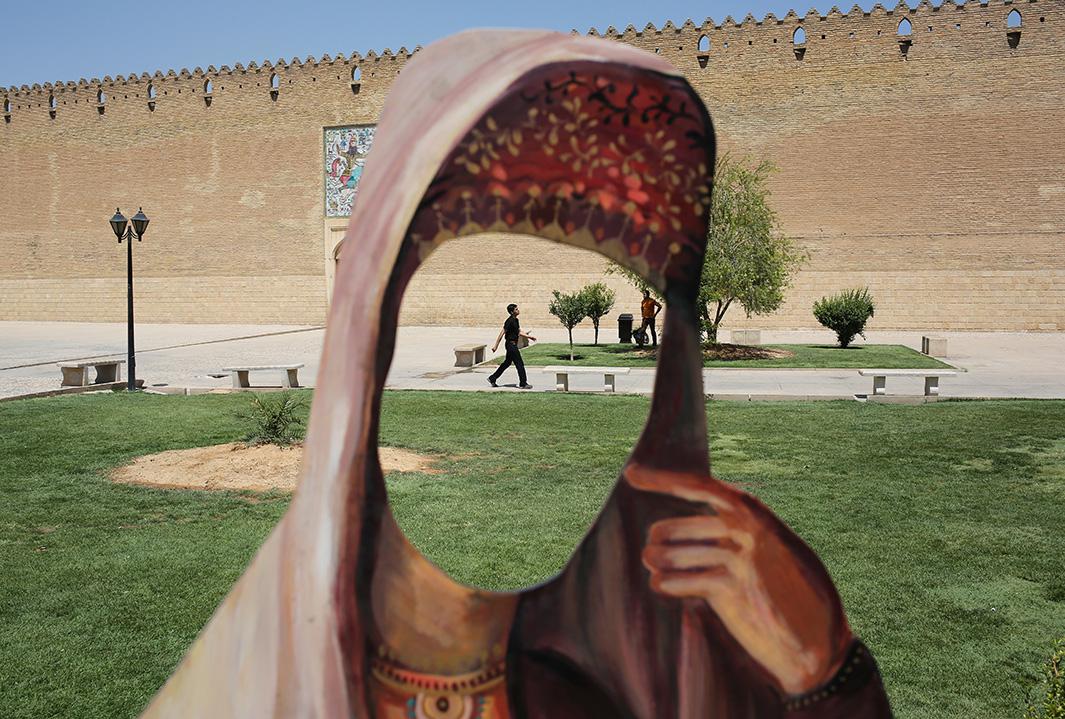 A cutout of a woman in Iranian dress stands in front of the Karim Khani Palace, also a former prison, on May 29, 2014, in Shiraz, Iran. Shiraz, celebrated for more than 2,000 years as the heartland of Persian culture, is progressive and tolerant in a way not often represented by Western media. In June, Iran observed the 25th anniversary of the death and continued legacy of the Ayatollah Khomeini, the father of the Islamic revolution (give or take an entirely different symbolic cardboard cutout).

Read Michael Hobbes' account of his parents' life in Shiraz, and how they were accidentally caught up in the revolution.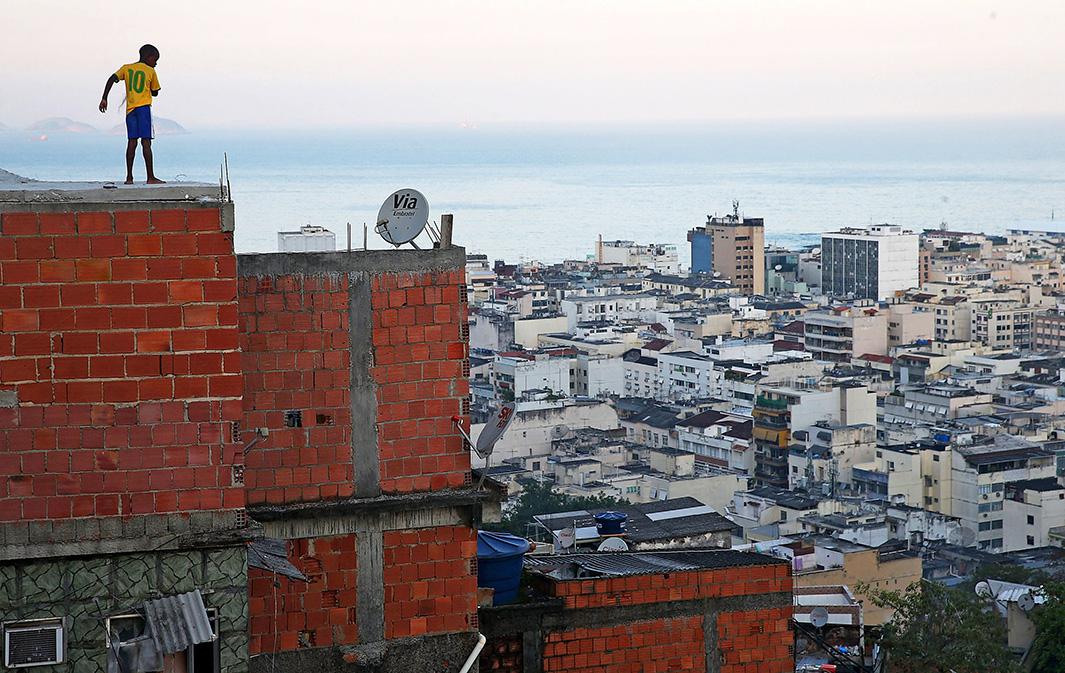 A boy wears a Neymar jersey as he flies a kite from a rooftop in the Cantagalo favela during the World Cup in Rio de Janeiro, Brazil, on July 4, 2014. Days later, Brazil suffered a massive defeat against Germany, which went on to win the final.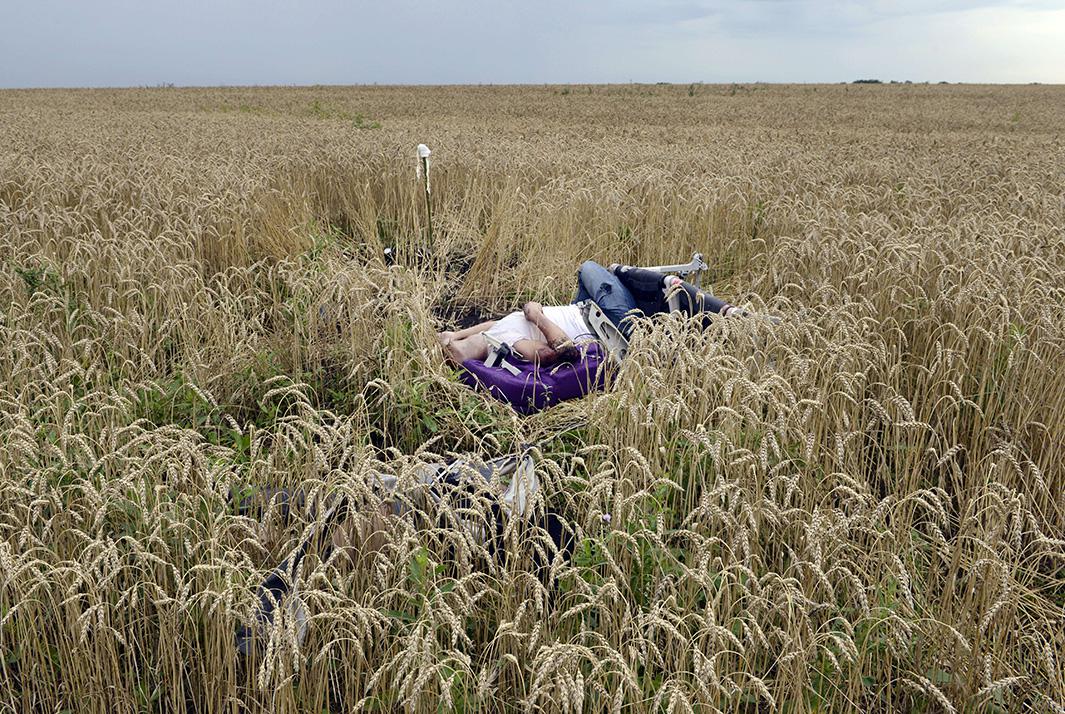 A body lies in a wheat field at the site of the crash of a Malaysia Airlines plane carrying 298 people from Amsterdam to Kuala Lumpur, Malaysia, in rebel-held eastern Ukraine, amidst the ongoing chaos in the region, on July 19, 2014.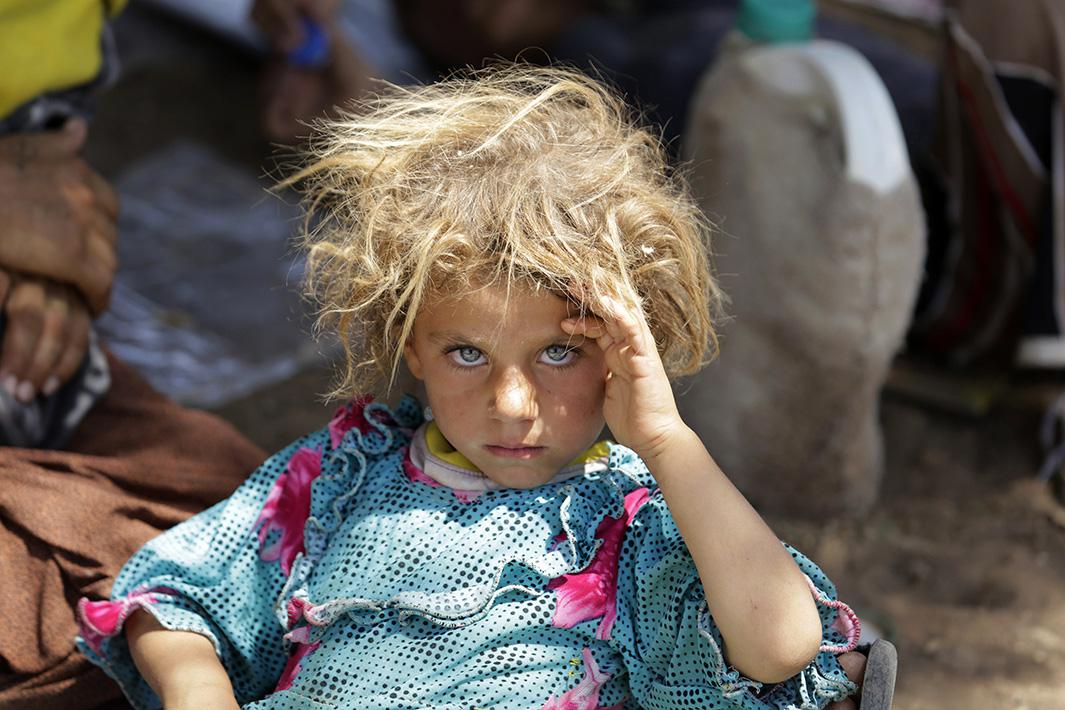 A girl from the minority Yazidi sect, fleeing the violence in the Iraqi town of Sinjar, rests at the Iraqi-Syrian border crossing in Fishkhabour in the Dohuk province of Iraq on Aug. 13, 2014.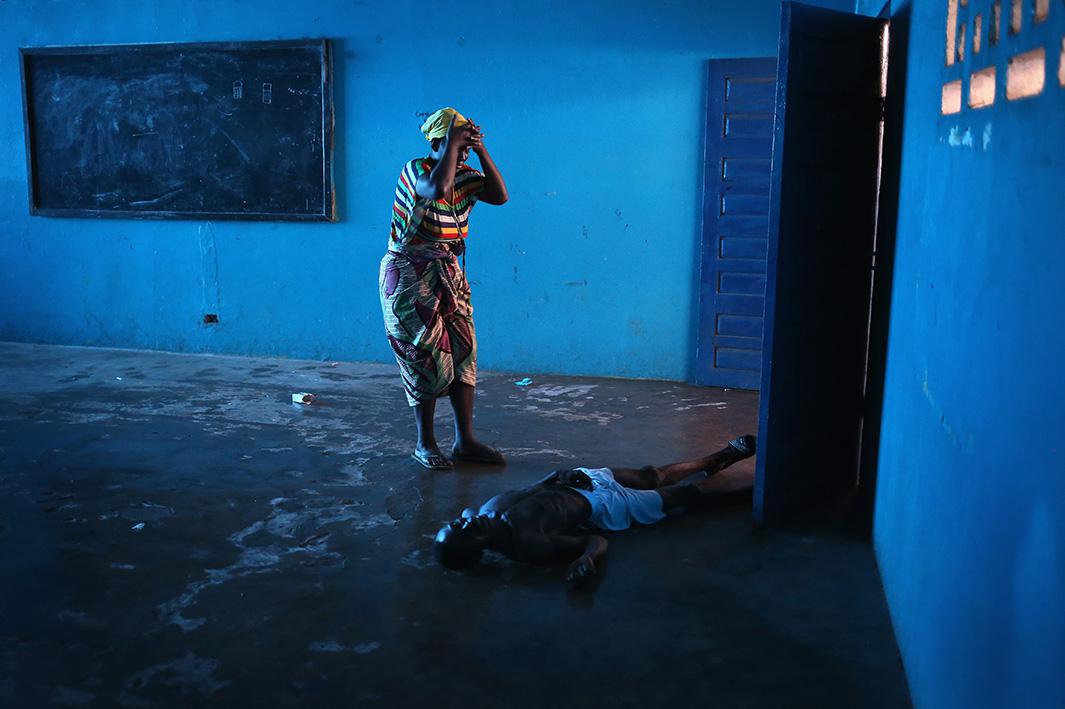 Omu Fereneh stands over her husband, Ibrahim, after he staggered and fell, knocking himself unconscious in an Ebola ward on Aug. 15, 2014, in Monrovia, Liberia. "What makes the Ebola virus so terrifying is not its kill rate, its exponential growth, the gruesome way in which it kills, the ease of transmission, or the threat of mutation," writes Benjamin Hale, "but rather that people who care can do almost nothing but sit on the sidelines and watch."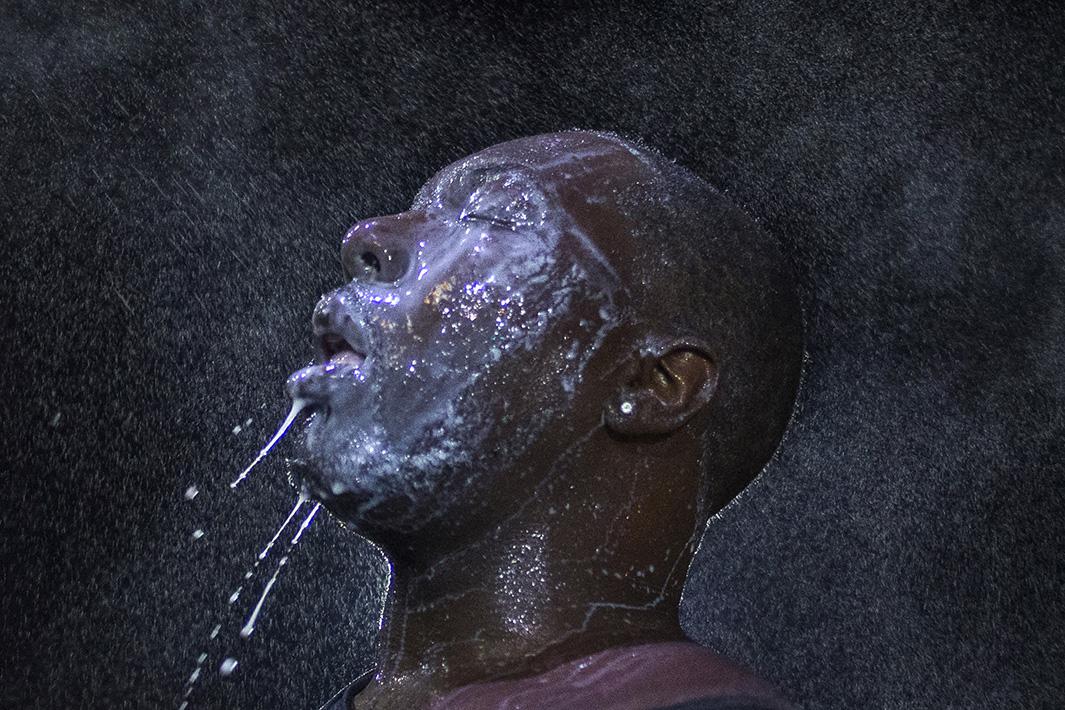 A man is doused with milk and sprayed with mist after being hit by an eye irritant from security forces trying to disperse demonstrators protesting against the shooting of unarmed black teen Michael Brown in Ferguson, Missouri, on Aug. 20, 2014. Officer Darren Wilson shot and killed Brown on Aug. 9. The gathering of mourners at the scene of the crime that evening quickly grew into widespread protests by the following day. Over the next two weeks, turmoil ensued as demonstrations became destructive and police responded with heavily armed and at times excessive force.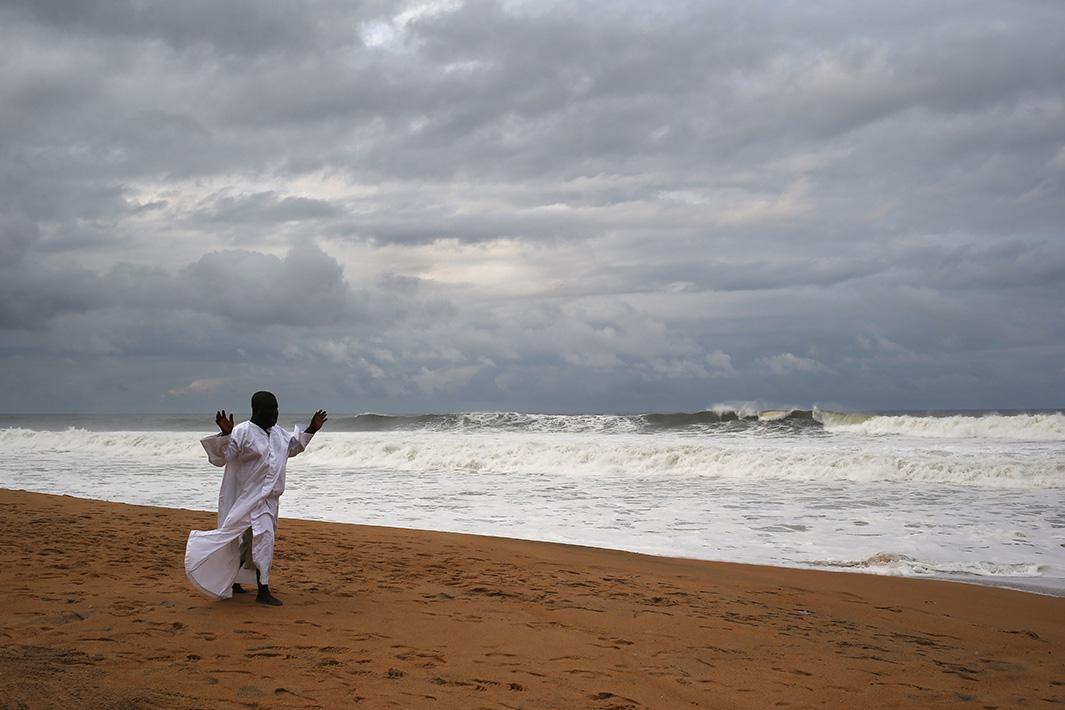 A member of the Church of the Lord (Aladura) prays on the beach on Aug. 20, 2014, in Monrovia, Liberia. He and other church members were praying for God to rescue Liberia from its current crisis. At the close of 2014, the World Health Organization Ebola death toll in Western Africa approached 8,000, with more deaths in Liberia than in any other country.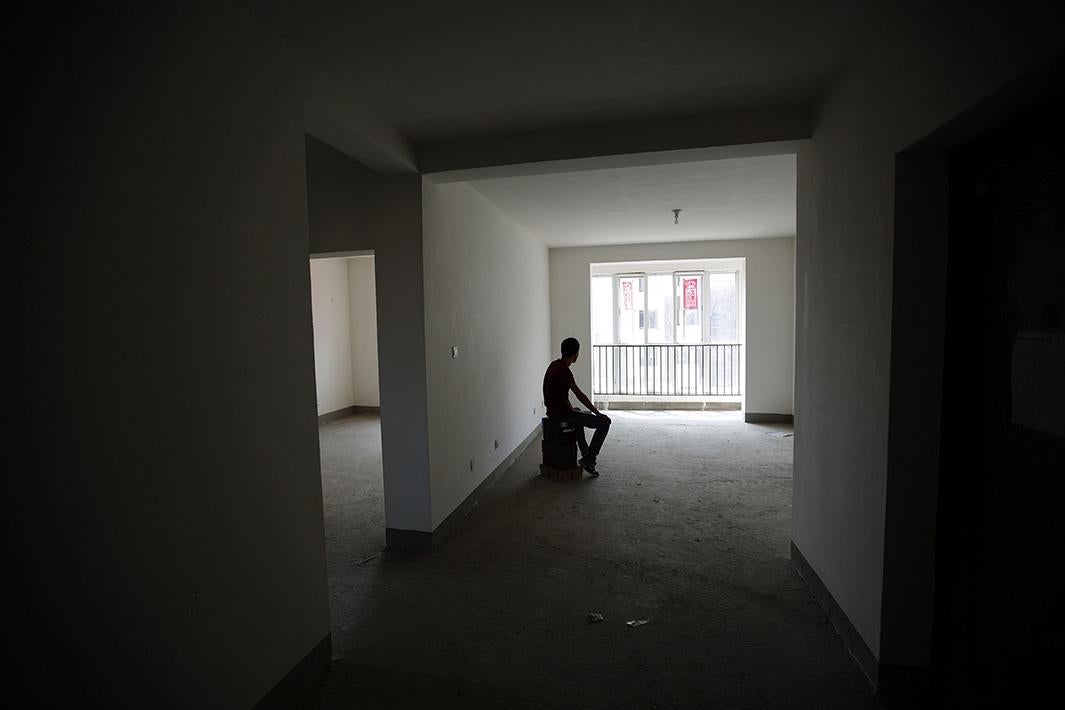 Zhiliang, whose fiancée was onboard Malaysia Airlines Flight 370, which disappeared on March 8, 2014, is silhouetted at an empty house that he had planned to decorate with her for their marriage, in Tianjin, China, on Aug. 26, 2014. Almost six months had passed since the MH370 disappeared. Although authorities concluded that the plane crashed in the remote Indian Ocean and lost all the passengers, many family members refuse to accept this tormenting and unclear conclusion.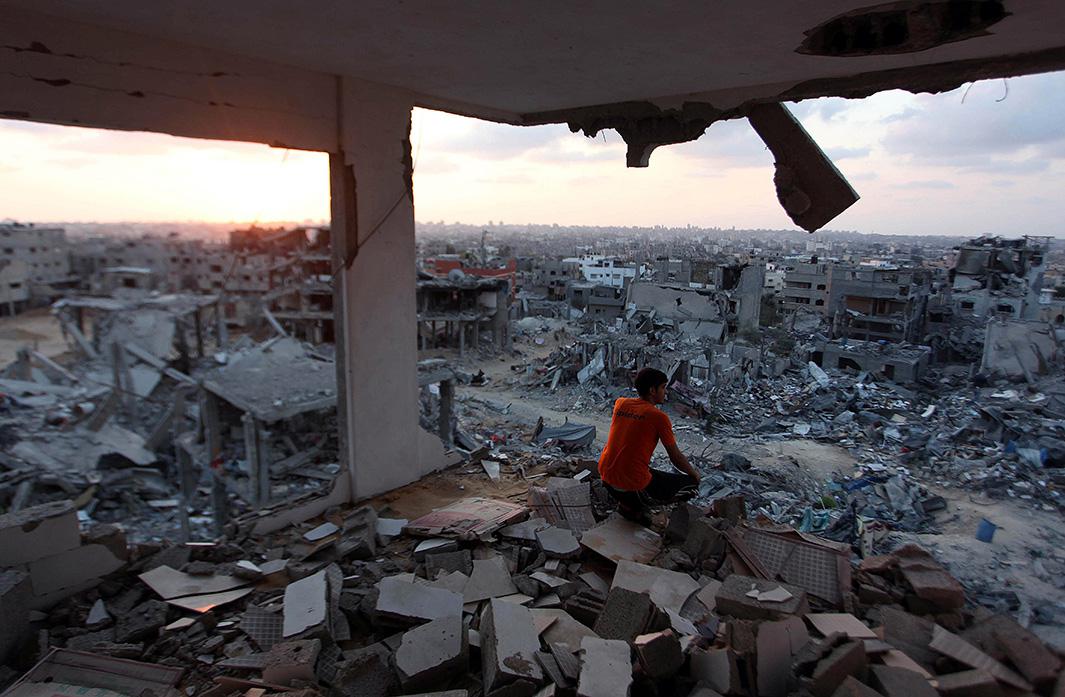 A Palestinian boy crouches among the debris of destroyed buildings as Palestinians start to return to their homes during a cease-fire in the al-Shaaf neighborhood of Gaza City on Aug. 31, 2014, following the latest outbreak of war with Israel months earlier.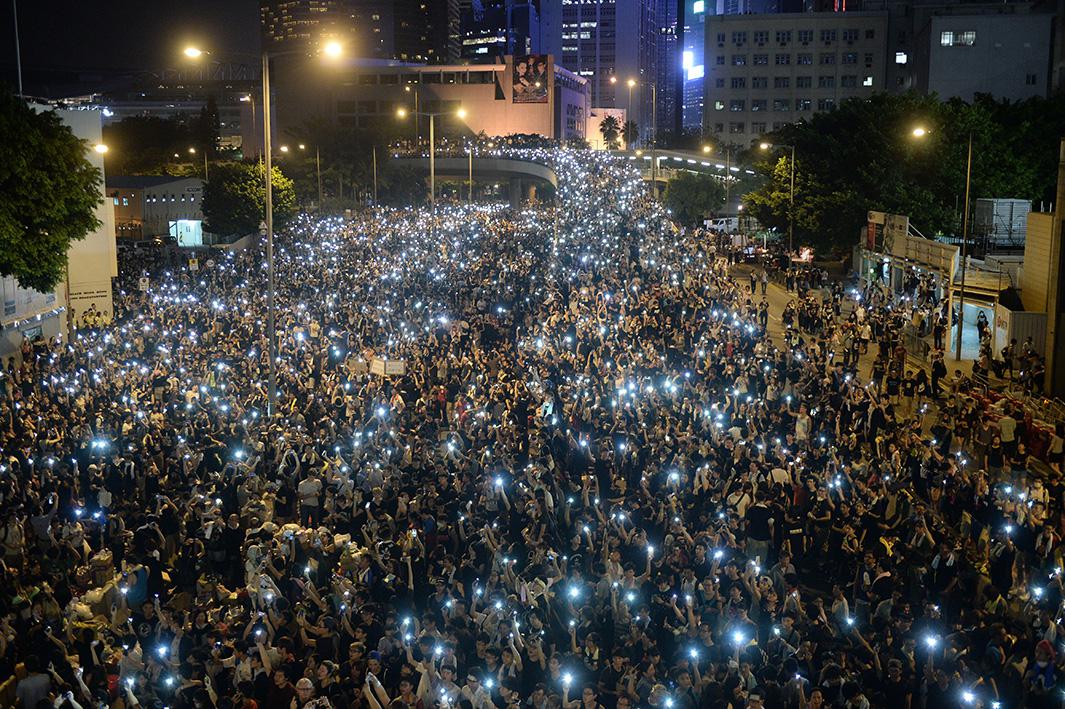 Pro-democracy demonstrators hold up their mobile phones during a protest near the Hong Kong government headquarters on Sept. 29, 2014. The ranks of Hong Kong democracy protesters grew out of a student movement demanding free elections, numbering tens of thousands of activists occupying downtown at the height of the campaign. Over the course of the months that followed, mainland China's refusal to negotiate was stern and its response to activists violent, with the majority of the activists removed from the central district by mid-December.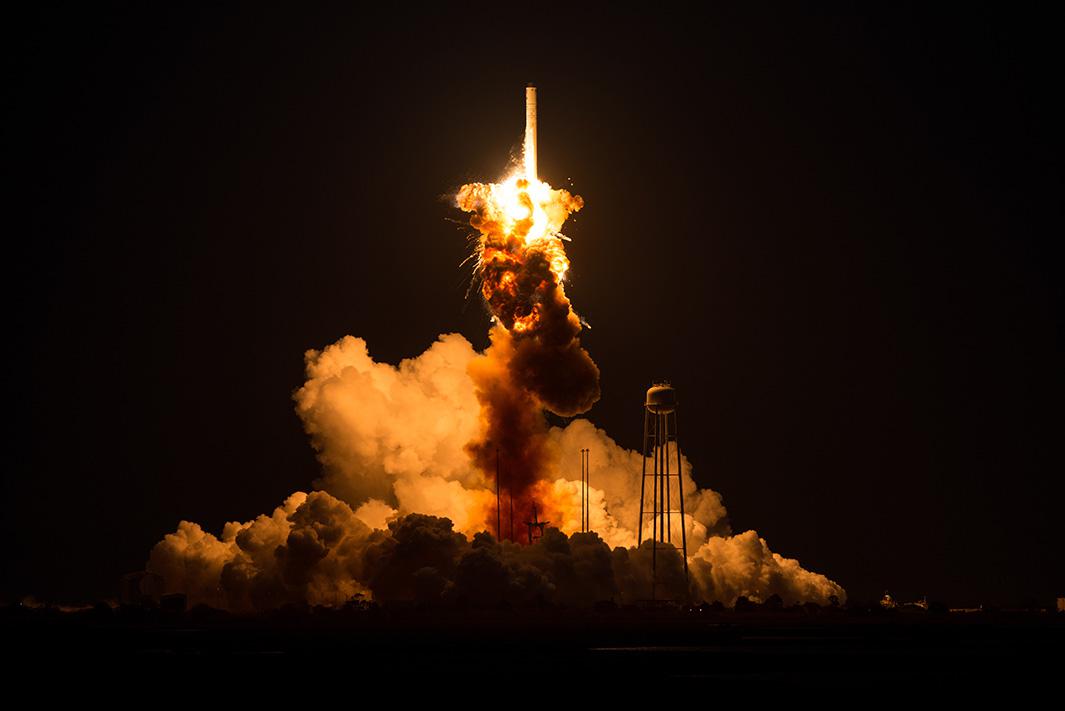 The Antares rocket, with the Cygnus spacecraft onboard, suffered a catastrophic anomaly moments after its launch from NASA's Wallops Flight Facility in Virginia, on Oct. 28, 2014. Fortunately, the rocket was unmanned, and the payload of supplies bound for the International Space Station lost in the accident was delivered by a Russian Soyuz shortly thereafter.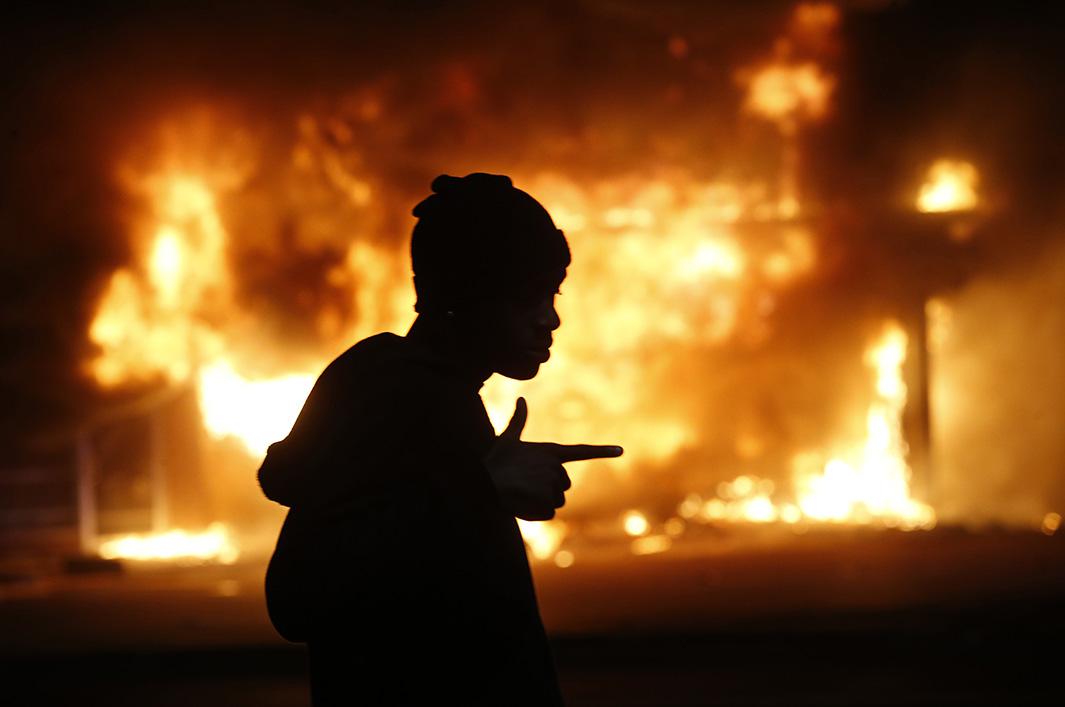 A man walks past a burning building during rioting after a grand jury returned no indictment in the shooting of Michael Brown in Ferguson, Missouri, early on Nov. 25, 2014. "In the wake of the decision not to indict Wilson," writes Josh Voorhees, "it's worth acknowledging that our criminal justice system—both explicitly and implicitly—backs the police officer who does the shooting rather than the person who gets shot. It shouldn't be surprising, then, that Darren Wilson wasn't indicted."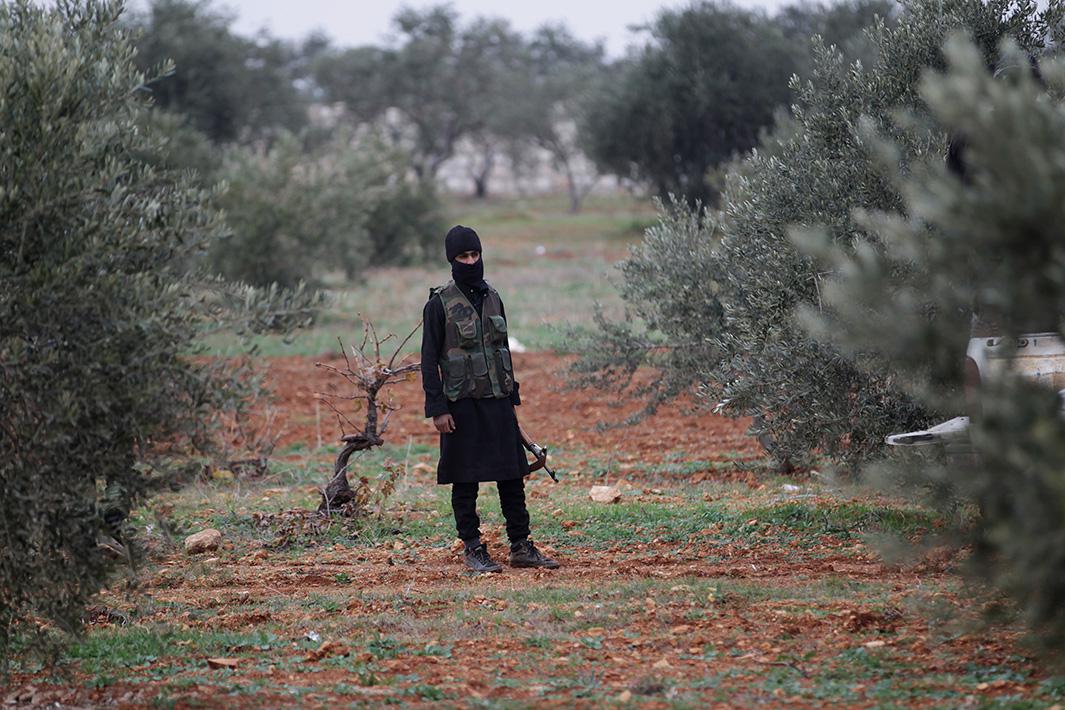 A member of al-Qaida's Nusra Front carries his weapon as he stands in an olive tree field, near villages that the Nusra Front said it had have seized control of from Syrian rebel factions, in the southern countryside of Idlib, Syria, on Dec. 2, 2014.  "Al-Qaida and jihadism are no longer synonymous (if they ever were)," said a report by the International Centre for the Study of Radicalisation and Political Violence, in conjunction with the BBC.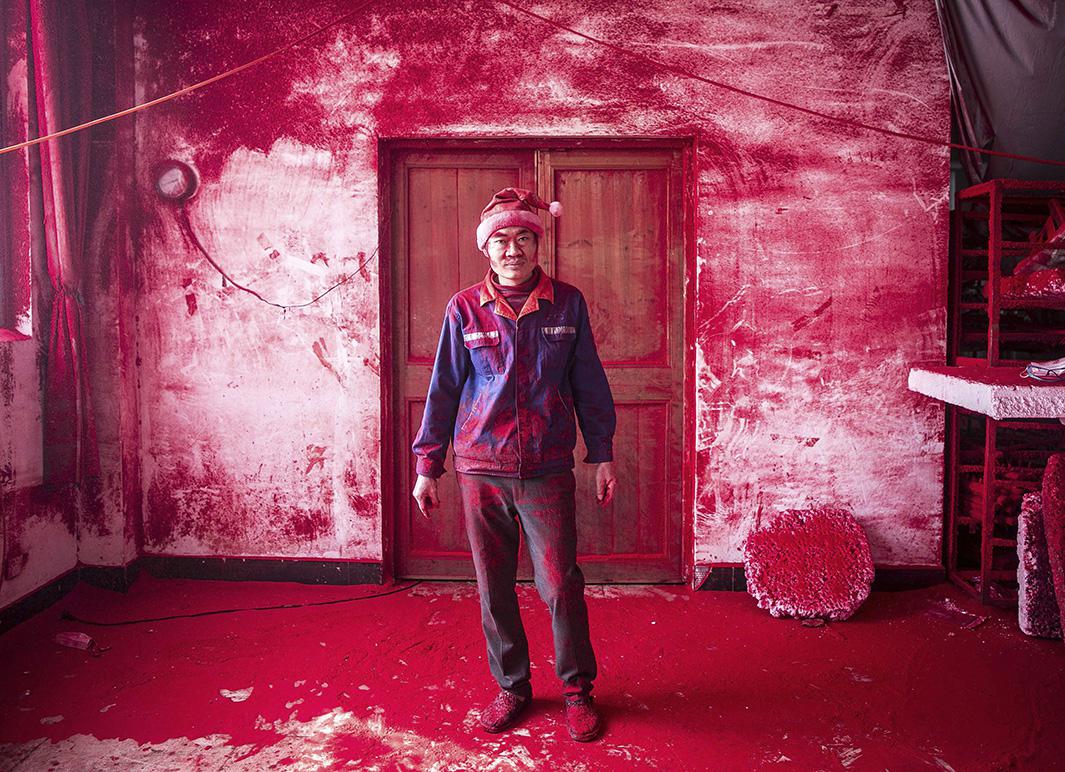 A man wearing a Christmas hat poses for photographer at a factory producing Christmas decorations in Yiwu in China's Zhejiang province on Dec. 4, 2014. Weeks earlier, a surprise bilateral U.S.-China agreement setting targets for CO2 emissions out to the year 2030 was announced, a big deal when considering human impact on future climate because cumulative carbon is the only number you really need to pay attention to and the implications of China's current rate of growth are a concern.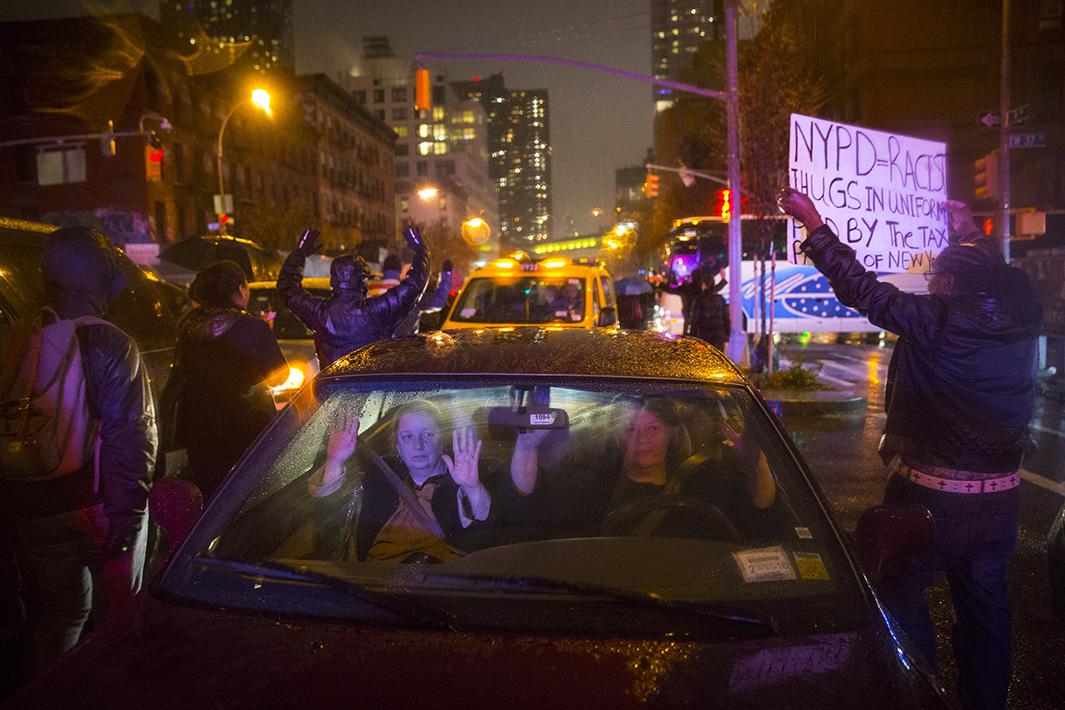 Women perform the "hands up don't shoot" action in their car as protesters walk by during a march for chokehold death victim Eric Garner in New York on Dec. 5, 2014. Protesters in New York and other cities staged a third night of rallies on Friday, denouncing the use of deadly force by police against minorities. This week's wave of angry but largely peaceful protests began Dec. 3 when a New York grand jury declined to bring charges against white police officer Daniel Pantaleo in the death of Garner, a black 43-year-old father of six.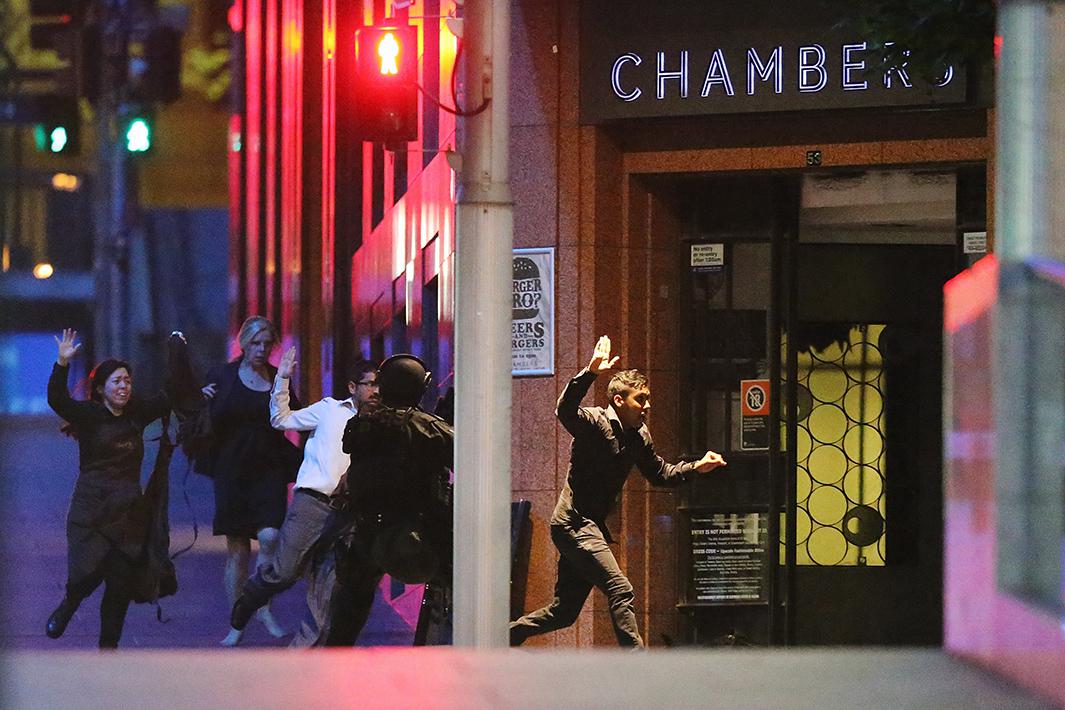 People run with their hands up from the Lindt Cafe in Martin Place during a hostage standoff on Dec. 16, 2014, in Sydney. "Both during and after the hostage standoff, considerable attention focused on Monis' Islamic ties and purported religious extremism," writes Nancy Leong. "Yet far less note was made of his extensive history of violence against women. At the time of the standoff, he was out on bail for charges relating to the murder of his ex-wife, whom he had also threatened and stalked, and he had been charged with more than 40 sexual assault offenses dating from 2000 and allegedly involving seven different women… We need to stop dismissing gendered violence and start learning from the pattern present in one incident after another. Men who engage in violence at home are often men who engage in violence outside the home."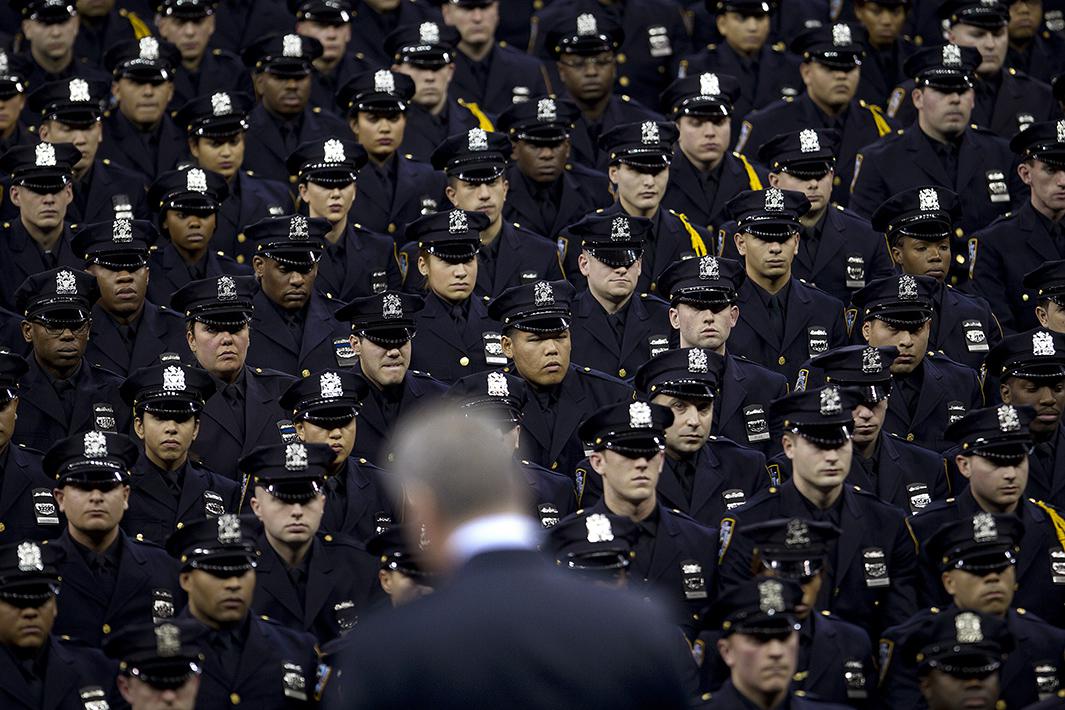 New York Mayor Bill de Blasio addresses recent graduates of the New York City Police Academy in New York on Dec. 29, 2014, to a varied reaction of polite applause mixed with booing and heckling from the audience. Earlier that week, officers turned their backs on the mayor when he spoke at the funeral of one of the officers killed by a gunman in Brooklyn. The gunman took the lives of two officers as well as himself, leading to accusations from NYPD officials correlating previous support for protests against police brutality with de Blasio's responsibility for the murders.