The H Street Walmart in Washington, D.C., got a bit of a surprise on Tuesday night when dozens of Ferguson protesters took a detour from their march around the nation's capital to march through the store.
Thousands of protesters made their way through Northwest D.C., starting at 7 p.m. with rally at Mount Vernon Square and ending on the steps of the National Portrait Gallery. Their long, looping route—upward of two miles—took them past one of the district's newly opened Walmart Supercenters. As the protesters marched south along First Street toward the store, they began chanting "Shut Walmart down!" Then, while the bulk of the protest turned right to head down H Street toward Chinatown, a few dozen participants headed for Walmart's big sliding doors.
They marched into the store, rode up the escalator––chanting all the while––and took a lap around, through the produce section and past the frozen foods cases, ending back in front of the store.
I've covered a decent amount of protests––Truckers for the Constitution comes to mind, as well as a huge anti-marriage-equality march led by a woman blowing a shofar and an immigration rally where more than a half-dozen members of Congress were arrested––but nothing matches the surrealism of a "Justice for Mike Brown! JAIL Ofc. Darren Wilson for Murder Stop Racist Police Terror" banner hoisted above a Walmart customer service sign.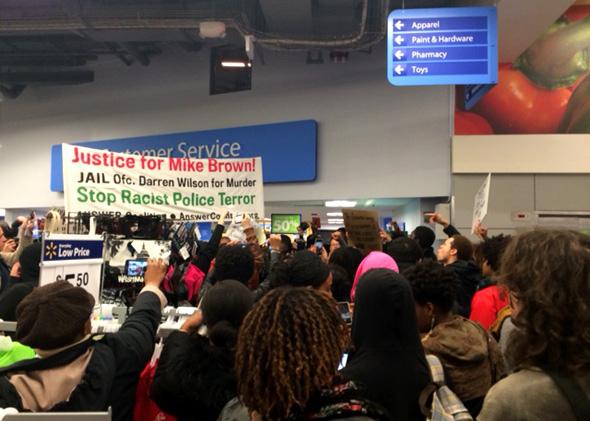 The protesters chanted "No justice, no peace!" and "A living wage! No peace!" as they re-assembled and headed for the exit.
As they headed out, store employees told me nothing was stolen or broken and nobody was arrested. When I was in the store, I saw nothing indicating lawbreaking of any sort. (We'll update this story if we get official comment from Walmart.)  
Some Walmart shoppers stared at the protesters bug-eyed. Others raised their hands over their heads in solidarity. And one employee, who identified herself only as Jay, said she would join up with them if she didn't have to work.
"If I was off the clock, I'd be with y'all!" she said. "No justice, no peace!"
Even given that they're protesting her employer?
She dropped her voice.
"If I was off the clock, I would join y'all," she repeated.
I later asked one of the Walmart protesters, Phillip Brown, why they decided to target the big box store.
"To shut it down," he said. "They need to pay people a living wage. People can't survive on the money that they're paying them."
Eugene Puryear, an activist who ran for an at-large seat on the D.C. city council earlier this month and helped organize the evening's march, said he wasn't expecting protesters to enter the store.
"The spirit kind of moved us," he said.
He said that Walmart contributes to poverty by paying its employees low wages.
"We believe the police and mass incarceration is a way of reinforcing social problems rather than solving them," he continued. "So we wanted to point out that the low-wage workforce is a big piece of that. And we want to support our brothers and sisters who are working hard every day and just want to make a living for their families."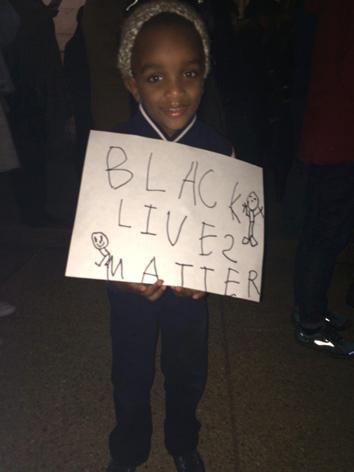 The crowd was dotted with Guy Fawkes masks, and a rainbow flag materialized when they arrived in Chinatown. One protester, Chene Byrd, held a sign calling for a boycott of the forthcoming Ridley Scott film, Exodus: Gods and Kings.
"It's the story of Moses, and it's all white people cast in the movie," he said. "It's a total misrepresentation of my ancestors, of history. It's just false, totally false. It's a slap in the face, it's disrespectful, it's disgraceful. I think it's just another way to continue to force this image of white supremacy down our throats."
Chants ran the gamut from standard call-and-response protest fare ("Show me what democracy looks like! This is what democracy looks like!") and classic chanting formulations ("Hey! Hey! Ho! Ho! These racist cops have got to go!") to explicitly anti-cop chants, including "Fuck the police!"
A few protesters chanted, "Cops, pigs, murderers!" at police officers standing in front of New Jersey Avenue.
I asked Puryear if he worried about the anti-police tone some of the marchers took.
"I'm not concerned," he said, "because when every 28 hours a black person is killed in this country by a police officer, a vigilante, or a security guard, when people are harassed and brutalized and abused, it's understandable that people would have that kind of anger and that kind of frustration."
"This is something that I think is natural when there is so much abuse and misuse and, really, terror happening from police forces," he added.
Protesters are planning more activity in the district for Black Friday.