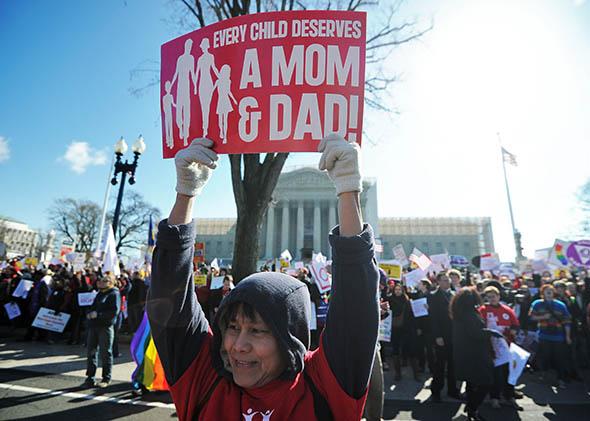 Conservative opponents to same-sex marriage are having a good week. Last Tuesday, voters elected a new class of Senate Republicans who widely share their views. On Thursday, the 6th U.S. Circuit Court of Appeals ruled that the Constitution doesn't guarantee same-sex couples the right to marry. Then, on Sunday, their nemesis-in-chief, openly gay Republican candidate Carl DeMaio, conceded defeat in his bid for a Southern California House seat.
Social conservatives working to stem the seemingly inevitable tide that favors same-sex marriage are feeling good and dreaming big. (Ralph Reed, who chairs the Faith and Freedom Coalition, emailed that the results were "very heartening.") And they are already working to build on that success. Their next target: Sen. Rob Portman, the Ohio Republican who announced in March 2013 that he supports same-sex marriage.
Beating Portman in a Republican primary is an extremely long shot, to put it gently. For starters, a candidate willing to face him has yet to emerge, and those looking for one don't seem to be floating any names yet. On top of that, Portman is a formidable fundraiser and has broad support from top national Republicans.
Still, the midterm election results have his ideological foes on the right feeling hugely optimistic. That's because for the last few months, things have largely gone according to plan. The plan is what you might expect: Bolster the electoral prospects of Republicans who opposed same-sex marriage and work to undermine everyone who doesn't.
On Sept. 25, three leading same-sex-marriage opponents sent a letter to top Capitol Hill Republicans stating that they would actively work against a handful of socially moderate Republican nominees: DeMaio, Oregon Senate candidate Monica Wehby, and Massachusetts House nominee Richard Tisei.
DeMaio and Tisei are both openly gay, but the letter—signed by Brian Brown of the National Organization for Marriage, Tony Perkins of the Family Research Council, and Tom Minnery of CitizenLink—didn't mention that fact. It did, however, say the three candidates would "serve as terrible role models for young people" if elected. DeMaio and Tisei weren't the only Republican House candidates running who favored same-sex marriage, but they were the only two the letter targeted.
It didn't take social conservatives gunning for Wehby to derail her chances, and Tisei lost by 14 points—a margin far larger than anything social conservatives could realistically claim as their handiwork. But in California, incumbent Democrat Scott Peters barely defeated DeMaio. Social conservatives argue that their efforts made the difference in that contest.
The letter's signers encouraged social conservatives in DeMaio's district to vote for his Democratic challenger. Brown, speaking before the candidate conceded, said his socially moderate stance hobbled DeMaio's prospects.
"Even if DeMaio squeaks this thing out, anyone who's familiar with the district and the nature of this election has to explain why DeMaio didn't crush Peters," Brown said. "The reason is simple. The reason is that his support for same-sex marriage brought him way down."
"How did Monica Wehby do?" he added. "Horrible."
Perkins said the midterms vindicate his side's argument that same-sex marriage isn't a done deal.
"Unfortunately, some in the Republican establishment bought into the media's line that America had moved away from the issue of marriage," he said. "Quite frankly, that's just not the case."
Beyond defeating their top Republican targets, social conservatives are also emboldened by watching several of their heroes win tight races. Perkins pointed to Thom Tillis, the North Carolina state House speaker who beat incumbent Democrat Sen. Kay Hagan in the year's most expensive race. Perkins said Tillis didn't talk about same-sex marriage much until North Carolina's amendment barring it lost in court.
"He stood up and was very aggressive in defending the marriage amendment, and that's when things began to turn for him," Perkins said.
The state's amendment lost in court on Oct. 10. The Real Clear Politics polling average shows Hagan's lead over Tillis narrowing sharply from Oct. 1, when she was up by 3.8 points, to Election Day, when she lost by about 1.7 points.
"I do not claim that the election results were the sole effect of social issues and marriage; that is not the case at all," said Perkins. "I just think it gave an extra margin of victory to those who were willing to step out."
Brown counts Gov. Sam Brownback's re-election victory in Kansas as another win for his side. The governor—widely regarded as the most vulnerable red-state governor of the cycle—energetically touted his opposition to same-sex marriage in a debate with his Democratic challenger. Brown's group also worked to boost Sen. Pat Roberts, another embattled Kansas Republican who still pulled off a win on election night.
"I'm hopeful that Pat Roberts will be more forceful in the Senate," Brown said.
Perkins said he thinks Tom Cotton, the Arkansas Republican who beat incumbent Democrat Sen. Mark Pryor, will also be a strong advocate for his group's ideals.
When asked if he thought Cotton would ever dial back his opposition to same-sex-marriage, Perkins replied, "I know he won't  because I know him well."
That said, election night wasn't a total rout for Republicans who favor same-sex marriage. Rek LeCounte of Young Conservatives for the Freedom to Marry pointed out that most of the Log Cabin Republicans' endorsees won.
"I think ultimately this cycle just shows that groups like NOM care more about their narrow, divisive campaign than they do about electing conservatives who govern in accordance with the conservative movement," LeCounte said.
Either way, social conservatives are laying the groundwork for the next election. So now, the big goal for 2016—as NOM touted Monday morning on its blog—is finding someone who can successfully primary Portman.
"We gotta find a candidate," Brown said. "Obviously that's going to be difficult, but not insurmountable."
Perkins said he isn't actively working on those efforts right now but thinks Portman should be wary.
"I do think that Sen. Portman has reasons to be concerned, especially given the outcome of this election cycle," he said.
If it sounds like these plans are the result of a lot of coordinated strategizing, that's because they are. Brown said he and others meet every month at the Heritage Foundation to work on the marriage issue and have conference calls together twice a week. The meetings, per Brown, have drawn attendees affiliated with the Family Research Council, Focus on the Family, and the Conference of Catholic Bishops. Congressional staff come too, Brown added, though not as many as he would like. The staff from the offices of Reps. John Fleming and Tim Huelskamp and House Speaker John Boehner have all attended.
Jennifer Marshall, who helms the Heritage Foundation's Institute for Family, Community, and Opportunity, said the midterm election results underscore the idea that same-sex marriage "is a very much open question and deserving of robust debate."
Brown concurs.
"People think the fight's over," he said. "But they're wrong."
---