Each Friday, Roads & Kingdoms and Slate publish a new dispatch from around the globe. For more foreign correspondence mixed with food, war, travel, and photography, visit their online magazine or follow @roadskingdoms on Twitter.
STOCKHOLM—Hundreds of dancers have invaded the floor. The more self-conscious among them cradle drinks and stand pushed up against the walls of the crammed, clammy club. Most, though, have submitted to the beats blasting out of the speakers as the DJ spins a techno remix of Gloria Estefan's "Conga." Though it's near freezing outside, inside it feels more like a sauna. Sweat is dripping, fists are pumping.
On the surface, it looks just like any other dance party. Except here you won't get any drunken propositions. Because—as the event's name, Sober, hints—there's a strict no-alcohol policy. The drinks served at the bar are "mocktails." The signature offering is a blend of lime, fresh mint, and ginger beer that will set you back $13. Before entering the club, you have to take a breath test; if the machine shows alcohol content above 0.0 percent, you will be asked to leave.
By Swedish standards, the club feels like an anomaly—in fact, in the 1990s, Magnus Uggla, one of Sweden's most famous artists, released a hit single titled "I Never Dance Sober." The song mocked Swedes' pickup methods and lack of natural charm. Its title paraphrased Roman philosopher Cicero's adage "Nemo enim fere saltat sobrius, nisi forte insanit"—no one dances sober, unless he is insane.
But the idea of on-the-wagon partying has been gaining popularity in Sweden. Sober is the second clean-living party phenomenon to come out of the Scandinavian nation in recent years. It follows the wildly popular Lunch Beat, a midday office rave that started as an informal gathering of a handful of colleagues and ended up spurring a global lunch-disco movement. Lunch Beat, which also operates a no-alcohol, no-drugs policy, even gained sponsorship from the Swedish Institute, a government agency tasked with promoting Swedish culture around the world.
Sober founder Mårten Andersson says one of his biggest inspirations is "straight edge," the 1980s hard-core punk subculture whose adherents refrained from using alcohol, tobacco, and drugs, sticking instead to "natural highs."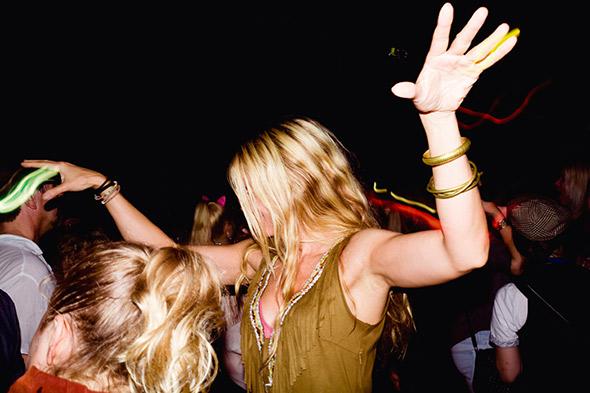 Nine months ago, Andersson, a 40-year-old stand-up comedian and television host, decided to take a break from drinking after 20 years of hard partying, a period during which he found himself waking up next to people he didn't remember bringing home the night before.
"That's how bad it got," Andersson says. "I thought I was alone in bed and turned around and realized I wasn't and that I didn't have a clue who the person lying next to me was. That's not how I want to live my life anymore."
Sober has been endorsed by the Swedish Temperance Association. Andersson says he appreciates the support but that he is not trying to push a message that drinking is immoral or wrong. Instead, he wants to offer an alternative. "If you want to go out dancing, flirting, and talking to people you don't know, then there should be at least one place where you can do all that without alcohol," he says.
Sober premiered in September and has already inspired copycat events around the country. The original monthly club night attracts a mixed crowd. The high proportion of young hipsters is perhaps not surprising, seeing as the venue, Södra Teatern, is in Södermalm, a Stockholm district recently flagged by Vogue as one of 15 coolest neighborhoods in the world.
While Sober is in its infancy—just two club nights have been arranged so far—Andersson says it has already attracted people of all ages. Some are simply curious about the concept. Others are ex-addicts looking for alcohol-free parties. The third category is what Andersson calls "yogis"—people into yoga, meditation, and other spiritual pursuits.
Zoaria, 30, belongs in that last group. She became a raw-foodist four years ago and hasn't touched alcohol since. "I used to drink a lot," she says. "I was a real party girl, but I don't miss it. Now, I'm just really into dancing, and there's a wonderful vibe and great energy at this club. People are here to have a good time. At other clubs you always have to deal with drunk people who bump into you and smell bad and smoke a lot. I don't think they're as happy as this crowd."
Standing by a high table with a view of the dance floor, first-time Sober attendee Ralph is sipping one of those pricey mocktails. He refers to himself as an addict but has been clean for over 17 years. He doesn't really go out much these days, he says. "It's usually just a hassle because people are so wasted," Ralph explains, adding that, at Sober, "people are clean and honest." He is grateful that the club offers him a chance to go out on the town again without having to face the temptations of alcohol and drugs.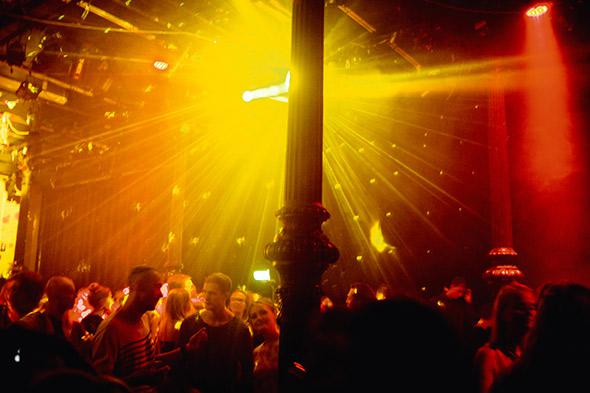 Khaled and Moa, two friends who are both in their early 30s, are not teetotalers but say they like the idea of going to a club that's not based around drinking. "The use of alcohol is such a strong norm in our society today that if you don't drink, people find it provocative somehow. Here, I can have fun and party without being forced to drink and without getting weird looks for turning down alcohol," Khaled says.
"Partying here doesn't feel that different," Moa says. "People are happy, they're dancing, and they're drinking—it's just that there's no alcohol involved."
To outsiders, Swedes' drinking habits can seem curious. In a sense, there is a laxer attitude compared with that of the States; 18-year-olds are allowed into bars here. Scenes of mayhem are also common at popular nightlife spots in cities like Stockholm, where otherwise introverted Swedes tend to turn loud and chatty after a few drinks.
While Swedes seem to have few inhibitions when it comes to drunken behavior, regular alcohol consumption is relatively uncommon. European habits of drinking a glass of wine at dinner on a weekday or enjoying a beer with your lunch are generally frowned upon here. Swedes like to save it for the weekend and go all out.
There are restrictive alcohol laws in Sweden. You can't order alcoholic beverages before 11 a.m., so forget Champagne breakfasts. Establishments that want to serve alcohol must also offer food. A restaurant or bar where guests spontaneously decide to dance may end up losing its alcohol license unless it also has a so-called dance permit.
To buy alcohol for personal consumption, you need to go to a state-run chain of stores called Systembolaget, which has a strict monopoly on liquor sales in Sweden. The stores have no late-night opening hours and are shut on Saturday afternoons, Sundays, and public holidays. You have to plan your drink shopping carefully: no spontaneous beer runs, no picking up an extra bottle of wine if your dinner party suddenly runs out.
Andersson has his own theory about Swedes' paradoxical relation to alcohol. "Most tourists who come to Sweden describe it as really stiff," he says. "They say we Swedes don't talk to strangers, that we're reserved. Instead of really doing the work required to change that, we drink ourselves to that state where we dare to break out of our comfort zones. But that's cheating because when the high fades out, we're back to scratch again.
"If Swedes would start doing things sober that they usually do under the influence of alcohol, I think we could change the way we drink in this country. I truly do," says Andersson, adding that getting wasted "just feels un-modern."
Could Sober be the next Scandinavian export?  Andersson says it's too early to tell, but he'd love to prove Cicero wrong: "It would be amazing to become the Ikea of clubs and spread around the world."