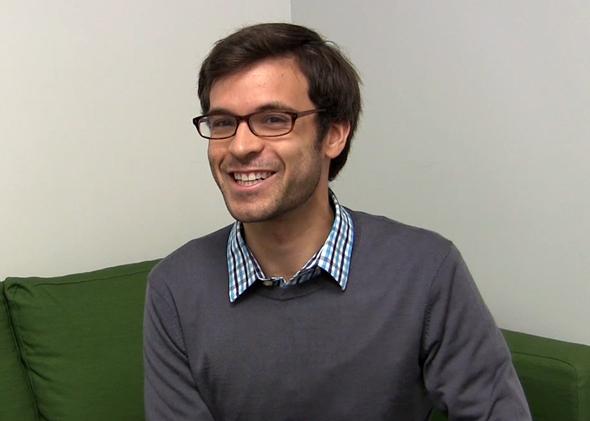 "In grand Slate tradition, tell us a little bit about yourself."
That's the invitation that concludes every email announcement of a Slate hire.
And that's the invitation that we're extending to Slate home page editor Seth Maxon, who chats about the challenges of crafting headlines, working nights and weekends at Slate, and his résumé of odd jobs.
Tell us about yourself. Where did you grow up? And where did you work before you came to Slate?
I grew up in Goshen, New York, a small town about 60 miles northwest of New York City. A few of Goshen's claims to fame are being the one-time home of Noah Webster, who taught in the town; the home of Willie "The Lion" Smith, a pioneering stride pianist; and housing the oldest harness racing track in America.
Immediately before coming to Slate, I worked as a producer for The Takeaway, a daily public radio show from WNYC, WGBH, and the New York Times. It's a great program that offers unique perspectives and interesting, entertaining conversations on major global events, domestic issues, and culture.
What's your favorite Slate piece and why?
If I have to pick one, it would probably be David Haglund's piece about Delonte West. I'm a big fan of the NBA, and I've written about mental health issues before, so the story spoke to my interests. But more importantly, it's a rich profile of a fascinating player whose personal story raises pressing questions about how the professional sports world treats—and doesn't treat—mental health. I love the Fresca initiative, and I also highly recommend Seth Stevenson's recent piece on a quietly historic chess tournament and John Swansburg's reported essay on the resilient myth of the American self-made man.
What are you reading right now?
About a year or so ago, I started alternating nonfiction and fiction books. I recently finished David Remnick's Reporting, a collection of his New Yorker pieces from the '90s and '00s, and I was planning to follow that with Lev Grossman's The Magician's Land, the new and final chapter of his great fantasy story. But after reading Choire Sicha's essay on the series, I decided to take his advice and reread the first two books in the series—The Magicians and The Magician King—before embarking on The Magician's Land. It's taken time, but I think ultimately, the wait will be worth the rewards of reading all three together.
What's the dumbest thing you bought (or bought into) this year?
I don't make a lot of stupid purchases, but the dumbest thing I bought into this year was my own false fondness for Red Bull. I thought I loved Red Bull; I drank a lot of it in college when I was up late studying or writing papers. I hadn't had one in many years until a couple of months ago, when a friend left one at my apartment and told me I could have it.
Well, when I did try to drink it, I was shocked to find that it was disgusting. I had maybe one-third of the can and I had to stop. Some people out there may love Red Bull. Those people are wrong.
Alternatively, your favorite thing you did this year? 
I got engaged! My fiancée is the best, so marrying her will also be the best.
Favorite karaoke song? Or favorite new song?
My fiancée and I love doing "Ghetto Superstar" together, with me on the verses and her on the chorus. My favorite solo karaoke song is R. Kelly's "Ignition (Remix)." As for new stuff, Spoon is one of my favorite bands of all time, and their new album is great, particularly the song "Inside Out."
Favorite people you follow on Twitter and why?
­
I love Star Trek: The Next Generation, and I think Riker Googling is one of the funniest accounts on all of Twitter. I also am a big fan of SB Nation's live tweets. Their live-tweeting during the Olympics and the World Cup should have won some kind of prize.
Most Useful YouTube Tutorial?
If you could have any job, regardless of your current skills, what would you want to do?
Honestly, there's nothing I'd rather do than be a journalist. But if I had the skills, it would be pretty wonderful to be a professional musician who made a decent living. I wouldn't want to be famous, but I've always loved music, and playing it provides a unique form of joy. Plus, unlike sports, barring debilitating health problems, you can play music your entire life. 
---