CRUCIAL WAUKESHA COUNTY, Wisconsin—This is an article about Scott Walker's closing argument in the Wisconsin gubernatorial race, but in case you don't want to read the whole thing, here's the short version: Jobs, jobs, jobs, the future of our children! Also, jobs.
In a contest that is closer than close, no one knows if Walker's message is working. Wisconsin's conservative governor is one of the most polarizing figures in national politics; after introducing policy changes to dramatically curtail public sector unions' clout, protesters flooded the state Capitol in Madison for months, and Walker ultimately was forced to run in a recall election (which he won decisively). Conservatives think he's saving America. Liberals think he's the devil incarnate. In Wisconsin, nobody is lukewarm on Scott Walker.
What may be most notable isn't the substance of the governor's final pitch, but how he says it. In the waning days of Walker's campaign, his message—delivered on a bus tour that has stopped at factories around the state and allowed him to pose with heavy machinery and blue-collar workers sporting safety goggles—has been uncharacteristically conciliatory. Forget anything on gay marriage or abortion. If you're looking for hot takes on Ebola and ISIS, look elsewhere. Walker is probably the most on-message politician in America right now.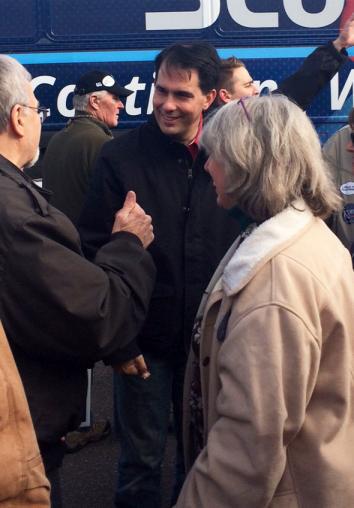 In the last several days, the candidate's campaign stops all unfold like this: He rolls up in his "Scott Walker Continuing Wisconsin's Comeback" bus, the twangy Brooks and Dunn song "Only in America" plays over a loudspeaker, and then Walker and his two sons and his wife, Tonette, and Rep. Paul Ryan and Lt. Gov. Rebecca Kleefisch and her husband and their two young daughters all pile onstage to talk about jobs.
Kleefisch, who is very energetic, opens with a speech about how the average family has saved $322 in taxes every year since Walker took office and how the state is now "a totally different Wisconsin."
Then Walker takes to the stage (or to the small portable platform his advance team sets up in the parking lot) and says, "I got a question for you: How many of you have been watching TV the last couple weeks?"
There are chuckles and groans.
"How many of you have seen the ads on TV the last couple weeks?"
There are boos.
"How many are sick of the political ads?"
Then Walker talks about the fact that Mary Burke and her supporters have run lots of negative TV ads against him, but that his spots are positive.
"My ads, particularly here at the close, they're me looking you right in the face, just like we're talking tonight, person to person, just like I'm sitting in your living room, looking across your coffee table, looking you right in the face, telling you what I'm for," he says.
He is for jobs. Also, he is for the future.
"I'm not asking for your vote on behalf of Tonette and I," he says at every stop. "Today I'm asking for your vote on behalf of Matt and Alex, I'm asking for your vote on behalf of my two sons."
In his last stop before Election Day, the governor added a line I hadn't heard before.
"I hope that tonight, here and across this state, people can see that our motives were pure," he says to a crowd assembled in the parking lot in front of Husco International.
Walker has drawn ferocious criticism for dividing a state that is generally considered a very affable place. Voters outside of his core ranks likely hold significant residual resentment that he caused such a stir, regardless of the merits of his policies. Walker's near-apologetic tone seemed to acknowledge that distaste.
Having voters recognize the purity of his motives would be helpful. As John Dickerson pointed out in August, the governor's approval ratings were underwater just three months before Election Day even though most of those polled thought the state was going in the right direction.
So Walker is fighting for his political life in the nicest way possible. His first (and, maybe, only) term as governor was enormously combative. Walker's closing argument appears to be an effort to show his softer side.