Since our launch in March, Slate Plus has enlisted members from all around the country—but not necessarily at the same rate in each state. Which states have the most members?
The map above is a cartogram of Slate Plus members, meaning that each state is scaled so that its area is in proportion to the number of Slate Plus members. While the map strips away some of the context a spreadsheet with raw values might offer—it illuminates other geographic patterns. The Northeast and mid-Atlantic make up a large percentage of Slate Plus members, even compared with their already dense population. People from New York state are twice as likely to be a Slate Plus member than people from all other parts of the country combined.
For reference, here's a map produced with identical methodology but scaled in proportion to population.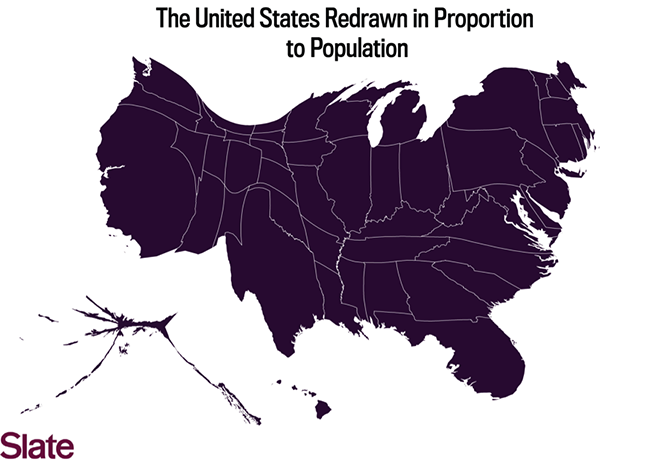 When scaled by population, America is a bit less weighted in the middle. The five states (including D.C.) which are the Slate Plus–iest (having the most members in proportion to their population) are all on the coasts or in New England. They are:
1. Washington, D.C.
2. Vermont
3. Massachusetts
4. New York
5. Washington
And the least Slate Plus members in proportion?
47. West Virginia
48. Oklahoma
49. Arkansas
50. Mississippi
51. South Dakota
But, the year's not over yet, so there is still time for South Dakotans to make a run up the year-end charts.