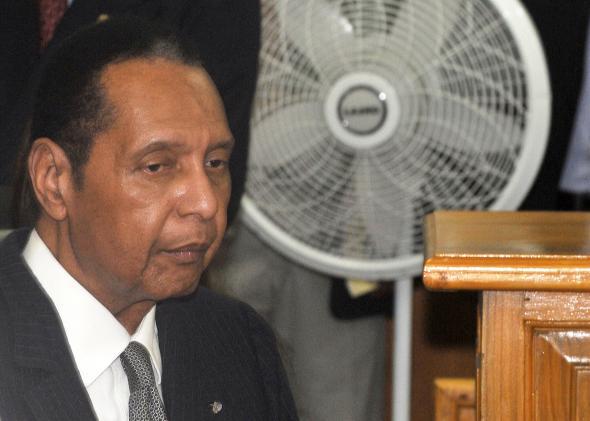 Jean-Claude Duvalier died of a heart attack on Saturday at his home in Port-au-Prince. It was a way too peaceful end for the 63-year-old who presided over a regime that seemed to torture and kill for sport while he made himself wealthy by stealing from the state and plunging the Haitian people further into poverty and despair.
Duvalier, known as "Baby Doc," took over the post of "president for life" at the young age of 19 after his father, Francois Duvalier, who was known as "Papa Doc," suddenly died in 1971. And while there was some hope in the beginning that he would open up the country Baby Doc ended up following in his father's footsteps, keeping a "well-established terror apparatus—most notably the Tontons Macoutes, the shadowy militia whose name means "bogeymen"—and added new techniques for skimming hundreds of millions of dollars from the national treasury," points out the Washington Post. Human Rights Watch has estimated that some 30,000 Haitians were killed under the two regimes.
Duvalier and his family flew off to exile in 1986 after a popular uprising. But he surprised everyone by returning to Haiti in 2011 and was charged with human rights crimes days later, reports CNN. But he managed to remain a free man by arguing that the statute of limitations had expired. He claimed he wanted to help his country rebuild after the devastating 2010 earthquake although rumors quickly flourished that he was looking to recover some cash he had stashed away. Earlier this year he announced he was forming a political party, although it isn't clear whether it was a serious move "or a thumb in the eye of the rival he loathed and who succeeded him, Jean-Bertrand Aristide, another formerly exiled president who had also returned and is still seen as a political force," notes the New York Times.
Haitian President Michel Martelly took to Twitter to express his condolences to Duvalier's family, choosing to talk of reconciliation while ignoring the human rights abuses. That attitude hardly seems surprising considering Martelly regularly invited the former dictator to events and even included some of the former dictator's relatives and allies in his government.
---