On the morning of Jan. 29, construction workers were building a seawater pipe at Oliktok Point, part of a sprawling network of oil fields owned by ConocoPhillips on Alaska's arctic North Slope, when they received an ominous notice. Workers at the icy camp would be required to attend a "safety stand-down" meeting, which is typically announced only after a job-site accident involving serious injury. One such meeting was called earlier this year, according to a contracted worker at the site, when a mechanic's fingers were mangled by an industrial fan. Working in one of the world's coldest and most isolated regions in the dead of winter—the nearest town of Deadhorse is roughly 40 miles away—comes with a host of potential hazards, and it was unclear to the crews what had happened and who might have been hurt.
When nearly 200 construction workers assembled inside a large heated tent just outside the camp, they learned the meeting's true purpose. An unfamiliar manager, identified as John Schuelke from ConocoPhillips' Anchorage office, took to the stage and told them that there hadn't been an accident. Instead, the company had gathered the group, mostly construction contractors, to tell them how they should vote in Alaska's upcoming August primaries. The oil and gas industry, Schuelke said, was fighting Democrat-supported Ballot Measure 1, which sought to repeal a massive tax cut for oil companies that Alaska's Republican-controlled state Legislature had recently passed. Schuelke told the crowd to vote against the repeal, according to the contracted worker, who was present. Schuelke claimed that many of the area's jobs relied on the tax break. The implication was clear: Vote against repeal or your industry and your livelihood will suffer.
"I'd never seen so many confused faces and so many frowns," the contractor said. "It was definitely an abuse of our safety culture." (A ConocoPhillips spokeswoman said the primary purpose of the meeting was to reinforce safety measures.)
This particular construction worker favored repeal, which Democrats argued would allow Alaska to equitably tax oil companies to fund its struggling public school system and other vital services. Yet the contractor said that corporate management's forceful political agenda at the site, where ConocoPhillips oversees a patchwork of oil field contractors, made it unwise to express a dissenting point of view. "The feeling was that if we didn't stay quiet we could get blackballed from the Slope," the contractor said. A welder and a pipefitter did jump up during the meeting to yell, "What does this have to do with safety!" and another worker walked up to Schuelke afterward to say she wouldn't vote as he'd instructed. But everyone else was "in fear of their jobs and said, 'I didn't agree with what that guy was saying but you guys better be quiet or you're gonna get fired.' They were scared." Afraid of becoming unemployable on Alaska's North Slope, the contractor spoke with me on the condition of anonymity.
It isn't the first time in recent years that large American employers have told their employees how to vote. For instance, in the lead-up to the 2012 presidential election, employees of Koch Industries and Cintas, the uniform company, leaked letters they had received in which CEOs indicated a strong preference for Republican presidential candidate Mitt Romney; the Cintas letter predicted heavy job losses if President Obama were re-elected and asked workers to visit the company's political website, which featured negative rankings of legislators thought to be hostile to a pro-business political agenda.
But there is a common thread that links those efforts to those associated with ConocoPhillips and scores of other American companies: the Business-Industry Political Action Committee, or BIPAC, a political organization that has attracted little media scrutiny.
Each of Alaska's "big three" oil companies—ConocoPhillips, ExxonMobil, and BP—is affiliated with BIPAC, which has ties with more than 100 prominent American firms, including Campbell Soup Co., eBay, Nationwide Insurance, and Walmart. Include its partnerships with hundreds of the country's major trade associations, and BIPAC can reach more than 25 million employees in the United States.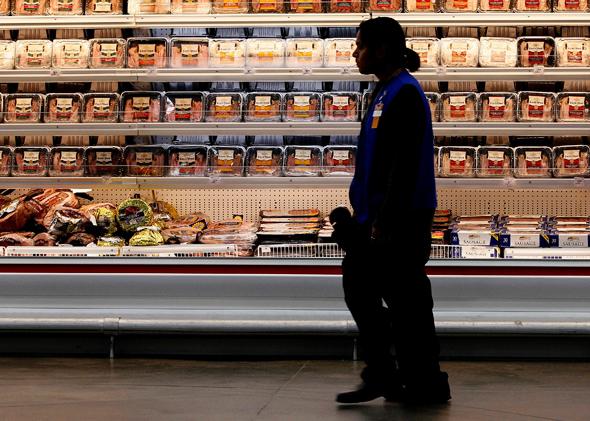 Based in Washington, D.C., BIPAC donates directly to political candidates just like other traditional political action committees; this year, it has contributed to a variety of campaigns, including Republican Senate contenders Cory Gardner of Colorado, Terri Lynn Land of Michigan, and Thom Tillis of North Carolina. Eighty-nine percent of BIPAC's contributions in House and Senate elections this year have gone to Republicans, and not a single dollar or endorsement has gone to a Democrat in a U.S. Senate race. But its primary aim isn't to help individual candidates win office; rather BIPAC's goal is to turn as many private employers as possible into "employee political education" machines for business interests. BIPAC urges major companies to transform their workforces into a voting bloc and provides sophisticated tools that show employers how to do it. Although BIPAC claims nonpartisanship, in the races that matter most—such as this year's hotly contested battles that will determine control of the Senate—BIPAC has the GOP's back.
Companies do not generally advertise their affiliation with BIPAC. The websites that BIPAC builds and hosts for businesses often contain no indication—other than the BIPAC URL—that the information is coming from a third party. ConocoPhillips' employee engagement website is typical, in that it appears to be wholly created by the company itself. The website even bears a ConocoPhillips copyright. But once employees click the "election information" button, they arrive at BIPAC's ranking of elected officials. For those in Alaska, that means seeing a BIPAC performance rating of 86 percent for Republican Sen. Lisa Murkowski, but only a 26 percent rating for the state's Democratic Sen. Mark Begich, who is fighting a tight race this fall to hold onto his seat.
Publicly, BIPAC portrays itself as providing a helpful service that educates employee voters who may not be well versed in political or public policy issues. Citing research BIPAC itself commissioned, the group even claims that workers want their bosses to feed them political information. But of the half-dozen Alaskan workers I interviewed who described being subjected to vigorous political messaging at their workplaces—ties with BIPAC were apparent in at least five cases—all but one asked not to be named. They feared that speaking publicly about their experiences could cost them their jobs. Some feared being blacklisted from the Alaskan oil industry. One worker even said his employer, an oil field construction contractor, would likely be barred from doing business with ConocoPhillips if his identity were discovered.
"They let it be known that if SB 21 was repealed that there would be layoffs," said one BP employee, referring to Alaska's Ballot Measure 1. "It was clear how they wanted us to vote." The employee said that BP, another BIPAC affiliate, fed its employees a consistent stream of information about the repeal effort through emails and virtual town-hall meetings. He said it was "absolutely not" an environment in which it was acceptable to express any dissent over management's political positions. An email sent to every BP employee in Alaska, and obtained by the Investigative Fund, encouraged employees to wave signs rejecting repeal along some of Anchorage's busiest thoroughfares. "At no time did BP indicate to employees that layoffs would occur in connection with ballot measure 1," BP spokesman Brett Clanton said in an emailed response. "The issue of tax reform was an important issue for BP and was communicated broadly with our employees. Any BP employee that participated in campaign activities did so voluntarily."
BIPAC has particularly strong ties with ConocoPhillips—in 2009, BIPAC held its western regional conference in ConocoPhillips' Anchorage offices—and its presence in Alaska is robust. BIPAC has an active partner in the state called ProsperityAlaska, which is run by Scott Hawkins, a Republican activist and CEO of a logistics contractor for both BP and ConocoPhillips. After the repeal of the tax break failed by roughly 10,000 votes, ProsperityAlaska boasted of having pitted businesses against one another in a contest to turn out the most employee voters. In May, BIPAC leaders traveled to Anchorage to hold a training session for firms seeking to politically engage their employees. More recently, BIPAC has waded into the Senate race, endorsing GOP challenger Dan Sullivan against Begich.
"We very clearly communicate that employers should never tell their employees who to vote for," BIPAC's president and chief executive officer, Greg Casey, said in an emailed statement. "Whether it is ConocoPhillips or Randy's Radiator Repair Shack, the efforts are their own." He said that while ProsperityAlaska was opposed to Ballot Measure 1, BIPAC itself did not take a position "on the Alaska bill or any other bill." A spokeswoman for ConocoPhillips said the firm was a "primary supporter" of No on 1 campaign but said that while the firm is a member of both BIPAC and ProsperityAlaska, it did not coordinate its campaign with either group. BP likewise said it has a relationship with BIPAC but did not use them for the campaign against Ballot Measure 1. "ConocoPhillips does not make employment decisions based on an employee's views on a ballot measure," the firm's spokeswoman said. "ConocoPhillips believes strongly in individual participation in the democratic process regardless of a person's party affiliation or beliefs."
* * *
In April, I attended a BIPAC training session for employers at the Sheraton Imperial Hotel in Durham, North Carolina, co-hosted by the state's chamber of commerce. That morning, Joe Savarise, a senior vice president at BIPAC, took to the mic to pitch BIPAC's grand vision to the roughly two dozen representatives of local employers and business associations who had assembled. The group, he said, works through major trade associations, such as local chambers of commerce, to partner directly with a diverse set of businesses that can reach tens of millions of private-sector employees. Companies have the option, Savarise explained, of having BIPAC create branded political materials that have the appearance of having been created by the company itself. Between the businesses and trade associations present in the Sheraton ballroom that day—including North Carolina Mutual Life Insurance Co., the North Carolina Hospital Association, the North Carolina Retail Merchants Association, and Piedmont Natural Gas— BIPAC had the potential to reach some 700,000 workers in the state.
Savarise reminded the business crowd of the uniquely advantageous position bosses have in influencing their employees' votes. "Employers are the most credible source of information for employees about this type of material as it affects their jobs, their own prosperity," Savarise said. "They're susceptible to the information. They're a willing audience." He advised that political messaging should appeal to employees' sense of economic insecurity, or as he put it, their "kitchen-table economics."
The group has partnerships with most companies on the Fortune 100 list, according to Bloomberg, and its affiliates have included Caterpillar, Lockheed Martin, Wendy's, Tyson Foods, and Yum Brands, owner of Taco Bell, KFC, and Pizza Hut. In a recent BIPAC video posted to YouTube, a Campbell Soup executive urged businesses to feed their workers "constant streams of information via social media, email, and other technology." BIPAC claims its tools generated nearly 2 million emails from private-sector employees in the 2012 election cycle alone.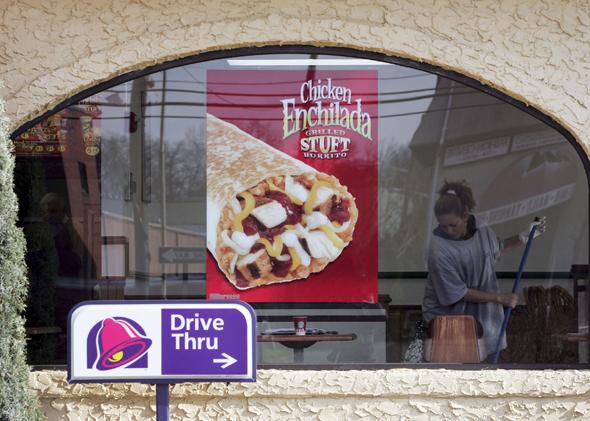 According to legal experts, BIPAC is generally on safe ground: Under federal law, employers have tremendous latitude to push politics on their employees. And the Supreme Court's 2010 Citizens United ruling, which expanded the First Amendment rights of corporations, only further entrenched the freedom of companies to express almost any political message to their employees. In contrast, most employees have no legal protections if they choose to object to politics being pushed onto them at work. Indeed, nonunion workers can be fired for almost any speech at all—political or otherwise—that an employer objects to.
"This might surprise some people," says John Snyder, an attorney at Jackson Lewis, a law firm based in White Plains, New York, that often represents companies in actions against unions. "But the First Amendment does not generally stop private employers from firing employees for their political views."
Employment "at will" is the rule of the land in the United States, points out Cynthia Estlund, a professor of employment and labor law at New York University School of Law. "The First Amendment only protects against government action, so in the private sector, you don't have a First Amendment right against employer reprisals based on your speech," save for some exceptions, including discrimination against protected classes, Estlund points out. 
All summer long at ConocoPhillips' massive Kuparuk River oil field, not far from Oliktok Point, management distributed signs, buttons, branded pens, and magnets urging workers to vote against the tax break repeal. Pamphlets were distributed threatening that the oil giant would "re-evaluate" previously announced projects if the repeal passed. Managers plastered giant stickers on the floors of hallways around the company's dining hall asserting that the tax cut was "not a giveaway." "The whole crew would talk about how it was complete bullshit," one Kuparuk worker said of the ConocoPhillips' campaign. However, no one at the job site dared to express these feelings to management. Almost everyone, he said, suspected that doing so could get you fired. 
At no point during the April 10 training session in Durham did I hear anyone from BIPAC encourage employers to adopt rules or policies allowing their employees to express their own political opinions. And no such recommendations are present in any of BIPAC's publicly available literature.
When I asked BIPAC to provide examples of such language, CEO Greg Casey offered one: a few lines in a forthcoming report that encourage employers to make political emails customizable. "If form messages are necessary, encourage employees to add a line or two of their own about how the issue impacts them, even at the risk that they will go off message," the report reads.
* * *
While employers can electioneer among their employees with near impunity under federal law, some state laws do place curbs or prohibitions on the practice. At the Durham training session, BIPAC's chief operating officer, Darrell Shull, issued an important caveat: "BIPAC makes a good-faith effort to represent federal law, but we are not your legal counsel; always consult with your own competent legal counsel before engaging in any activity," Shull said. "We provide you tools from our best practices from working with companies and we know they're very effective, but the disclaimer part is that we're not going to warranty to you that they comply with all election laws at the state level."
Indeed at least nine states have laws on the books that may afford workers protections against components of BIPAC's approach and practices. Mississippi, for instance, forbids employers from making statements or circulating material to "influence" the votes of employees. An employer caught doing this in Mississippi can only escape criminal charges by publicly renouncing the practices.
Nonetheless, when Mississippi Republican Sen. Thad Cochran unexpectedly faced a credible primary challenge from Tea Party candidate Chris McDaniel, BIPAC raced to the senior Republican's aid. After Cochran narrowly won the June primary, BIPAC boasted that its company affiliates in Mississippi had impelled their employees to vote on a large scale. On a post to one of its websites, called Fight for Jobs, the group claimed BIPAC's efforts in the state helped to "save Cochran" and that "many BIPAC members with Mississippi operations undertook a strong GOTV [get out the vote] effort amongst their employees."
Rickey Cole, chairman of the Mississippi Democratic Party, says that despite the questionable legality of the practice, employers in Mississippi commonly apply pressure to influence workers' votes. Cole says that several workers subjected to job-site political harassment have called the Democratic Party seeking help. "The direct statement is usually that if you like your job, you've got to vote for this man because the other man is going to take your job from you," Cole said. "And people here have a great deal of fear for their jobs." At 7.9 percent, Mississippi's unemployment rate is the country's second highest.
Under the banner of its "Prosperity Project," BIPAC has established more than 70 regional partnerships, in nearly every state. These groups typically work in close coordination with, or are even run out of, states' dominant business associations, such as state chambers of commerce. The Prosperity Project is BIPAC's ground game, complete with a sophisticated database of virtually every state-level elected official in the country and websites that issue "action alerts" urging employees to contact their legislators in support of pro-business legislation. An action alert on the Illinois Prosperity Project website recently invoked the specter of job loss four times in telling employees to press their legislators to reject a Democrat-sponsored bill to raise the state's minimum wage to $10.10 an hour.
In California, BIPAC has a well-established Prosperity Project partnership that has close ties to the California Chamber of Commerce. That state forbids "controlling or directing, or tending to control or direct the political activities or affiliations of employees." Even some Southern states, such as Louisiana and Kentucky in addition to Mississippi, hardly associated with stringent regulation, have laws on the books placing restrictions on employers' political engagement with their employees. BIPAC has Prosperity Projects in both Louisiana and Kentucky, too, and BIPAC affiliates have publicly acknowledged their role in turning out voters for the re-election campaign of Senate Minority Leader Mitch McConnell, the Kentucky Republican.
What effect the Citizens United ruling will have on these state laws has yet to be tested in the courts. But already the ruling has enabled corporations to spend wildly on elections through their political action committees—and sometimes the key to raising these funds is the solicitation of donations from a firm's own employees. In an Oct. 1, 2013, email to employees, obtained by the Investigative Fund, BP America President and Chairman John Mingé links to a BIPAC-hosted website in announcing that, beginning in January of 2014, employees who donate at least 2.5 percent of their yearly income to BP's political action committee will receive preferential parking spaces at BP offices.
* * *
BIPAC takes every opportunity to claim nonpartisanship. Strictly speaking, the assertions are true—BIPAC has supported some pro-business Democrats, typically those who represent noncompetitive districts. But they are the exception. This year, despite having donated $16,000 to Republican candidates in competitive Senate races, BIPAC hasn't contributed to a single Democratic Senate candidate. In 2012, BIPAC gave nine times more to Republicans than Democrats in races for the House, according to the Center for Responsive Politics; in races for Senate seats, that proportion rose to 19 to one, with BIPAC's only donation to a Democratic Senate candidate going to Sen. Joe Manchin of West Virginia.
Behind closed doors at the Durham training session, Greg Casey, BIPAC's CEO, was explicit about the group's political inclinations, referring to Obama's campaign manager Jim Messina as "the guy who crushed your head in 2012."
On the state level, BIPAC sometimes works hand in glove with GOP operatives. Take Scott Hawkins, the head of BIPAC partner ProsperityAlaska. During the 2012 election, Hawkins set up his own super PAC in order to bring in $100,000 of outside money from the Republican State Leadership Committee to target Democratic state legislators and a few moderate Republicans. A BIPAC slideshow brags of having ousted prominent Democratic state Sen. Joe Paskvan with the help of ProsperityAlaska ads attacking his "job-killing regulations." Hawkins personally donated to Alaska Republicans in 2012, according to public disclosures, and ProsperityAlaska is equally partisan. It posts a list of state politicians, each graded A to F. The first page of the list, titled "the best," lists 36 state legislators, all but one of them Republican. (A single Alaska House Democrat appears as the very last name on the list.) As groups, the Senate and House Democrats are given F's.
Hawkins did not respond to multiple interview requests. But in comments to local media, Hawkins has claimed to be motivated by the political power of Alaska's unions, some of whom, most prominently the Teamsters, joined with oil companies in the campaign to defeat Ballot Measure 1.
Certainly, labor unions have aggressively engaged their members in partisan politics, and Citizens United bolstered these efforts. Yet, when it comes to pushing politics on workers, there are important differences between unions and businesses, according to Charlotte Garden, an assistant professor at Seattle University's School of Law. "Unions cannot fire someone from  their job for voicing disagreement," says Garden. "This is a power that employers have over employees that unions don't have." Moreover, union contracts provide protections from job-site political pressure by forbidding employers from unfairly or arbitrarily firing workers. "Unions can say, 'If you want to be part of this union you have to pay dues,' " she said, "but that's about all they can require of their members."
In August, after the effort to repeal Alaska's corporate oil and gas tax break failed, a ProsperityAlaska Web post applauded employees for helping to vote it down. If it had passed, it would have posed "risks to our pocketbooks." The group ended on a forward-looking note: "Let's keep the momentum going this Fall. There is a lot on the line once again."
This article was reported in partnership with the Investigative Fund at the Nation Institute.