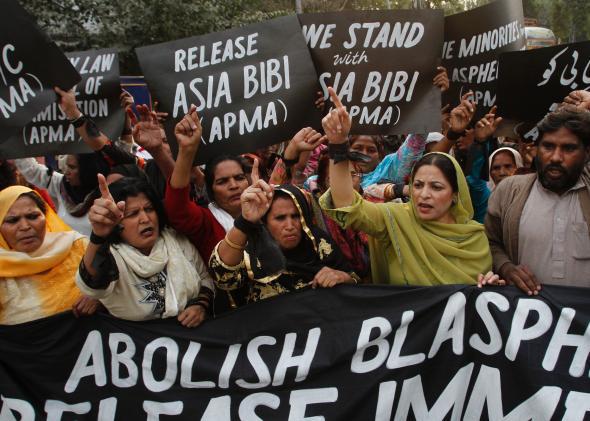 A court in Pakistan has upheld the death sentence given to Asia Bibi, the Pakistani Christian woman whose 2010 blasphemy conviction preceded the assassination of two politicians who supported her. Though the Lahore High Court rejected Bibi's appeal, her lawyers plan to file an appeal to the country's Supreme Court.
In Pakistan, defaming the prophet Mohammed and desecrating the Quran are punishable by a life sentence or the death penalty. Bibi denies allegations that she insulted Mohammed. From Reuters:

She is alleged to have made derogatory remarks about Islam after neighbours objected to her drinking water from their glass because she was not Muslim.
Bibi's lawyer, Naeem Shakir, said his client had been involved in a dispute with her neighbours and that her accusers had contradicted themselves.
Two witnesses allegedly involved in the incident did not appear in court, he said. A prayer leader did appear, saying he did not witness the original altercation, but that Bibi had confessed in front of him.
In 2011, Salman Taseer, the governor of Punjab, was shot and killed in Islamabad after undertaking a campaign to repeal Pakistan's blasphemy laws, which are some of the harshest in South Asia. Prior to his death, he visited Bibi in prison. Minorities Minister Shahbaz Bhatti was also killed several months later by assassins who left behind pamphlets condemning him as a "Christian infidel."
Pakistan saw a spike in blasphemy charges under the 1978-1988 rule of Zia ul-Haq, an Islamist who steered the country in a decidedly nonsecular direction. Vigilante retaliation against alleged insults to Mohammed is also common—since 1990, 52 people have been extra-judicially killed for blasphemy-related offenses, per a study from the Centre for Research and Security Studies in Islamabad.
---