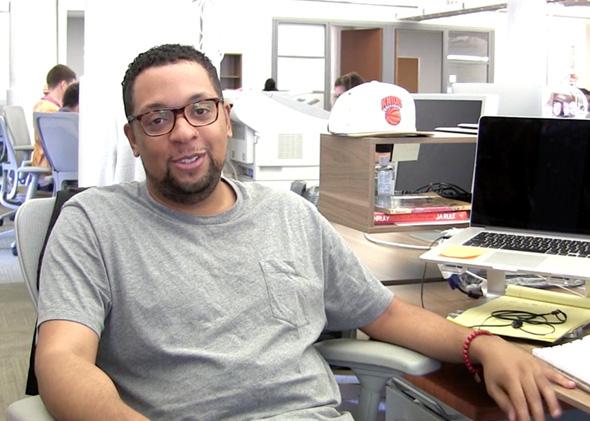 "In grand Slate tradition, tell us a little bit about yourself."
That's the invitation that concludes every email announcement of a Slate hire.
And that's the invitation that we're extending to Slate Web designer Derreck Johnson, who chats about his love for comics, collaborating with the art team, and the proper way to wear a backpack.
Tell us about yourself. Where did you grow up? Where did you work before you came to Slate?
I'm a New York native—Brooklyn, to be exact. I lived in the East Flatbush section of Brooklyn until sixth grade, when my family packed up and moved to Westbury, Long Island. I spent my junior high school, high school, and college years out there. In my early 20s, I moved back to East Flatbush for several years, and now I reside in Williamsburg with my soon-to-be wife.
Before Slate, I worked as a production designer for Essence (with the majority of my duties for Essence Festival) and before that, a Web designer at a marketing company called Track Entertainment.
What do you do at Slate?
I'm a designer on Slate's art team. Some of the duties include creating cover art for the Slate home page, providing art and photos for pieces, coordinating work with our freelance illustrators, designing sales mocks for our business team, and producing in-house banner art. And sometimes, the Brow Beat team lets me write.
What was your dream job when you were younger?
In the '90s, I had a hardcore comic book habit. So for a very long time, I wanted to be a comic book illustrator. Someone bought How to Draw Comics the Marvel Way, and I worshipped pencilers like Arthur "Art" Adams, Jim Lee, and Erik Larsen. I was rabidly loyal to Marvel.
What's your favorite Slate piece and why?
My favorite Slate piece is probably "When Did Two-Strapping Get Cooler Than One-Strapping? A Slate Backpack Investigation," by Forrest Wickman. I was hired by Slate in September 2013, and this was one of the first long pieces that I volunteered to produce art for. It involved a photo illustration, side-by-side movie stills, and pie charts. Yes, PIE CHARTS. At first I didn't understand why we needed pie charts for this subject, but once I read the story in full, I laughed and cranked them out. That story was also a great introduction to the environment at Slate. Among all the serious news coverage, there's always room to do fun pieces like Forrest did. More than 12,000 Facebook shares and counting!
Guilty pleasure song? Album?
My guilty pleasure song is "Return of the Mack" by Mark Morrison. Some people cringe when that song comes on in this day and age, but I still enjoy it. I think it has aged like a fine wine. I like a little cheese with my wine.
What's the hardest part of your job?
I can't say my job is really "easy" at any given point in time. Since Slate is a media site, things can get pretty fast-paced. So it can be challenging when it's a busy news week along with other deadlines to meet for other departments. To be honest, the hardest part is probably walking from the 1 train at Christopher Street to the office during the winter. I hate the winter.
Favorite karaoke song?
Anything by Jodeci or R. Kelly. Never fails.
You always have your headphones on in the New York office. What do you listen to while you work?
I can't work efficiently without something emitting from my earbuds. It helps me focus. I'm actually listening to the DJ Clark Kent episode of the Juan Epstein podcast right now as I answer these questions. Other times, I'm listening to DJ mixes on Soundcloud or Mixcloud, random playlists or albums on Spotify, and the Pharrell station on Pandora.
Favorite people you follow on Twitter and why? 
My Twitter timeline is all over the place. Right now, my following count is more than 1,200. I follow music and culture magazines (Mass Appeal, Okayplayer, Yours Truly, Ego Trip, Fader), some art and design magazines (Juxtapoz, The Fox Is Black), and a ton of sneaker sites (Freshnessmag, Complex Sneakers, Sneaker Steal, Kicks Deals). Humans of New York is always great for a mental health break.
As far as personal accounts go, no one is better than desusnice. I've known him personally for years now, and he has always been that outlandish and hilarious. His tweets aren't for everybody. It's almost like he's mastered one of the many ways to perfectly utilize Twitter. It's a perfect platform for him.
­­
Who are your podmates at Slate? Do they have any annoying tics?
My podmates are photo editors Lisa Larson-Walker and Juliana Jimenez, designer Natalie Matthews-Ramo, and office manager Ava Lubell. We also have a seat that hosts an ongoing roster of great interns.
No one has any annoying tics, really. But I do get to hear Ava field all the interesting calls that the office receives on a daily basis. The best call I ever listened to her take was someone trying to sell us "energy." And she got flustered and yelled at them to not call back anymore and that we didn't want what we were selling. Seconds later, we discovered it was someone on the sales team prank-calling her.
Do YOU have any annoying tics?
I have allergies, so I am aware that the rest of the pod might have to periodically deal with all the musical stylings of my sinuses (especially in the fall and winter). I have to take care of that. I'm also aware that I'm prone to sing along to whatever music I happen to be listening to at my desk. When someone else at the pod turns and looks at me suddenly, that's the sign that I'm probably going too high with the volume.
---