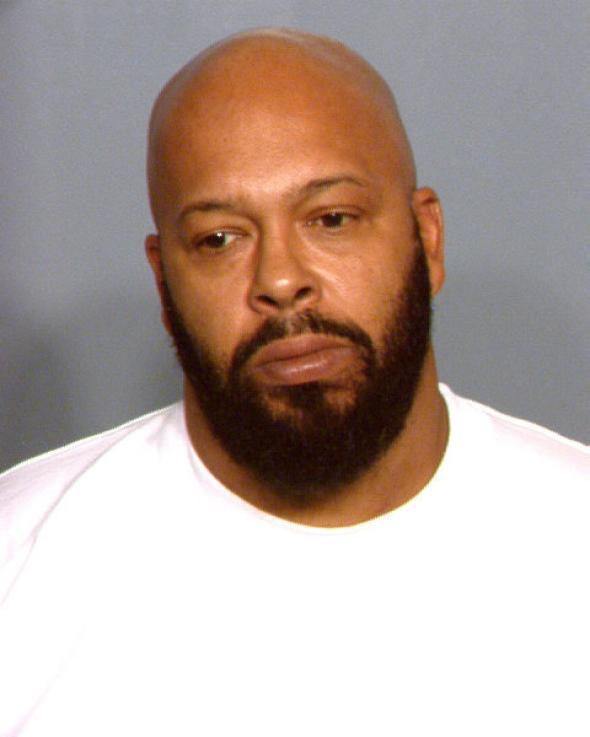 Suge Knight is recovering in the ICU after he was shot six times early Sunday during a party in West Hollywood hosted by Chris Brown. The 49-year-old former Death Row Records CEO whose real name is Marion Knight Jr. was apparently shot in the arm, stomach, and other places, according to TMZ. He went into surgery after the incident and is expected to recover. Despite being on the receiving end of all those bullets, Knight still apparently managed to walk out of the club by himself. "You could hear the gunshots very clearly," a witness told E! News. "The entire club hit the ground and people were being escorted out with their hands up … I did not see the gunshots but saw Suge Knight walking out and getting into the police car. Obviously the whole place was pretty shaken up."
Two men and a woman were injured in the shooting that took place at the pre-VMA party, reports People. "They were transported to local hospitals and they are expected to recover," the L.A. Sheriff's Department said in a statement.
The shooter has not been identified, but cops are allegedly focusing on possible gang motives. "We're told cops are interested in a common denominator with Chris Brown, Suge and Game—Bloods affiliation," reports TMZ. Rapper The Game apparently arrived at the party at about midnight, approximately an hour and a half before the shooting, and got into a fight with security guards. Although he left, people in his entourage stayed behind, but it's still unclear whether they were involved in the shooting.

This is not the first time Knight was shot at a pre-VMA party. In 2008, Knight was shot in the leg during an event hosted by Kanye West, notes Billboard. On Sunday, Brown took to Twitter to express his anger at what happened earlier that day:
---