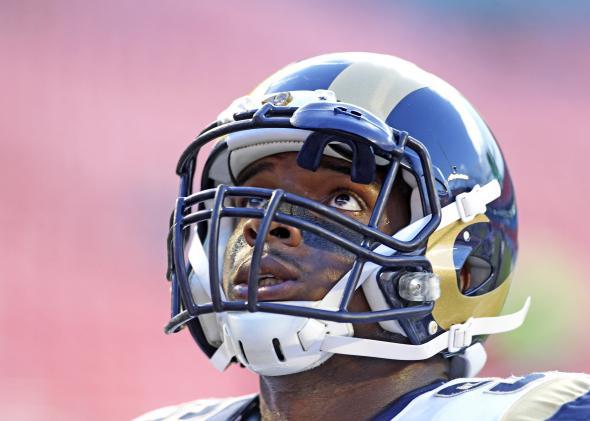 The St. Louis Rams waited until the very last possible moment, but in the end it was not to be. The team cut Michael Sam, who looked slated to become the first openly gay player in NFL history, this afternoon. On the question of whether it was homophobia that kept Sam off the 53-player roster, Outsports has no doubts and gives a surprisingly unequivocal no:
We believe Sam was cut for purely football reasons and there is zero evidence that it had anything to do with him being gay. The Rams organization, from General Manager Les Snead to Coach Jeff Fisher to the players, treated Sam as just another player, even though they were aware of his historic nature. Snead and Fisher even attended the ESPYs in Los Angeles in July, where Sam received the Arthur Ashe Award for courage.  
Sam had the second-most-popular jersey in the NFL draft, but shirt sales apparently weren't enough to keep him on board. So what was the problem? It seems he wasn't up to snuff. That's not to say Sam wasn't good, it's just that he was drafted on to a team with a strong defensive line and ended up losing out to undrafted rookie Ethan Westbrooks. "Many around the league felt Sam was too slow to play at 3-4 outside linebacker after running a 4.91 40-yard dash time at the NFL Combine in February, and too small at 6'2 and 255 pounds to be a defensive end in a 4-3 scheme," notes SB Nation.
Sam could still be the first openly gay NFL player, but he may not be playing very often. All the NFL teams now have 24 hours to call for Sam to join their squads. But the most likely outcome is that Sam "ends up right back where he started and is re-signed by the Rams to their 10-member practice squad, making him eligible to practice with the team—and continue to try to develop into an NFL-ready player—but not play in games," notes the Washington Post. Still, those in the league aren't discounting the possibility that he will be signed by another team that has a particular need at defensive end. 
Still, the chances seem slim. Dan Wetzel over at Yahoo Sports explains:  
Sam isn't blessed with superior size, strength or speed. He's good, but in this meat grinder, that isn't always enough. He'll need the right moment, with the right team, playing the right system. League scouts are consistent in saying like a lot of prospects, Sam has shown he's good enough to play in the league, but not to just step into anyone's lineup.
At the end of the day, the team shouldn't be blamed, Wetzel adds.
The NFL is a cold and cutthroat place, especially for players such as Sam, the interchangeable guys hanging around on the cutline, always susceptible to a numbers crunch.
Update at 5:50 p.m.: Sam took to Twitter shortly after the announcement to express his gratitude to the Rams.

---