On his 18th birthday, Virgil McCranie and his 14-year-old girlfriend of one year, Misty, decided to have sex. Because of their ages, that meant McCranie committed the crime of statutory rape. When Misty told her father months later, after finding out that McCranie had cheated on her, he went to the police. In 1994, McCranie struck a deal with prosecutors, pleading no contest to lewd and lascivious behavior. He avoided prison, but as part of the deal, he had to register as a sex offender.
In time, Virgil and Misty reconciled, eventually got married, and began raising four children together. "It was a mistake, it happened, I've been with her since, I've loved her before then," he told a local news channel 14 years later.
At that moment, McCranie was a still a registered sex offender. He says that he lost 17 jobs because of his status. Worse, he couldn't attend his sons' games and his daughter's dance recitals. "I wish I could take it back," Misty told the Florida Sun-Sentinel. "Once we got back together I realized how detrimental it was to him."
In the end, McCranie was one of the lucky ones. He applied to then–Florida Gov. Charlie Crist for a pardon and received one. Others like him, however, remain on the registries. In at least 29 states—from Alabama to Wisconsin—consensual sex between teenagers is a crime that can lead to sex offender status. "No group is out there saying that they want Romeo and Juliet to be on the registry," Brenda Jones, executive director of Reform Sex Offender Laws, a volunteer advocacy group, told me. "But lawmakers aren't paying attention, and we as constituents are not aware."
As you can see in the maps below, consensual sex between teenagers is just one of several crimes far removed from violent felonies that can land one on a sex offender registry. Kansas and at least five other states require registration for some prostitution-related offences, such as solicitation or running a brothel. In Michigan and at least 11 other states, urinating in public is.*
One possible reason for the long list of registry-worthy crimes is plea bargains like McCranie's. Lawmakers may be ensuring that sex offenders won't escape registration by pleading to lower-level offenses. But at what cost?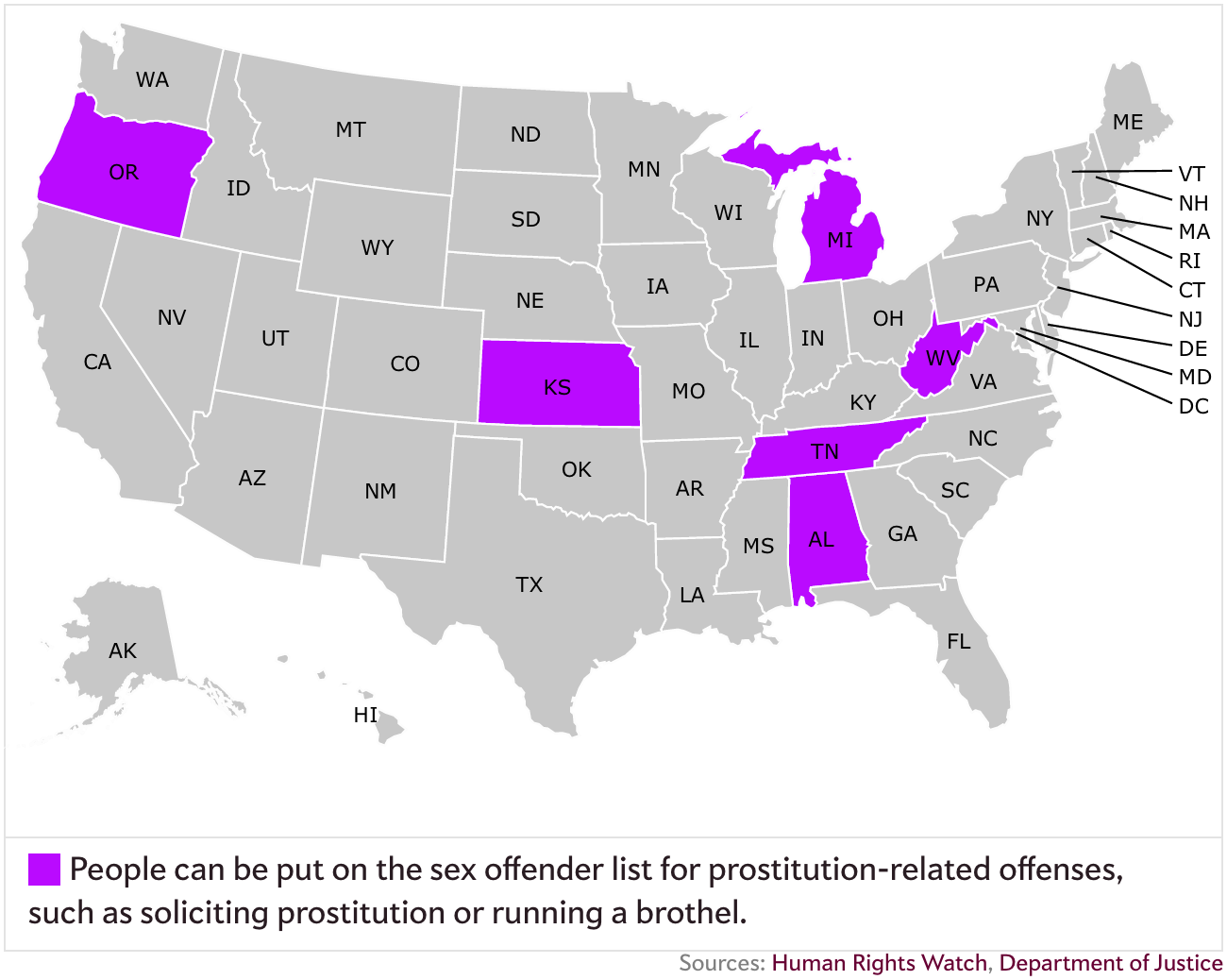 Read the first, third, fourth, and fifth parts of this series on sex offender laws.
Update, Aug. 13, 2014: This article has been updated to clarify that at least 29 states, not only 29, may require registration on sex offender lists for consensual sex between teenagers; at least six states, not only six, may require registration for some prostitution-related offences; and at least 12 states, not only 12, require registration for urinating in public.