The worse an NBA team is, under the league's current player-draft system, the better chance it has of being given one of the top picks in the draft. The theory goes that the worst teams need the most help, so they should get the best new players. There's a flaw in this system, though: Some teams have realized that it could be a good strategy to be as bad as possible for an extended period rather than maintaining a perpetual state of midlevel competitiveness. This intentional bottoming-out, or "tanking," for top draft picks is bad for the NBA, which was embarrassed last year as a number of different teams appeared to be purposefully fielding extremely low-quality rosters.

As a result, the NBA is trying to change the draft system so it doesn't reward bad teams quite as much for being bad. There's one hangup, ESPN reports: the Philadelphia 76ers, who say the NBA's proposed changes would unfairly undermine their team's ongoing plan to lose as many games as possible next season:
The rough draft of this plan was met with opposition by 76ers management, which is in the midst of a multiseason rebuilding project that is dependent on a high pick next year. The 76ers, sources said, are hoping to get the NBA to delay the plan's implementation for at least a year because it would act as a de facto punishment while just playing by the rules that have been in place.
The 76ers, however, may struggle to gain support from Silver or fellow teams for holding off on the changes. Philadelphia's planned sink to the bottom has caused a drag on revenues in one of the league's largest markets and has upset some other teams, sources said.
While there will (hopefully) be a long-term payoff to the Sixers' strategy regardless of what the NBA decides, now is definitely not a great time to be one of the team's many … er … several fans.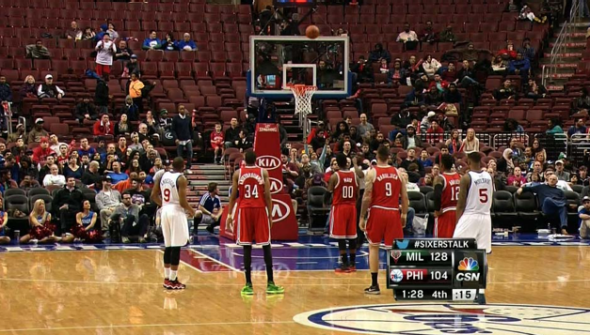 That's from a February game in which Philadelphia lost by 20 points at home to the second-worst team in the league. Let's go Sixers!