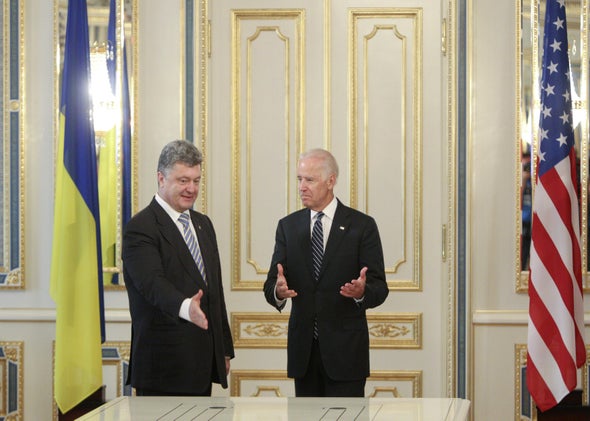 Petro Poroshenko wasted no time in sending a message to Russia, and the rest of the world, as he was sworn in as president of Ukraine Saturday. The 48-year-old chocolate tycoon made it clear he had no intention of giving up Crimea even as he laid out a plan to bring peace to the country's east. "Citizens of Ukraine will never enjoy the beauty of peace unless we settle our relations with Russia. Russia occupied Crimea, which was, is, and will be, Ukrainian soil," Poroshenko said, according to Reuters, which points out the new leader received a standing ovation. Poroshenko said he had delivered just that message to Vladimir Putin on Friday. He also strongly advocated for Ukraine to become closer to Europe, stating that he will be signing the economic portion of the European Union "association agreement" soon, reports the Associated Press.
Despite his defiance of Russia, Poroshenko also made clear he wants to end the crisis in the country's east, noting he will propose a plan to hold early regional elections. "I don't want war," he said. "I don't want revenge, despite the huge sacrifice of the Ukrainian people." The Wall Street Journal points out that despite his lofty words, it's far from clear how Poroshenko can end the violence in the country's east "seeing as he has ruled out talks with separatist officials and has said there aren't competent regional leaders with whom Kiev can negotiate." Still, he did switch to Russian at one point in his speech to make a direct appeal to the areas of the country that are currently under rebel control. Poroshenko's conciliation only went so far though, noting that while easterners have the right to speak Russian, Ukrainian would remain the country's only official language.
"Petro Poroshenko's inauguration speech was forceful and seemed to hit all the right notes for his supporters," writes the BBC's David Stern. "Local commentators and bloggers' reaction was overwhelmingly positive."
Vice President Joe Biden, whose son Hunter Biden has recently been hired by a Ukrainian company that promotes energy independence, was among the international dignitaries present at Poroshenko's inaugural speech.

---