The release of U.S. prisoner of war Bowe Bergdahl after five years of captivity in Afghanistan was followed almost immediately by credible accusations that he had voluntarily deserted his unit before being captured—and that several soldiers died in the effort to locate him. This morning NBC News reports that there will be a "high-level" Army investigation into Bergdahl's disappearance:
The inquiry would determine whether a formal investigation into possible criminal charges against Bergdahl is warranted. If Bergdahl is found guilty of misconduct, the options for punishment would range from administrative disciplinary action to a court-martial.
Joint Chiefs chairman Martin Dempsey addressed the controversy in a Facebook post.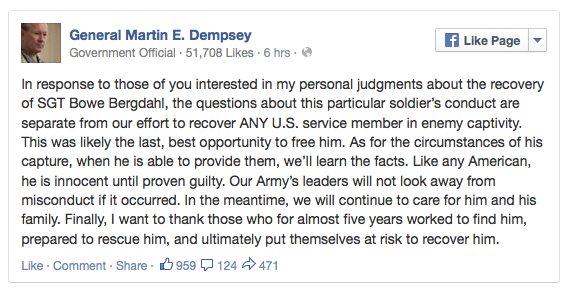 Bergdahl is currently being treated at a military hospital in Germany.