The Atlantic has today's most diarrhea-related story:
"The Tough Mudder is not a race," participants chant as part of the Tough Mudder Pledge taken in unison at the starting line of each 10 to 12 mile course. They also pledge not to whine ("kids whine") and to "overcome all fears." Nowhere, though, does their pledge mention enduring infectious diarrhea. But it is a very real risk in this sort of event, the U.S. Centers for Disease Control and Prevention (CDC) now says.
Tough Mudder extreme fitness events involve the traversal of obstacle courses filled with demented military-style obstacles like electrified wire and freezing-cold water. Stretches of muddy ground are common—hence the name. In 2012, an outbreak of diarrhea followed a race in Nevada; the Centers for Disease Control investigated, and their subsequent report says that the events' titular mud may be bad news for participants' intestines. From The Atlantic again:

But, in light of this outbreak and the fact that the events are often held on farmland, the CDC now suggests that event organizers warn participants that they "might be exposed to fecally contaminated water or slurry that potentially serious diarrheal disease can result if ingested, even inadvertently." Many dangers are alluring to defy, but that one will be tougher to sell.
"These events typically are held in rural areas and often include man-made slurry fields (a mixture of soil or clay and water) as race 'challenges,'" the CDC offers. "In areas commonly frequented by animals, topsoil used in the creation of slurry fields can be contaminated with feces from domestic fowl or ruminants or wild animals. Competitors who run or ride through such areas might unintentionally swallow sufficient numbers of organisms to cause clinical disease."
There's something to be said about pushing yourself beyond your typical physical comfort level to experience a transcendent perspective alteration and attain feelings of accomplishment. There's also something to be said about not ingesting animal feces and getting diarrhea.

Here's something interesting from the Tough Mudder site: an obstacle called "Fire In Your Hole."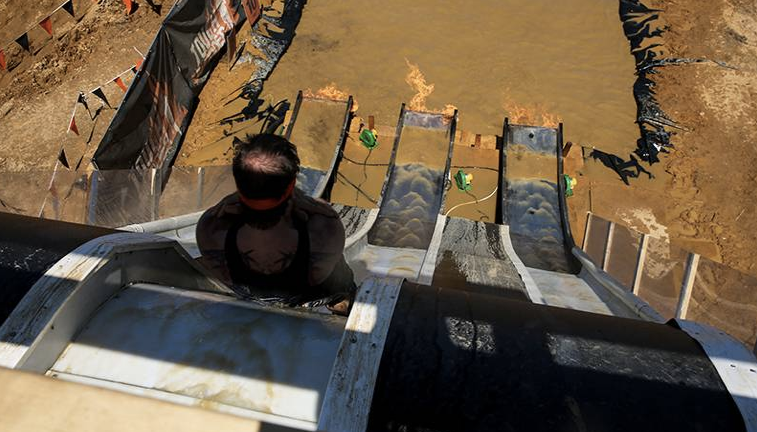 It's a tall, steep slide whose base is on fire. The name seems to refer to the way a participant's butt will pass through the fire as he flies off the end of the slide, thus possibly getting fire in his "hole." The hole in his butt.