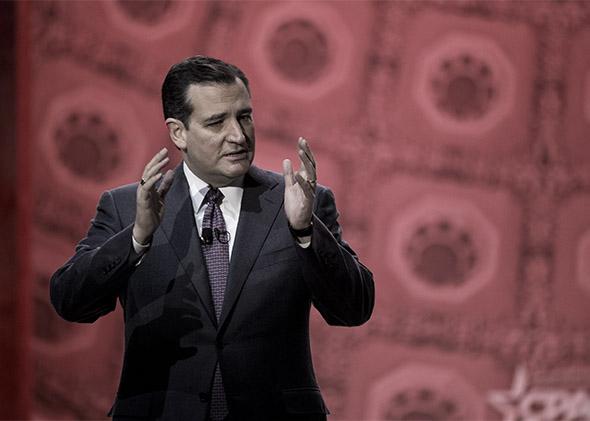 Texas Lt. Gov. David Dewhurst was pro-gun, anti-tax, anti­–illegal immigration. He opposed the Common Core education curriculum. He'd run for Senate in 2012, attempting to find some space to Ted Cruz's right, accusing the eventual victor of being soft on illegals and red China. He had attempted to shut down Sen. Wendy Davis' 2013 filibuster of a bill that banned abortions after 20 weeks; he then excoriated the "Occupy Wall Street tactics" that helped Davis eventually win and helped crush her in a special session to pass the bill.
Last night, Dewhurst was buried in a 65–35 landslide by a challenger who had branded him as too liberal. State Sen. Dan Patrick ran as the "grass-roots" candidate, one who would not compromise as much as the three-term incumbent.
"I'm not going to appoint Democrats to half the chairmanships in the Senate," he promised in his final debate with Dewhurst. "I'm an unapologetic Christian first, I'm a grass-roots conservative second, and I'm a Reagan Republican third." And on that same debate stage, he ticked off his greatest accomplishments as having "put 'In God We Trust' in the Senate, 'Under God' in our pledge, passed the sonogram bill."
The life of the Tea Party, and the question of whether the five-year-old movement is "dead," has been complicated by Texas' primaries. It's true that some of the national organizations that helped elect Cruz faltered and overpromised this year. They simply didn't commit the resources to help their high-profile candidates for Congress.
But at the state and local levels, conservatives looked at Texas and saw plenty of slow-moving prey, lazy and marbled with fat. Gov. Rick Perry was retiring after 14 years in office, which created a first-in-a-generation attempt to move up the ladder. Attorney General Greg Abbott would easily win the nomination to replace Perry, which freed up his office. The state's land commissioner, agriculture commissioner, and railroad commissioner were all making lunges at Abbott's or Lt. Gov. Dewhurst's jobs, which freed up their own.
What was at stake? Just the usual—the soul of the Republican Party and an attempt to more tightly define what a candidate could and could not say if he ever expected to win an election in Texas. In 2009, when the Obama wave shrunk the GOP's numbers in the Legislature, Democrats teamed up with Republicans to oust a conservative speaker of the house and elevate a more moderate candidate named Joe Straus. He's held on since then, through solid 2010 and 2012 Republican wins, and this year he defeated a Tea Party primary challenge in his own district.
To the terror of the Republican establishment, the base found other targets. In February, when I traveled around the state to cover the faltering challenges to Sen. John Cornyn and Rep. Pete Sessions, some donors were already panicking that Abbott would be replaced by one of two far-right candidates. Abbott had never been a liberal, but he'd been strategic, and like Cornyn before him (since Reconstruction, only two Republicans have been attorney general of Texas) he'd become a kind of ringleader of conservative state attorneys general.
Now he'll likely be replaced by Ken Paxton, a right-winger who'd once unsuccessfully challenged Straus for speaker. Paxton ran this year as Sen. Ted Cruz's Sancho Panza, running one campaign ad that consisted of nothing but Cruz praising him in a speech. (Cruz, who did not officially endorse Paxton, smiled when I asked him about the ad and pronounced it "an acknowledgment of the energy and the passion of the grass roots.")
In another ad, Paxton characterized fellow candidate state Rep. Dan Branch's vote for a campaign finance transparency bill as a way to provide "special privileges to labor unions that backed Obama." He was buoyed by support from the National Rifle Association and Texas Right to Life, the latter group claiming that Branch "tried to expand" abortion in Texas because he'd wanted to allow late-term terminations of unborn children with unsurvivable organ damage. Why settle for that when you could settle for Cruz's candidate?
Cruz, who wasn't on the ballot, had a terrific primary season. The victorious nominee for railroad commissioner had run as the Cruz candidate; but then, so had the loser. The freshman senator had only really endorsed one candidate, a veteran of his 2012 campaign named Konni Burton, and she won her runoff by more than 20 points. "Konni loves God," said Cruz at a March rally for Burton's Senate campaign. "Konni loves the Constitution, and Konni loves liberty."
Konni will have friends in the Texas Senate. Conservatives had gone after Sen. John Carona, too, a Republican who'd once said of his colleagues that "fiscal responsibility means nothing to them" and "they only worry about the next primary." Real estate investor Don Huffines narrowly bested Carona in a primary, after an in-person endorsement from Sen. Rand Paul—Huffines had endorsed his father's presidential bid.
Democrats, who have not won a statewide race here since Nelson Mandela was president of South Africa, started this election cycle with grand Texas dreams. They really could not have asked for a better ticket to run against. They openly pleaded for Republicans to bail them out, maybe to give an opening to their lieutenant governor candidate Leticia van de Putte, by nominating Patrick and Paxton. Dewhurst artlessly pointed this out in the final debate. "One of the things I saw in our polling," said the lieutenant governor, "is that if you inform voters about both of us, they move toward me."
Dewhurst was wrong, of course, and few people in either party will miss him. But Democrats could take only cold comfort in his loss. Yes, he had gaveled down Wendy Davis; he had presided over a bill that was shuttering abortion clinics. And he had just lost to Dan Patrick, who pronounced Dewhurst insufficiently passionate about life.
"Planned Parenthood is in the business of taking babies' lives and making a profit," said Patrick on the debate stage. "I don't care if every Planned Parenthood in America goes out of business. In fact, that would be a great goal. More babies would live."
---