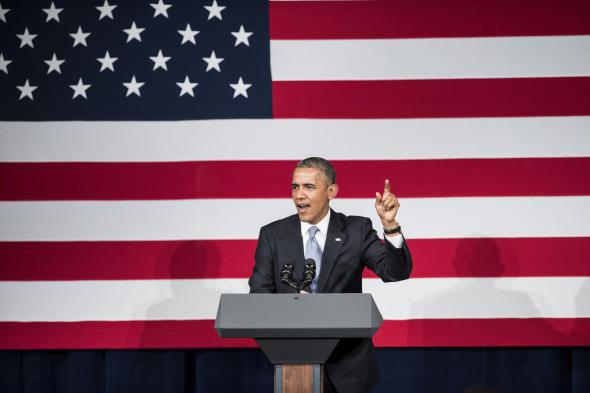 Ezra Klein celebrates the new Harvard study that finds millennials—those who woke up in time to take the phone call—losing faith in the presidency. Klein, who's really been on this stick for a while, explains the goodness of this development.
Electing the right president is a (probably) necessary but not nearly sufficient condition to bringing change to American politics. The Obama years have been proof of that: in 2009 and 2010, when Obama was working with an overwhelmingly Democratic Congress, he was able to sign more change into law than arguably any president since Lyndon Johnson. Since 2010 and the Republican takeover of Congress, he's gotten almost nothing done. It's not Obama's energy that has flagged, or his agenda that's run dry. It's Congress's interest in that agenda.
At the risk of being repetitious, this is why my eyes roll with such velocity when progressives or pundits speculate about a challenge to Hillary Clinton's 2016 campaign-in-waiting. Having interviewed two of the national politicians who speculate about waging such a campaign, Bernie Sanders and Brian Schweitzer, I just fail to see the Democratic base getting excited about another insurgency.
The 2008 Obama victory was a generational, historical triumph, the defeat of the "establishment" by a candidate who grew out of street-level liberal politics. Obama did what Bobby Kennedy was prevented from doing, and what Ted Kennedy couldn't do, and (though there's less nostalgia) what Bill Bradley and Howard Dean couldn't pull off. Anyone who covered 2008 met older liberals who remembered the hopes of those campaigns, and transferred it right into the Obama vessel. And what did they get? A neoliberal president with an administration of Clinton veterans. Honestly, in 2016, if you think a charismatic avatar for your beliefs can win the presidency and enact the change you want, you sound like an amnesiac or a hayseed.
---