The latest twist in the ongoing—and so far fruitless—search for flight MH370 comes by way of Reuters, which spoke with an unidentified senior officer in Malaysia's military. The big takeaway, which raises nearly as many questions as it answers: The military now believes that the missing jetliner may have flown several hundred miles off course after last making contact with civilian air traffic controllers:

Malaysian authorities have previously said flight MH370 disappeared about an hour after it took off from Kuala Lumpur for the Chinese capital Beijing. "It changed course after Kota Bharu and took a lower altitude. It made it into the Malacca Strait," the senior military officer, who has been briefed on investigations, told Reuters.
That would appear to rule out sudden catastrophic mechanical failure, as it would mean the plane flew around 500 km (350 miles) at least after its last contact with air traffic control, although its transponder and other tracking systems were off. A non-military source familiar with the investigations said the report was one of several theories and was being checked. …
The effect of turning off the transponder is to make the aircraft inert to secondary radar, so civil controllers cannot identify it. Secondary radar interrogates the transponder and gets information about the plane's identity, speed and height. It would however still be visible to primary radar, which is used by militaries.
Authorities had previously said the Beijing-bound plane was roughly halfway between Malaysia's east coast and the southern tip of Vietnam when it lost contact with civilian air traffic control nearly four days ago. The Reuters report, however, is largely in line with a similar report in a Malaysian newspaper earlier Tuesday that quoted an air force general as saying that the plane was last spotted on military radar near the island of Pulau Perak at the northern end of the Strait of Malacca, flying 3,000-odd feet lower than its previous cruising altitude of 35,000 feet. It remains unclear what happened to the aircraft after that.

The Strait of Malacca, one of the world's busiest shipping channels, runs along Malaysia's west coast. To get from where it was last spotted on civilian radar (again, off the east coast in between the city of Kota Bharu and Vietnam) to where it was reportedly last seen on military radar, the plane would have likely needed to travel over Malaysian and/or Thai airspace. It remains unclear why the plane would have changed course without alerting air traffic control, and likewise unclear why or how the transponder would have been turned off in the first place. For now, the search goes on, and the questions continue to mount.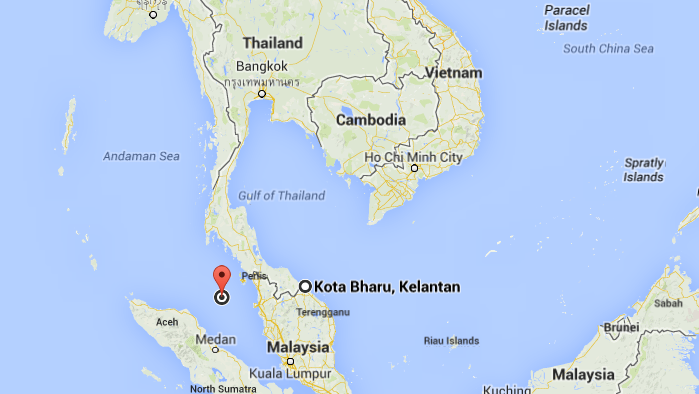 ***Follow @JoshVoorhees and the rest of the @slatest team on Twitter.***