What is Slate Plus?
Slate Plus is a membership program for readers who support Slate's journalism and want to be more closely connected to it. Think of it as an all-access pass: Slate Plus is where you'll find enhancements to the regular Slate experience, as well as behind-the-scenes extras and exclusive opportunities.
Is Slate Plus a pay wall?
Nope! Slate Plus is not a pay wall. Everything that's always been free on Slate will remain free for all Slate readers. There is no meter that stops you 10 stories into the month. Slate Plus members just get some extras, that's all.
What kind of perks are we talking about?
Special access to your favorite Slate writers and editors in the form of live-streamed video, live chats, private Q&As, and more. All of our podcasts without any interruptions for ads—and with bonus segments for members only. The chance to read some of our very best features, including Dear Prudence's weekly column, before anyone else. A sleeker, easier commenting experience. Exclusive behind-the-scenes info about Slate. Discounts on live events and merchandise. And the ability to shape Slate's journalism by suggesting story ideas and areas of coverage.
Why did Slate create this membership program?
Slate Plus has two purposes. The first is to build a closer relationship with you, our most loyal fans. We'll listen closely to your comments, improve your on-site experience, create bonus content you want, and involve you in shaping Slate's future.
The second is to generate revenue to fund our journalism. Journalism is an industry that is constantly changing, and with an uncertain business model. Your membership makes it easier for Slate to start exciting new projects, create ambitious initiatives, and further our innovative Fresca program and our in-depth reporting.
And as a Slate Plus member, you can always talk to the membership editors, Jennifer Lai (Jennifer.lai@slate.com) and Jeff Friedrich (jeff.friedrich@slate.com), about any ideas (or complaints) you have.
How do I unsubscribe from Slate Plus?
Sorry to see you go! Was it something we did? Something we didn't do? Let us know by sending us an email at plus@slate.com. We built this initiative to listen to our most loyal readers.
Or just click here to unsubscribe immediately.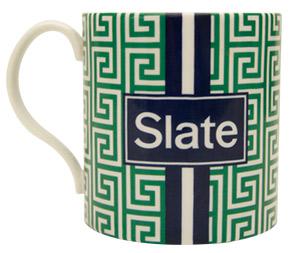 I really want that mug. How do I upgrade my monthly membership to an annual membership?
It's easy! Just click on "Account" in the Slate Plus dashboard, in the upper left-hand corner of every Slate Plus page, to change your settings. Or just click here. Then sit back and enjoy the beverage of your choice out of that sweet Jonathan Adler mug, a gift to annual members.
I've lost my username/password. How do I reset it?
No problem. Just click on "Account" in the Slate Plus dashboard to change your membership settings, or click here. You can also change your username/password by clicking on the "Forgot Username or Password?" box when you sign in to Slate.com here.
How do I access the ad-free podcasts?
Access the ad-free podcasts by clicking on our handy instructions here!

I found a bug/I have an idea for a great Slate Plus feature/I want to complain. Whom can I talk to?
Good. We built Slate Plus so we could give you a stake in funding journalism you value, and we want to listen to you. Reach your Slate Plus editors, Jeff Friedrich and Jennifer Lai, anytime here.