The worst day of violence in Ukraine since anti-government protests began last November continued late into the night and early Wednesday morning in the center of Kiev. As many as 22 people have died, including seven police officers, and many more have been injured in clashes that began around 8 p.m. local time when police attempted to break into the protest camp in Independence Square with two armored vehicles. Thousands of riot police marched against protesters in the sweeping crackdown ordered by Ukrainian President Viktor Yanukovych.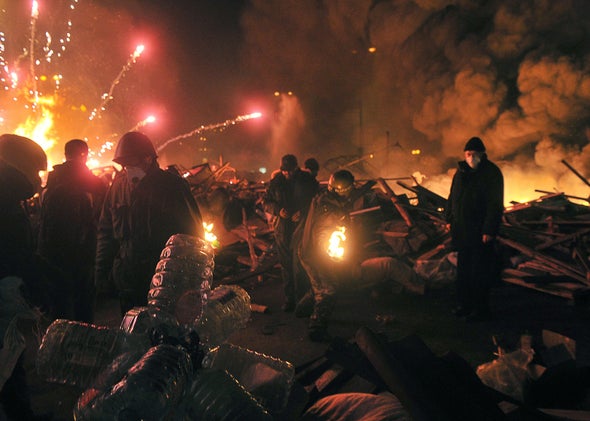 As fires continued to burn, leaders from Ukraine and around the world expressed serious concern over the growing violence. Vice President Biden called on Yanukovych "to pull back government forces and to exercise maximum restraint," according to a White House statement. Opposition leader, and former heavyweight boxer, Vitali Klitschko, met with Yanukovych late on Tuesday night, but according to reports no deal was reached.
"Yanukovych said that there is only one option…to clear Maidan and that everyone has to go home," Klitschko told independent Hromadske TV after meeting with Yanukovych.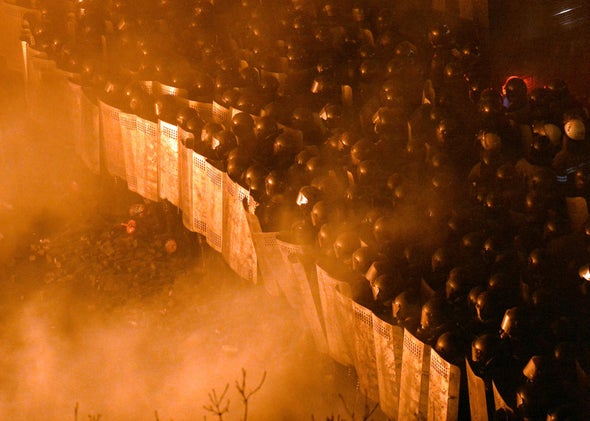 According to the BBC's live feed, protesters are regrouping and building up new reinforcements against anti-riot police, including a "protective ring of fire". Reuters and the Kyiv Post are updating with the latest news throughout the night. Live stream of Indepedence Square (Maidan) below:
Elsewhere in Slate: Kiev Burns as Complete Chaos Erupts in Ukraine