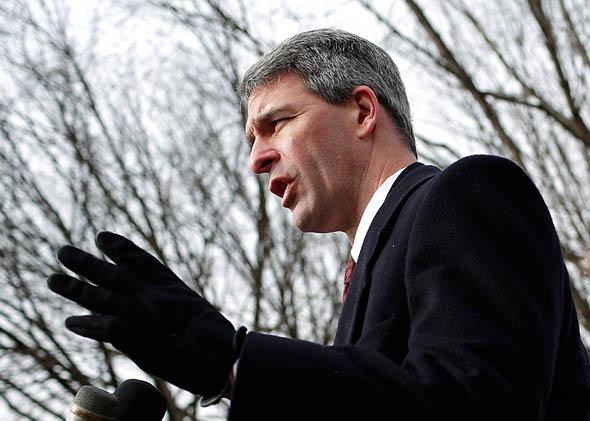 A message to real Americans from Ken Cuccinelli's Virginia Self Defense Law:
We know that you aren't just law abiding. You are, in our view, "universally far more law abiding statistically than the average population." That's why we've created a law firm dedicated to protecting your Second Amendment rights—and your right to shoot anyone who looks like they might be a threat to you, your family, or your freedom.  
But if you think the government only wants to interfere with your casual gun use, you are sadly mistaken. Just think, Virginians, about how many other threats to your FREEDOM™ lurk in everyday conduct. That's why our team of FREEDOM™-protecting litigators will provide you complete legal and professional services, not merely for your gun-related enjoyment, but for anything else that may result in police harassment, frivolous prosecutions, and governmental abuses. That includes:
Climate change: You and your family have been there before. You're going about your business, keeping your kids home from school for the 26th consecutive day because of the polar vortex, and—BOOM! —some cretin at the University of Virginia starts doing empirical research on global climate change. Well, THAT can't be legal. As soon as those pesky climate change researchers begin to bother you, we will file a lawsuit subpoenaing every single document in the world suggesting that climate change is a real thing that is actually happening. No scientist will be safe from the broad, sweeping language of our document demands. We guarantee the shutting down of all departments that may encroach on your God-given right to believe that science has no place in the Commonwealth of Virginia.
Discrimination: The brave (and straight) men who founded America didn't fight a war so that YOU or your loved ones would someday be forced to frost a wedding cake for some middle-age lesbian couple in Roanoke. Our founders' vision of FREEDOM™ meant the freedom to deny service to anyone at any time because of a perceived sense that they don't believe in your God. That's why Virginia Self Defense Law specializes in defending courageous American job creators who stick to their religious principles by closing their doors on homosexual debauchers and their endless quest for buttercream. No real American should face the prospect of a costly legal suit simply for defending his constitutional heritage by refusing to serve a gay family at a restaurant or convey a lesbian to an emergency room. Let us protect your right to keep your heart clear of sin by keeping your business clear of sodomites. 
Abortion: You live this nightmare every day. Although abortion is legal in America, you know it to be illegal in the real America inside your head. And that may lead you or your loved ones to attempt to shut down great numbers of reproductive rights clinics on a regular basis on the thinnest of pretextual grounds. You'll demand all sorts of absurd and costly retrofitting and micro-regulation of such clinics and may even succeed in closing them. But this may raise the ire of women everywhere who don't believe that you have any business inside their uterus. Silly women. Silly uteri. At Virginia Self Defense Law, we believe that the best defense is a good offense. If you find that your mission to close reproductive rights clinics is in any way deterred or delayed, we will arrange for mandatory transvaginal ultrasounds for every woman who criticizes you.
Sodomy: It's easy enough not to engage in sodomy yourself. But how can you rest easy knowing there are other people in this very Commonwealth getting sodomized at this very moment? Our attorneys will personally monitor the bedrooms of known and suspected sodomites, halting any depraved sexual conduct and delivering sexual criminals directly to the police without giving them a chance to get dressed. Plus, there's no need to worry about the Supreme Court's decade-old ruling legalizing sodomy. One of our partners, Thomas Garrett, has sponsored a bill recriminalizing "anal intercourse, cunnilingus, fellatio, and anilingus" (though he later amended it to apply exclusively to minors).* For a reasonable fee, we will name the bill after you and your family.
*Correction, March 3, 2014: This article originally implied that the bill Thomas Garret sponsored remains in its unamended form. (Return.)

---