MOSCOW—Maria (Masha) Alyokhina squints and holds her new iPhone close to her face; she is very nearsighted. Out of prison for less than two weeks, she is wearing clothes chosen for her by someone else and working out of the backroom of a friend's gallery. She dials the number of a women's penal colony in Mordovia, a Russian region whose correctional institutions are one of its biggest industries. She looks momentarily lost when someone answers, but recovers quickly and assumes a businesslike tone.
"We would like information on the situation with Victoria Dubrovina, who is currently in punitive solitary," she says.
"We can't give out information over the phone," answers the woman from Mordovia. "And who are you?"
"We are from the media," Alyokhina lies and stumbles.
Who is she? She is one of Russia's most famous political prisoners, famously released in advance of the Olympic Games in Sochi. With Nadezhda (Nadya) Tolokonnikova, her collaborator in the balaclava-clad art group Pussy Riot and co-defendant in the trial that captured the world's attention in the summer of 2012, Alyokhina is now refashioning herself as a prisoners' rights activist. When the two women were arrested, just under two years ago, they were college students who had come up with a prank. It was a prank that changed the way much of the world viewed Russia—and changed their own lives profoundly—but it was still a prank. They emerged from prison on Dec. 23 as political activists seasoned by time behind bars, surrounded by public and media attention in Russia and abroad, and motivated by a need to address the pain and abuse they have experienced and witnessed in prison.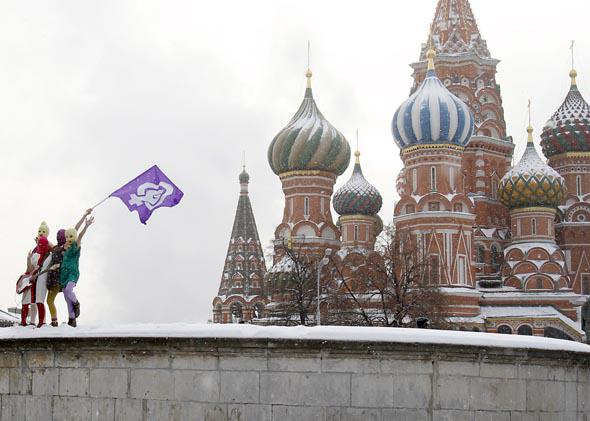 The action that got them arrested, tried, and convicted of felony hooliganism was a 40-second performance in the Cathedral of Christ the Savior in Moscow. In what they called a "punk prayer," they appealed to the Mother of God to "chase Putin out." Now they are taking their message to the most oppressed and marginalized of Russia's citizens: its prison inmates. They think an injection of democracy and transparency in Russian society's most inhumane sector might get the job done faster than the Holy Virgin.
"We are representatives of society," Alyokhina says into her phone. The woman in Mordovia hangs up.
Russian President Vladimir Putin released the members of Pussy Riot—as well as nearly 30 international Greenpeace activists, held since September, and Russia's other most famous political prisoner, businessman and Putin critic Mikhail Khodorkovsky—in a last-minute scramble to save the Winter Olympics, which begin in the Black Sea resort of Sochi on Feb. 7. In early December a series of Western European leaders, apparently heeding Russian opposition activists' calls for a political boycott of the games, announced they would not be going to Sochi; the U.S. delegation, announced by President Obama on Dec. 17, includes no high government officials. Putin, for whom the Olympics are an important personal project and who treasures his photo opportunities with world leaders, saw a disgrace in the making. With the releases Putin was rushing to clean up Russia's image, which has been badly damaged by his crackdown on critics and activists—one that began in earnest with the Pussy Riot arrests.
The Greenpeace activists went home to their respective countries; Khodorkovsky went to Germany, into what appears to be involuntary exile. Only Alyokhina, 25, and Tolokonnikova, 24, remain in Russia, speaking out. Their message is: Do not buy the newly varnished façade. Russia is continuing to abuse the rights of its own people in ways most cannot even imagine. And anyone who goes to the Olympics, whether as an athlete, a spectator, or an official, in effect condones these abuses.
* * *
As soon as she was released, Alyokhina flew not to Moscow to see her family but to the Siberian city of Krasnoyarsk to see Tolokonnikova. (As co-conspirators, the women were not allowed to serve time in the same penal colonies.) There they strategized for a few days before flying to Moscow and seeing their children—Tolokonnikova's 5-year-old daughter, Gera, and Alyokhina's 6-year-old son, Filipp—before holding a press conference, the first of their lives. They are the subjects of three documentaries (including one shortlisted for an Oscar), at least one book, numerous public campaigns, and thousands of articles, but their activism used to be anonymous—fame came to them while they were behind bars. The most important thing they learned from their first press conference was that, at least for now, they have a large international audience.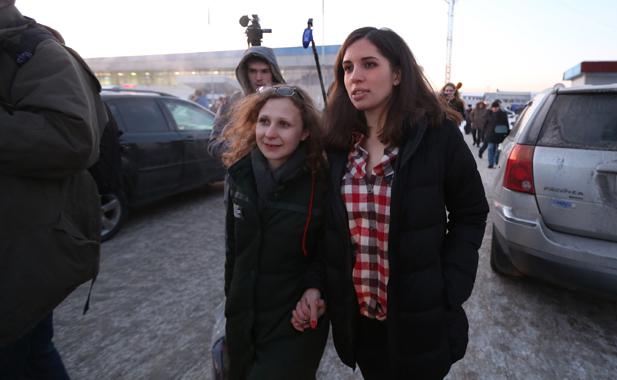 "I was worried that no one would be interested in prisoners' rights," Tolokonnikova says. "I thought this might be just something Masha and I want to work on because we have experienced it."
But prison is an object of almost universal fear and interest in Russia. The country has one of the world's highest percentages of its population behind bars—not as high as the United States, but a key difference is that in Russia the risk of landing in prison cuts across class lines. No one knows the exact figures, but human rights advocates estimate that more than 15,000 and possibly more than 100,000 of Russia's roughly 700,000 inmates are entrepreneurs sent to jail by competitors or extortionists. And then there are the political prisoners, a population that is growing despite recent high-profile pardons. Opposition activists are arrested seemingly at random; many of them are not leaders but ordinary grassroots activists or even one-time participants in a demonstration.
The goal of this tried-and-true Soviet tactic is to frighten people away from any and all opposition activity. It's effective, but its flip side is that when Alyokhina and Tolokonnikova speak about the abuse of prisoners, they grab the attention of millions of Russians who fear winding up behind bars themselves. Since leaving prison, they have appeared in public wearing borrowed or donated clothes, all of them unfailingly trendy because the donors are their fans in the media and fashion industries. This sends a stark message: When two young, well-turned-out women talk about being subjected to what amounts to torture, they really call attention to the fact that it can happen to anyone.
Their high profile afforded some protection in prison—Alyokhina was not forced to work the extremely long hours of other inmates—but it also drew much unwanted attention. Prison authorities tried to ensure they were both isolated and scared; they threatened other inmates with retribution for associating with the women, whom they perceived as potential troublemakers, and rewarded them for harassing the Pussy Riot convicts. Alyokhina was threatened with bodily harm within days of landing in her dorm at a penal colony in the Urals in December 2012; she asked to be placed in protective solitary confinement.
Protective solitary differs from punitive solitary in name only—it is the same place, so cold that no amount of warm clothing can remove the chill. The fight for warmth is one of many battles for a semblance of physical comfort and human dignity that inmates face on a daily basis. Tolokonnikova and her lawyers battled the authorities for several long winter months before she was allowed to wear a warm kerchief instead of a chintz one; she fought a similar battle to wear warm boots in winter and light shoes in summer instead of the prison-issue shapeless plastic footwear, in which feet either freeze or swelter. The privilege of wearing what are known as "civilian" shoes was regularly revoked as punishment, not only for Alyokhina and Tolokonnikova themselves but for other inmates, with the clear purpose of pitting the larger prison population against the activists.
Alyokhina and Tolokonnikova try to talk about other inmates more than they do about themselves, in part because they are now free, and in part because they feel they were ultimately in a privileged position in prison. What they have disclosed of their experience opens the window on the hell that is the life of a Russian inmate. Prison stories are stories of humiliation, dehumanization, and constant physical hardship. While in solitary, for example, Alyokhina was subjected to gynecological searches whenever she left her cell to meet with her lawyer and again when she returned. She filed a series of complaints and eventually declared victory in a letter to a friend: "This went on for a month, and now I have finally managed to get this canceled. It was painful and disgusting, and anyway, no one can stand being subjected to 'the chair'$2 4 times a week."
But Alyokhina's first major battle behind bars concerned the most basic, most pervasive, and perhaps most pernicious practice of Russian prisons: the systematic denial of the right to wash. While the members of Pussy Riot were in pretrial detention in Moscow in the spring and summer of 2012, supporters paid the facility to allow the women to take more than one shower weekly. Once Alyokhina and Tolokonnikova arrived at the penal colonies, though, that option was no longer available. Like the other inmates, they were reduced to risking lice and other afflictions of dirt, and to feeling like the filth in which they were forced to live.
An official letter from the regional prison authority, stating that female inmates could wash their hair more than once a week, was the first of Alyokhina's many wins on the personal hygiene front. Another was increasing the number of toilets and sinks in the dorms from two to eight, for a unit of 50 to 100 people—and, as important, getting the facility to put up partitions between toilets. Once Alyokhina, who was a journalism student at the time of her arrest, had fought and won her first battles, she became a full-fledged—and hyperactive—jailhouse lawyer. She challenged procedural violations in reviewing inmate infractions, helped inmates write numerous complaints, and collected bulging folders of information on working conditions in the colony.
* * *
For her part, Tolokonnikova had no intention of taking up prisoners' rights. A philosophy student at Moscow State University at the time of her arrest, she thought of herself as a philosopher and an artist more than an activist, and in jail she planned to keep a low profile. "For a long time, I wanted to try to blend in, to be like everyone else," she says. This was both a survival strategy and an existential approach: "I wanted to live a universal experience. I wanted this to have been not just Nadya Tolokonnikova's experience of prison but a human being's experience of prison." She was dispatched to work on the grounds, which can take many forms—often puzzling in their futility but effective as tools of intimidation and control. Mostly, inmates lug stuff around: anything from flour to dug-up dirt to rocks packed into giant black bags. As what seems to be a matter of policy, penal colonies do not have wheelbarrows or trolleys.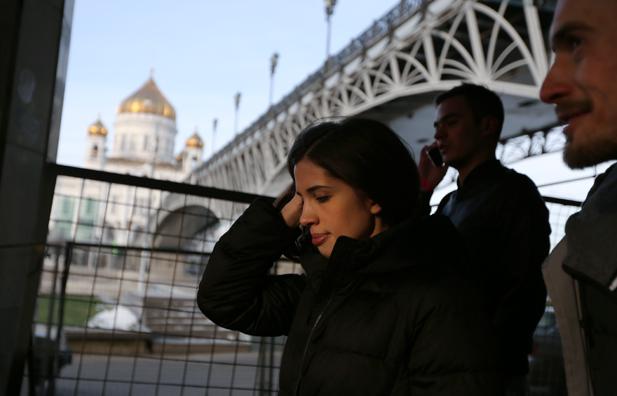 Tolokonnikova, too, came up against the facility's hygiene rules. Once a week at Correctional Colony No. 14 (IK-14) in Mordovia, inmates were marched to a small common washroom, where about 100 naked women would use their elbows and fists to gain access to faucets from which water may or may not flow on any given day. Tolokonnikova sneaked about, secreting a towel and a plastic ladle beneath her uniform jacket and going to a washroom on a different floor, where the duty watchwoman was somewhat more relaxed. On "bath days," Tolokonnikova hid from the guard who escorted the inmates to the common washroom. The young inmate tried to make herself invisible to spare herself the humiliation of fighting and failing to keep herself clean.
Yet Tolokonnikova, unlike Alyokhina, did not want to enter into constant confrontation with the prison authorities. Even the potential to leave the colony for occasional court hearings did not appeal to her. "I just want the time to pass quickly," she said when I visited her in prison in June last year. "Anything that breaks up the monotony slows time down."
Alyokhina would have had no way of knowing her friend felt this way at the time—inmates are not allowed to correspond with one another—but this attitude is exactly what she wants to take on as a prisoners' rights activist. "Many inmates say, 'I just want my 14-hour workday and to be allowed to sleep the rest of the time so the days pass faster,' " she says. "This is the most terrible thing that happens to a person in prison: She refuses to live, she refuses to see that she is more than a body that is shuttled between the dorm and the factory. And it turns out not to be so difficult to give up thinking for yourself—suddenly it seems like not such a big sacrifice to make. The denial of freedom as a legal concept becomes a metaphysical denial of freedom."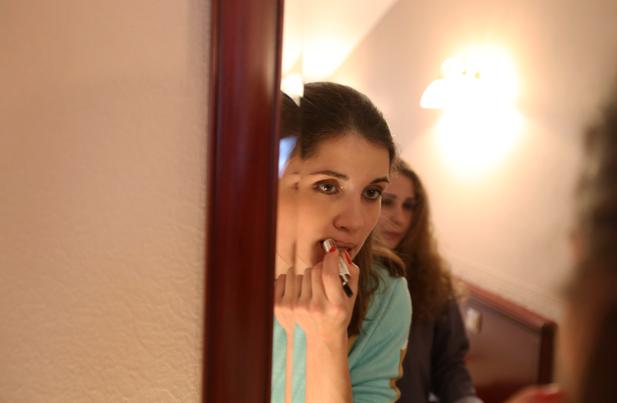 Tolokonnikova, the student of metaphysics, discovered this empirically: Her strategy of trying to live the life of a regular inmate forced her into a corner. Last summer conditions at IK-14 began deteriorating rapidly as the administration took on more and more orders for sewing police uniforms. Work hours expanded, as did the output requirements, and the hours allotted for sleep shrank. Inmates who failed to meet their production goals were beaten and denied access to food sent by friends and family—the only way to stay nourished in a Russian prison. When Tolokonnikova so much as tried to raise the issue with the warden, she was penalized too. For days she was locked out of her dormitory after work: She would have to remain outside, in a small fenced-in area, until lights out. This punishment was supplemented by so-called work in the woodshop; though the shop was equipped with a gas rotary saw, Tolokonnikova would be given a manual saw and required to stay in the shop until she had cut a thick log.
But the worst of the pressure was exerted through other inmates: as soon as Tolokonnikova so much as raised her voice in protest, others' work hours would grow longer, too, and their access to food would be curtailed. It wasn't just the responsibility for making fellow inmates' lives hell that weighed on Tolokonnikova—it was the knowledge that eventually they would not only blame her but kill her. The deputy warden told Tolokonnikova as much when she got up the nerve to ask him to cut work hours back to the legal maximum. "He said he would make sure I'd be all right for eternity, 'because in the afterlife, everyone is all right.' " This was a death threat, hardly veiled. It was this that finally got Tolokonnikova to act—this and the inspiration she drew from a friend, a doll-maker jailed on drug charges.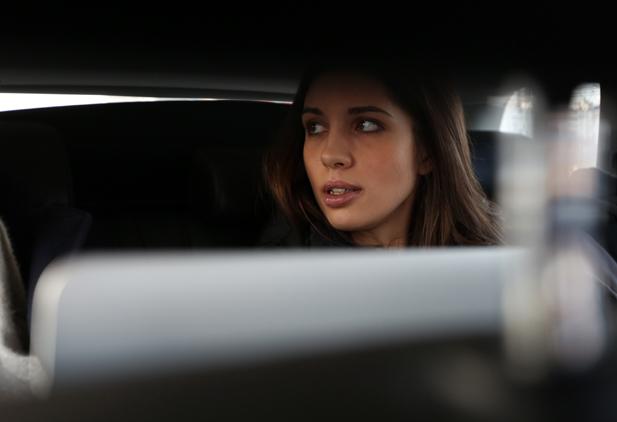 "Every once in a while, the administration would do a sweep of my friends," Tolokonnikova says. "People who had been seen talking to me would be told there would be trouble if they kept on, and they'd suddenly distance themselves." At some points Tolokonnikova could not even ask a work-related question at the factory; other inmates would hiss at her to step away from their stations. But not the doll-maker—she was defiant in every way. For one thing, she continued to practice her art, carving her dolls even while standing in formation in the quad, or getting up in the middle of the night to paint; for another, she never abandoned her friend. Nor did she seem deterred by the physical hardships of colony life—not even on the regular occasions that the plumbing backed up, sending fecal matter flying into the living quarters, when she would be the one trying to unclog the pipes using a stick.
"For months I struggled with the idea of how to resist in these conditions, where anything I did would have negative consequences for other inmates," Tolokonnikova says. "Finally I figured out that I needed to engineer my total isolation from other inmates." A hunger strike would be her ticket, because an inmate who refuses food is automatically transferred to solitary. Tolokonnikova set about composing an open letter, though getting it out to the public would be extremely difficult. She passed paragraphs scribbled on scraps of paper surreptitiously to her husband and fellow activist, Petr (Petya) Verzilov, during his visits, and dictated other parts to him while prison staff were out of earshot.
The resulting letter was probably the most detailed and searing expose of Russian prison conditions since Aleksandr Solzhenitsyn's Gulag Archipelago. Verzilov released it to the public on Sept. 23, the day Tolokonnikova declared her hunger strike.
Solitary confinement followed. In the cold, without food, and following a summer of sleep deprivation and poor nutrition, Tolokonnikova became very weak very fast. She was taken to a hospital that served several Mordovian penal colonies at once, which marked a final turning point in her evolution as an activist. At the hospital she met women from a women's facility for repeat offenders, Correctional Colony No. 2 (IK-2). The stories they told—and the condition many of them were in—made the abuses Tolokonnikova had witnessed at IK-14 seem almost harmless in comparison. One woman from IK-2 said that for writing a complaint to a human rights commission, she had been punished by a year in punitive solitary, where the door to the street had been propped open in the dead of winter while the woman wore only "an orange dress and a pair of panties." After she was seen talking to Tolokonnikova, this inmate was transferred out of the hospital back to IK-2.
Tolokonnikova made up her mind to use her skills and her access to the media to speak up for these women. She and Alyokhina began communicating secretly—passing messages through the lawyers they shared—to hatch a plan for a prisoners' rights NGO that they would launch as soon as they were released.
Before Tolokonnikova was released, though, she was transferred back to IK-14. Her friend the doll-maker was now in solitary for having spoken to a human rights inspector, who had come to the prison because of Tolokonnikova's hunger strike. Tolokonnikova now had even more reason to fear for her own safety, but she was no longer allowed to see her lawyer or have any telephone contact with the outside world. She declared another hunger strike, demanding a transfer. She was finally transferred to a penal colony in Siberia, in a grueling three-week-long transport in an unheated train car with painted-over windows and only a hard bench to sleep on. Inmates dread these transports, during which they are cut off from contact with lawyers, friends, and family and consequently, from any source of food other than the prisoner's scant ration. Another hardship specific to the transport is the number of bathroom breaks—no more than three and often two a day, at a time chosen by the convoy. "I took a plastic bucket with me," says Tolokonnikova, by that time a seasoned inmate. "I made sure not to drink much water. And it was fine."
Tolokonnikova had made a breakthrough: Not only had she escaped IK-14, but she had also found her mission, making the entire prison experience meaningful. "I felt euphoric. During the transport, I was held over at some of the harshest pretrial detention centers in the country, and yet I felt I had been halfway released. I was my own person again."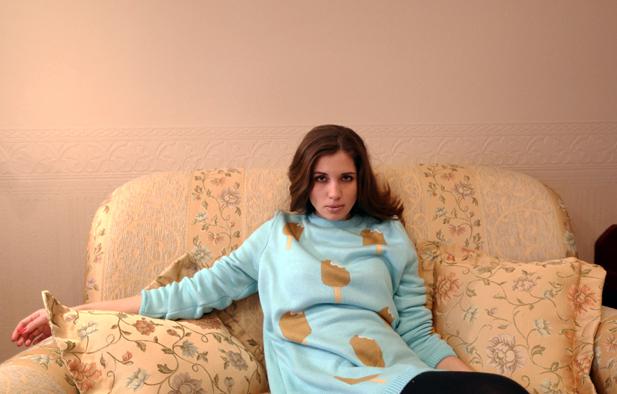 Once they were released, Alyokhina and Tolokonnikova put out a call to former inmates to testify to the abuses they had witnessed or experienced. They have been meeting with recent ex-convicts and recording their stories. Tolokonnikova is particularly interested in collecting information on IK-2, which she began doing in the Mordovian hospital.
"At IK-2, you have to work to be taken to punitive solitary," she says. "First you have to surrender your outerwear and, dressed only in a thin uniform, stand outside in the quad with your arms stretched forward. This can last up to three days. If you collapse, they will stand you back up again." After this, the cold and deprivation of punitive solitary come as a relief.
"Regular staff there have regular sticks," Tolokonnikova says. "But one of them has a stick with a metal tip. She will walk along the conveyer line in the sewing factory and hit people with it at random." Other weapons at IK-2 include a large stick emblazoned with the word ARGUMENT (used by the warden himself as an "argument" in discussions with inmates) and a stick covered in plastic tape used to enforce work discipline at the sewing factory. The work shift at IK-2 runs from 7 a.m. until 3 a.m., and inmates are often roused at 5 to work on the grounds before they report to the factory. One of the women whose testimony Alyokhina and Tolokonnikova have recorded said she witnessed a death at the factory in mid-December: A woman apparently collapsed from exhaustion while working in the middle of the night and died. Inmates were then compelled to sign statements indicating the woman had not been at work when she died.
* * *
Ten days after their release, Alyokhina and Tolokonnikova are meeting with ex-convicts in the backroom of a fashionable Moscow gallery, made available by one of their many supporters in Moscow's art community. The pair's workday runs from 10 in the morning roughly to midnight. One former IK-2 inmate leaves, and another arrives—a woman with a wide, friendly smile and many missing teeth, here to tell the story of her friend back at IK-2 in punitive solitary. Alyokhina's son, Filipp, had been at a soap-making class next door which has long since ended; he's since had time to construct a huge cardboard foiled-wrapped sword and matching shield. Still, Alyokhina and Tolokonnikova's work is nowhere near done. With Verzilov, they are composing an appeal for people to flood IK-2, the regional prison authority, and the prosecutor's office with phone calls and letters inquiring about Victoria Dubrovina, the woman in solitary.
Alyokhina calls Filipp's father, Nikita Demidov, and asks him to pick Filipp up and take him skating. Demidov has been taking full-time care of Filipp since the day in February 2012 when he received a text from Alyokhina: "I have to go into hiding, possibly for as long as a month. Please take Filipp."
Demidov arrives with a bouquet of short-stem pink roses that he gives to Tolokonnikova: "Congratulations on your release," he says.
By 5 p.m. the writing is done and the appeal goes up on Alyokhina's and Tolokonnikova's Facebook pages. "Now do I need to make a tweet too?" asks Alyokhina.
"Make four," says Verzilov, who is better-versed in social networks. "Summarize the story in four separate tweets."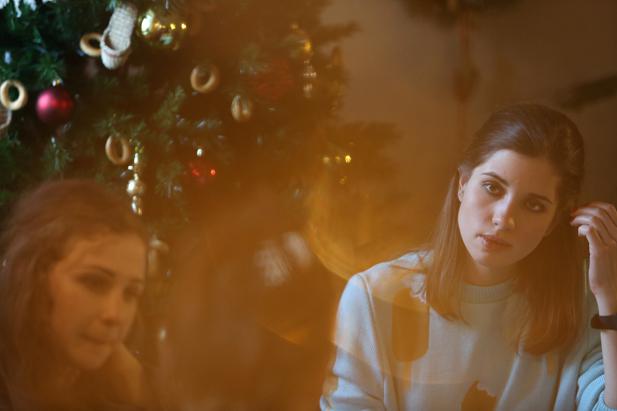 "I've always admired people who can organize others around a cause," Tolokonnikova says. "My activism was always pretty individual. But now it's great to see how we can do it too." This is Friday night; by Monday morning the original Facebook post will have been shared nearly 2,000 times. The official responses to complaints and inquiries will not come until after the holidays and are most likely to be uninformative, but the point of the post was to let IK-2 know that Victoria Dubrovina's fate was being watched by thousands of people. That kind of attention can mean the difference between life and death for an inmate.
Alyokhina and Tolokonnikova can not only detail the abuses and humiliation of prison life but also illuminate a larger truth: that a Russian prison is a microcosm of Russia itself. "Every correctional institution is a totalitarian state in miniature," Alyokhina says. "And all totalitarian states have similar problems. But from being in prison I have also understood a lot about the way Russia is governed. Putin runs it like a criminal boss runs his fiefdom"—which is also the way most wardens run their prisons.
Videographers who used to document Pussy Riot actions have been following Alyokhina and Tolokonnikova around since they returned to Moscow. But Alyokhina and Tolokonnikova are clear that their prisoners' rights movement is not a Pussy Riot action. For one thing, Pussy Riot members were always anonymous. "And we always wanted Pussy Riot to exist independently of us," Alyokhina says. "We clearly succeeded: Pussy Riot got bigger once we were arrested." But Alyokhina and Tolokonnikova are no longer Pussy Riot. "And if we do something as Pussy Riot, we won't tell," Tolokonnikova says.
Nor are they other things they used to be—like college students. For her first few months in the penal colony, Alyokhina attempted to continue her studies long-distance. Now, she says, "I don't see how it's possible to do this fully and also go to college."
"Both Masha and I, when we do something, we devote ourselves to it fully," Tolokonnikova says. "Plus, I no longer see the point of a formal education. I will continue to learn, but I don't see what it has to do with a particular university structure."
They may not be the most experienced organizers, but they are confident of their ability to launch a trend. They claim that Pussy Riot's wearable symbol of resistance—those iconic, brightly colored balaclavas—will soon be replaced by prison uniforms. "Everyone will be wearing a [prison] robe," Tolokonnikova says with a laugh of the Russian penal uniform. "And we also want everyone to learn to light their cigarette using another cigarette, like they do in prison," Alyokhina adds—another way to signal solidarity with the cause.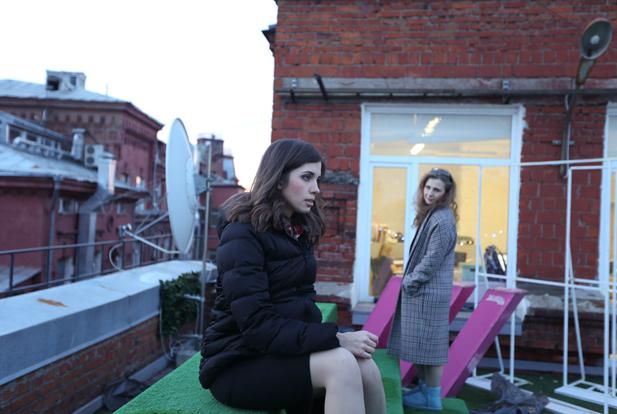 Their new movement has almost everything: charismatic leaders, visual symbols, great public interest, and, at least for now, extreme media attention. The only thing lacking is a long-term vision, which is not at all surprising for a movement launched a few weeks ago by two twentysomethings just out of prison. For the next month, they will concentrate on the cases and the prison colonies they know best. They envision the movement broadening after that, drawing in not only ex-convicts but also lawyers and scholars.
What happens then? "We have a negative program and a positive one," says Tolokonnikova. "The negative program is to stop prison administrations from killing people in body and in spirit. The positive program is to achieve economic transparency of correctional institutions, bring in culture. Basically, it's democratization from below." Alyokhina has an idea for government subsidies for companies that commit to training and employing convicts in and out of prison.
On her euphoric prison transport, Tolokonnikova devoured books by Soviet dissidents, such as the memoirs of former political prisoners Vladimir Bukovsky and the late Anatoly Marchenko. She had asked friends to send these books, but IK-14 officials had kept them from her. "I walked out of the colony with these books and with two life-size bags of postcards from people all over the world, mostly organized by Amnesty International," she says. The postcards had not gotten past IK-14 censors because they were written in foreign languages. So in her solitary, unheated train compartment, Tolokonnikova had a concentrated taste of what solidarity feels like and a large dose of impassioned writing by people who had sacrificed their health, their security, and their freedom for their convictions. Soviet dissidents were like this: They worked painstakingly on behalf of the regime's individual victims; they were idealistic and even at times naïve as a matter of principle; and most important, they were fearless.
"You cannot frighten someone who has been to Russian prison," Tolokonnikova says. What is Putin going to do to them—throw them back into prison after the Olympics? They'll just treat it as a fact-finding mission.
*Correction, Jan. 10, 2014: A caption in this article originally misstated that the two newly released Pussy Riot members were in the town of Krasnoyarsk. The correct location is the TVRain television station in Moscow.