As temperatures plummeted this week and people's hometowns bore increasing resemblance to the frozen wastelands of fantasy, thousands huddled around the flaming trash can of the Internet to quip about the "polar vortex" with allusions to their favorite fictional franchise. Some peered from their windowpanes and saw planet Hoth from The Empire Strikes Back. "I'm not saying it's cold, but I spent most of the morning inside a tauntaun," remarked Ana Marie Cox on Twitter. Others thought of the cold wildlands north of the Wall in Game of Thrones. "It's so damned cold today, I'm literally sitting by the door wondering when the White Walkers will arrive," tweeted freelancer Scott Neumyer.
Well, is the weather more like Hoth or more like Beyond the Wall? At the behest of Time columnist James Poniewozik, we applied a complex meteorological model to this question, counting the number of Facebook statuses that mention "white walkers" or "tauntauns." Has the North eclipsed Hoth as our favorite frozen hellscape? Here are the results: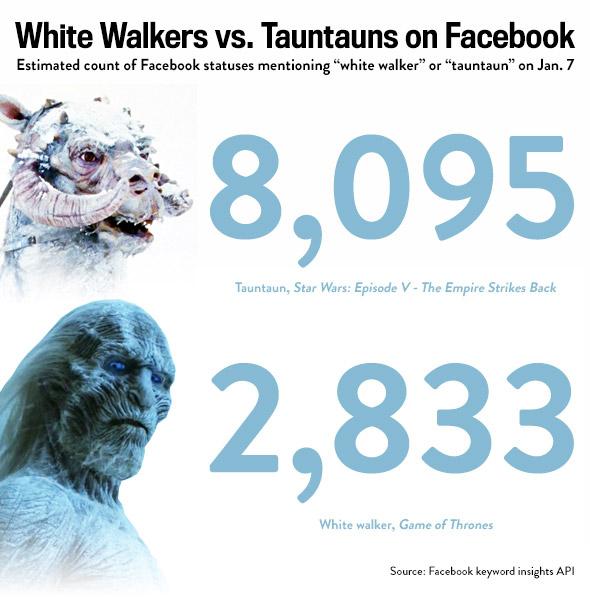 The odorous tauntauns earned nearly three times more mentions than white walkers. Of course, there's room for everyone in this cold snap, even wampas and wildlings and Frozen Jack from The Shining.