Each Friday, Roads & Kingdoms and Slate publish a new dispatch from around the globe. For more foreign correspondence mixed with food, war, travel, and photography, visit their online magazine or follow @roadskingdoms on Twitter.
MOSCOW—On a freezing afternoon in Moscow, two men in sheepskin hats and blue uniforms step into the cold without so much as a shiver.
"For us, this is normal weather," says Vladimir Samokhvalov, shrugging off the minus-8 temperature even as icy droplets form on the lower edges of his mustache. "When Hitler was attacking Moscow, the temperature was minus 40."
The two men are Cossacks, the fierce warriors of Russian lore who were, among other things, noted supporters of Slavic hegemony and czarist rule. Later, in the Soviet era, they suffered mass deportations, deaths, and famine. In President Vladimir Putin's Russia, Cossacks are being repurposed as enforcers of neighborhood law and order and, more broadly, as embodiments of a xenophobic brand of patriotism. And they are about to get an international audience: During the Sochi Olympics, which begin Feb. 7, more than 800 Cossacks will be patrolling the city, including the Olympic Village, around the clock.
Cossack justice already exists in Moscow: Samokhvalov and his companion, Igor Petrunin, keep a volunteer watch over the neighborhood of Lyublino in southeast Moscow, several days a week as members of the local Southeast District Cossack Organization. Samokhvalov says his secret for withstanding the cold is a high-calorie breakfast of salo—salted pig fat—and potatoes, but his companion, Igor Petrunin, suggests the pair is simply hardened to the deep freeze. For Cossack patrolmen, bitter cold comes with the job.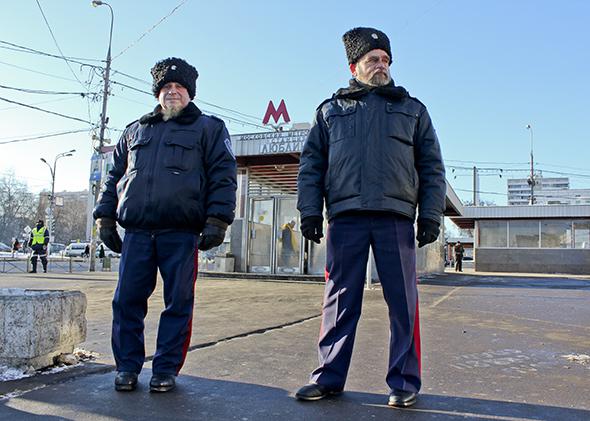 Residents and shopkeepers in Lyublino credit the Cossacks with the decline of illegal street merchants. They've also put a stop to double parking or people pulling their cars onto sidewalks. But rising cooperation between these groups and state law enforcement has raised concern among human rights activists about vigilante justice.
Cossacks have earned a reputation as a conservative "morality police"—a term embraced by many of these bearded patrolmen—conducting raids on art exhibits they consider indecent and breaking up LGBT rallies. Other members of the Southeast District Cossack Organization even staged an "operation" with a pro-Kremlin television channel to catch U.S. ambassador Michael McFaul when he met with a local human rights activist. The Cossack who organized the ambush, Vasily Solovyov, said it was to smear McFaul for talking with the "lying leaders" of Russia's political opposition.
For centuries, Cossacks fascinated Russia's popular imagination with their warrior code, frontier existence, and high degree of self-rule, inspiring many works of art and literature. These include Nikolai Gogol's popular tale Taras Bulba and Ilya Repin's celebrated painting Reply of the Zaporozhian Cossacks, which shows mustachioed warriors joyfully hooting as they considered which vulgarities to include in a 1676 letter to an Ottoman sultan.
Starting in the 16th century, Cossack cavalrymen settled and secured Russia's borderlands, expanding the czar's domain south through the Caucasus Mountains and east to the Pacific. But they also practiced a relatively democratic form of self-governance, voting for their leaders at warrior gatherings, and leading a number of bloody rebellions against czarist forces. After the last of these great uprisings was crushed in the late 18th century, they became a more reliable military caste in service of the czar. Many of them fiercely fought the Bolsheviks during the Russian civil war, but lost, setting the stage for their widescale disbandment during the early Soviet era.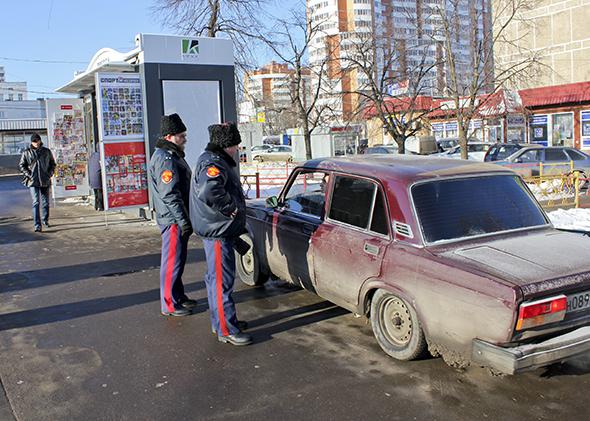 The 2010 census, which counted Cossacks as a distinct ethnic group, found 68,000 of them nationwide, but many more Russians likely have Cossack ancestry. According to Sergei Shishkin, boisterous leader of the Southeast District Cossack Organization and a municipal deputy, there are actually 7 to 11 million in Russia, including 1,000 registered Cossacks in Moscow. Cossack groups now seek a greater role in law enforcement and more funding for cultural and military education programs, he says. Some are even running military prep schools for kids. "We have few powers for now, but people listen to us because they trust us. A person in uniform disciplines not just himself but also others."
Cossacks typically patrol unarmed, and they are only allowed to stop a crime in progress, alert police, or hold a suspect until the authorities arrive. But Shishkin wants to expand his organization's activities. Already they have a volunteer fire brigade with one truck and 10 firefighters. The Cossacks also undergo periodic training with security services, including the Federal Security Service, the successor to the KGB, and soon they will begin conducting raids with immigration authorities, he says.
In Krasnodar territory, which includes Sochi, 1,000 Cossacks have been patrolling alongside police officers since the end of 2012. Unlike Cossack volunteers in Moscow, they receive a monthly government salary of $630 to $710, a respectable wage by local standards. In a speech announcing his expansion of Cossack duties, Gov. Alexander Tkachyov, regional governor of Krasnodar territory and who is himself a Cossack colonel, told police, "What you can't do, a Cossack can."
Asked what he thought Tkachyov meant, Shishkin waved the question off, then said that only Cossacks "can make a person realize the truth with words."
Some local Cossacks seem to have taken the exhortations of the governor—who has accused a neighboring province of failing to serve as an ethnic "filter" by keeping out people from the Caucasus region—a bit further. According to Semyon Simonov, who as coordinator of the Migration and Law Network defends the rights of Sochi's migrant workers, Cossacks have played a leading role in nationalist rallies and have conducted raids on construction sites where they check migrant workers' documents but often seem more bent on "humiliating" them. In the Krasnodar territory, 270 Cossacks serve in special brigades to patrol for illegal immigrants and have reportedly nabbed hundreds.
Simonov questions why one particular ethnic group should be given a special role in law enforcement, especially without much of the training and responsibility that comes with police work.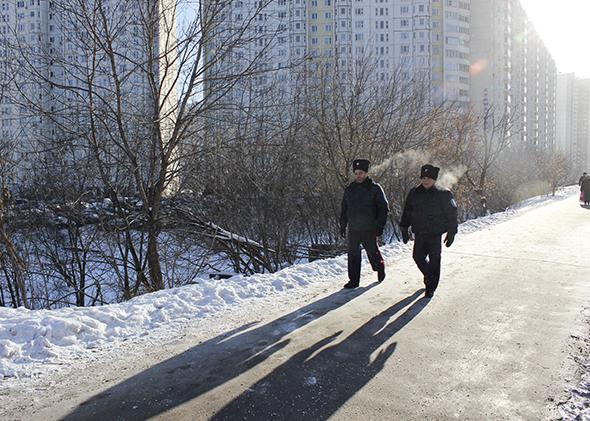 Many of the Moscow Cossacks are unrepentant about their conservative political views and consider it their duty to promote patriotism, Russian Orthodoxy, and a "strong government." The rise of the Cossacks has coincided with Putin's own growing emphasis on "traditional values" in the face of foreign cultural influences. In December, Putin said volunteer patrols "often work more effectively than police" and praised Cossacks' "traditional patriotism," promising support for their organizations.
"Cossacks were smart, they supported the monarchy, and now we're supporting our government. We respect Vladimir Vladimirovich," says Shishkin, referring to Putin, whose portrait hung alongside a saber and a second portrait of Prime Minister Dmitri Medvedev.
Vitaly Timakov, a Moscow Cossack who will be on patrol in Sochi during the Olympics, says a Cossack's job is to spread safety, culture, and peace between people of different faiths, although he noted this meant "first and foremost cleaning out unsanctioned residents of other countries." But he assures that all of the Cossacks' actions will fall within the law. The goal, he says, is "that people see that Cossacks are coming back out of shadows."
During their freezing Moscow shift, patrolmen Samokhvalov and Petrunin's main crime-fighting activity was shooing away a driver attempting to park illegally on a pedestrian thoroughfare. But when they first began patrolling these streets, in Nov. 2012, they forced unlicensed street vendors to close, a move welcomed by many locals. "Before, all sorts of people were out here," says Nazar, a local merchant, who sells books and magazines. "Now there are no conversations, no scandals—just order."