This is an excerpt from "Trigger Effect," an in-depth feature about the 1989 Stockton, Calif., school shooting and its lasting effects, from Sactown magazine's December/January issue. Please read the complete story, by S.T. VanAirsdale, at Sactown's website.
It's a warm September evening in Stockton, almost the end of summer, and the sun slowly sets behind the curving steeple of the Central United Methodist Church. Just before 7 p.m., Judy Weldon stands at the whiteboard in Room 6, writing in her impeccable teacher's print: "Agenda. Sept. 17, 2013. Welcome. Introductions. Housekeeping. History. Letter to Governor."
The letters are already written for anyone attending tonight's inaugural public meeting of Cleveland School Remembers, a group of six former teachers who watched, listened, and reacted in 1989 as a 24-year-old gunman named Patrick Purdy opened fire on their students in the first mass shooting of schoolchildren in America. Running, they grasped and sheltered wounded kids. They strained for order and solace in the lockdown after Purdy's suicide. They navigated around and eventually identified the lifeless bodies of children who'd fidgeted into the thrall of a lesson or a story just a few hours earlier. They stood and struggled to comprehend or even know anything. Brought out to identify one of the dead children, neither Weldon nor second-grade teacher Julie Schardt could be absolutely certain that the girl with the head wound was their student Oeun Lim. "It was such a surreal experience," Schardt says. "I remember it was cold, and I remember her red shoes."
Much else has faded about the Cleveland shooting since it seized the American imagination—since Time grimly proclaimed "ARMED AMERICA" in a cover story three weeks after the massacre and, later in 1989, Esquire painstakingly deconstructed the last days of Patrick Purdy. No less a pop cultural eminence than Michael Jackson invited himself to Stockton on Feb. 7 of that year, where his attempts to cheer up the Cleveland community only meant more emergency vehicles, more police, more helicopters and more campus bedlam that just recalled the panic that Jackson had sought to assuage in the first place. The sights and sounds and mediated tragedy of it all receded as life went on in Stockton. Only in the year since Sandy Hook has memory emerged for these teachers as the mixed blessing of the Cleveland massacre, where a long-simmering synthesis of trauma and fury over slaughtered grade-schoolers has been channeled into action after nearly 25 years.
The group officially came together in February as a response to the shooting in Newtown, but not until September would they finally meet publicly at the church. "Help Us Reduce Senseless Gun Violence," reads the front of Cleveland School Remembers brochures stacked up on the room's back counter, wedged between fliers outlining California's pending firearms legislation. Free booklets titled "A Citizen's Guide to Lobbying" instruct readers how to lobby for bills in person and testify before committees. Letter campaigns are encouraged, which is in part how the teachers came to have their pre-drafted letters on the counter, a sheaf of photocopies addressed to Gov. Brown. "Support: LIFE Act Firearm Legislation," it urges, citing four specific Senate bills awaiting attention from the governor. The letter attributes a 52 percent overall drop in California's firearm mortality rate since 1990 to the gun laws enacted after the Cleveland shooting. "Nonetheless," the correspondence continues, "almost 6,000 Californians are injured or killed by guns every single year, a number still unacceptably high. The measures contained in the LIFE Act are critical to closing loopholes and protecting our communities from gun violence."
The audience is made up of 17 attendees including the teachers, who had hoped for a little bigger showing for their first gathering. But there's a representative from San Joaquin Grassroots Action here to offer advocacy tips, and a delegate from the local Cambodian community association has dropped by with an offer to translate the Gov. Brown letter for his constituency. Another of the teachers, Adrienne Egeland, proposes collecting a list of gun-violence data and talking points to better engage with gun proponents. Weldon takes the floor, acknowledging mental illness, gangs, bullying and other frequent factors in gun violence before getting to their common denominator.
"We have chosen gun violence because we feel we can make a difference soon with the gun violence issue," Weldon says, raising the group's brochure over her head. She taps the air, harder and more assertively with every few words. "And that's why we are working. We have seen the carnage that gun violence brings about. So our mission is not mental illness right at this moment. Our mission is: Let's do something to keep the guns—the tools—away from people who shouldn't have them. It's the gun."
The day after the church session, Cleveland School Remembers reconvenes privately at a member's house. They discuss their recent progress—the mailing list sign-ups from the night before, the development of a short documentary about the group, a letter in support of a legal brief filed in Connecticut against the National Rifle Association, which is fighting new gun laws in the state after the shooting in Newtown. They characterize this as the work they couldn't do in 1989, when they were responding to a spectrum of challenges just to get their kids and themselves through the school year. "You'd start a lesson, and then it would all fall apart," says Egeland, who was a first-year kindergarten teacher at Cleveland in 1989. "I'd make my lesson plans: 'OK, tomorrow, we're going to do this and this, and this and this.' I start this, and then we'd get a certain ways into it, and we'd have to stop for crying or anxiety. Or something would happen from the outside that would come in."
"There was a lot of that," Weldon says.
"Some visitor or some counselor," Egeland says.
"Some announcement," adds Sue Rothman, another former kindergarten teacher at Cleveland.
"Or a reminder," Schardt says.
"So we read a lot of books," Egeland says.
"A lot of books," Weldon says.
"And then eventually," Rothman says, "they told us we didn't have to follow the curriculum. But in many ways that was harder."
"We didn't have to give the standardized test that year," Egeland explains. "We had to push for that."
They had to push for much more as well, requesting necessities as basic as walkie-talkies for yard duty and an exterior paint job to mask the bullet holes around the building. (The custodial crew had already spent the night after the shooting patching holes, replacing windows, shampooing carpets stained with blood and even repairing a tetherball pole cleaved by a bullet.) The teachers submitted a three-page "Needs List" to the Stockton Unified School District three weeks after the attack. When their requests went unanswered, they paid an unscheduled visit to the superintendent's office. They soon became known around the district as "those Cleveland teachers," but they got their meeting. "We eventually figured out that we needed to advocate for us because we were victims, too," says Rothman. "They were not seeing us as victims."
Listening to the teachers today, a bracing nostalgia sinks in. The work of Cleveland School Remembers is not simply activism that they couldn't accomplish 25 years ago. This is work that they could never have imagined they would need to accomplish. A gun slaughter like this had never struck an American elementary school; the immediate shock and recovery obscured the long view of how and when such a shooting might happen again. Even as the horror recurred at campuses from California to Colorado to Virginia to Pennsylvania to Connecticut, many of those who'd witnessed it the first time hadn't even developed a language or ability to process their own tragedy until decades later. Some of the teachers sought to avoid triggering flashbacks among colleagues who raced to shelter wounded kids or, like Weldon and Schardt, were conscripted to confront the ravages of the dead. "We didn't know what everybody was feeling at the time," Rothman says, "so we'd talk about other things and do other things."
"But also," Schardt says, "when Sandy Hook happened, it brought it all back to us, I think. It was like, we saw these pictures of these little kids. When they put the pictures of the kids on the TV, I just sat there sobbing—looking at those pictures and remembering those pictures of our kids and the same ages that they were, and thinking about their parents and their teachers."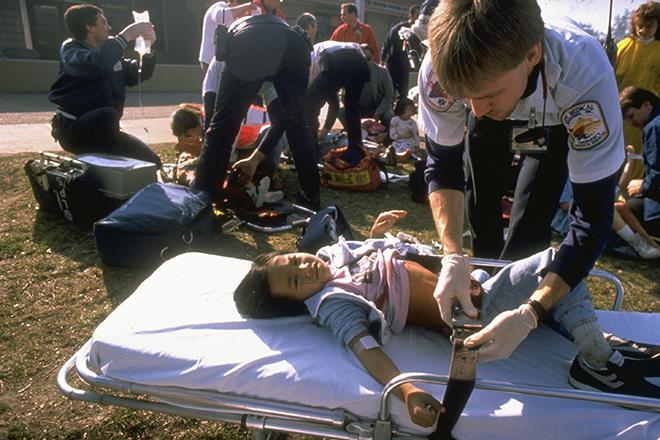 "I thought, 'Again?' " adds Barbara Sarkany-Gore, who taught kindergarten at Cleveland Elementary before retiring in 1998. "Of course, I've always had this feeling, waking up the next day after Cleveland, and thinking, 'Something's wrong.' And then that feeling of disbelief: 'Did it really happen? How could it have?' That feeling of disbelief while it was happening."
"Right," Weldon replies. "That it's really happening, because it's so weird. In a school. But now, it's such an everyday occurrence. It's not weird anymore. People just duck—duck and cover."
Twelve recorded incidents in almost 25 years do not make mass shootings on school campuses an "everyday occurrence." Yet smaller shootings and gun incidents involving schools arise much more frequently, often much further below the national radar. In January 2013, while the country still reeled from the Sandy Hook massacre, four people died and 10 more were injured in seven different campus incidents across America. In October, less than one week after a 17-year-old fatally shot himself at a high school in Austin, Texas, a 12-year-old killed a teacher, shot two students and committed suicide in Sparks, Nev.
The Children's Defense Fund estimates that, in America, 50 children and teens are killed or injured by firearms each day. In a lesson on telling time during her final year teaching at Cleveland, Weldon asked her students what they could do in five seconds. A 7-year-old boy stood up and shouted, "You can pop a clip in less than five seconds!" Recounting the story, Weldon mimics the boy's hand motions: a swift, strong slap of the left hand to the bottom of a right fist clutching an imaginary handgun. "This is how they come to school," she says. "They come with this knowledge—they come every single day, in your classroom."
And so they come to other classrooms, and so the ghosts and fearful imagination persist—a fog of heartbreak pulsing with fervor and sadness and a sharp, subsonic dread. "When this happens, as far as a school, it's not your child who's been killed," Schardt says. "But it's one of the children you are responsible for. You are the main nourisher. You give them sustenance. Especially in primary—you are a parent. In loco parentis. You're a counselor. You feed them. You're a nurse. All of those things."
With this in mind, the Cleveland teachers worry quite a bit about the Sandy Hook teachers, two of whose ranks (plus the school's principal, psychologist, and two teacher's aides) died with their 20 first-graders one year ago. Not long after the shooting in Stockton, the teachers there received a letter of support from teachers in Winnetka, Ill., where, in 1988, a woman with three handguns killed a student and wounded six others at their school. After some deliberation with the district, the Stockton teachers welcomed the Winnetka teachers for a counseling meeting. "We looked forward to them being here, I remember," says Egeland. "I thought it was really helpful."
Cleveland School Remembers took an identical tack in April, extending its own offer of counsel to teachers in Newtown. A liaison for the Sandy Hook teachers replied with her thanks, assuring her counterparts in Stockton that their proposal would be reviewed in May. That was the last the Cleveland teachers heard from Connecticut.
"We said, 'We're here if you need us, and nobody else needs to know about it,' " Schardt explains. "I think we felt the need to talk to somebody. We thought, 'Who else could understand this experience, at least from a teacher's perspective?' "
But despite the unfathomable casualties, the suffocating media crushes, the instant notoriety and the long, barbed emotional tails that the schools' massacres have in common, there are two notable differences informing the perspectives of teachers at Cleveland: Unlike Sandy Hook, many of them were eyewitnesses to the gunman's rampage, and virtually all of them returned to campus as classes resumed—the very next day. "That school is being torn down," Rothman says of Sandy Hook. "None of that happened to us."
Meanwhile, according to a 2009 report in the Stockton Record, just 227 of Cleveland's 975 enrolled students came back on Jan. 18. Egeland's only kindergartner that day was a little girl whose mother couldn't figure out why her daughter was the lone child on the school bus.
"She had been absent the day before," Egeland says, "and her mother hadn't heard the news."
* * *
It's dusk at the State Capitol on Oct. 10, 2013, where candles and voices tremble on the west steps. Inside the Capitol, a stack of new firearms bills await Gov. Jerry Brown's signature. Outside, gun-control advocates hold a vigil. The organizers intend to read the names of those Californians killed by guns since the Newtown massacre. That tally stood at 1,128 names when the event was conceived in early October; as the congregants gather a little more than a week later, the number has risen to 1,143.
Cleveland School Remembers is here. Julie Schardt talks on-camera with local television news reporters. Judy Weldon introduces herself before the reading of the names. She reminds the small crowd of the shots fired in Stockton on Jan. 17, 1989. "We know what bullets do to human bodies," Weldon says. "We've used our hands as tourniquets to stop the flow of blood. We've identified dead children as they lay on the cold pavement of the playground. Tonight, we are here to support Gov. Brown as he makes difficult choices."
The next day, Brown signed 11 of the bills into law, adding to the list of regulations that give California the nation's most far-reaching gun policies. The new laws include a ban on lead ammunition and a mandate giving psychotherapists one day to notify police of patients who make violent threats toward "a reasonably identifiable victim or victims." (Existing law already prohibited such patients from purchasing firearms within six months after a reported threat—if or when the threat is reported at all.) But Brown vetoed seven others, most notably SB 374—Senate president pro tempore Darrell Steinberg's controversial legislation that would ban semiautomatic rifles with detachable magazines like the kinds used in mass shootings from Stockton to Newtown. In his veto message to the Senate, Brown cited the negative implications for hunters, firearms trainers, collectors and other gun enthusiasts. "I don't believe that this bill's blanket ban on semi-automatic rifles would reduce criminal activity or enhance public safety enough to warrant this infringement on gun owners' rights," wrote the governor, a gun owner himself.
The vetoes further reflect the entrenchments of America's protracted gun-rights battle—a schism that runs deeper and deeper through those who were present at Cleveland School in 1989. Some, like the teachers and Sovanna Koeurt, don't understand the purpose of semiautomatic weapons beyond killing. "They say it's because of the game—hunting game," Koeurt protests. "But how can you kill the deer with a rifle that's 30 at a time? You're not going to have meat to eat!"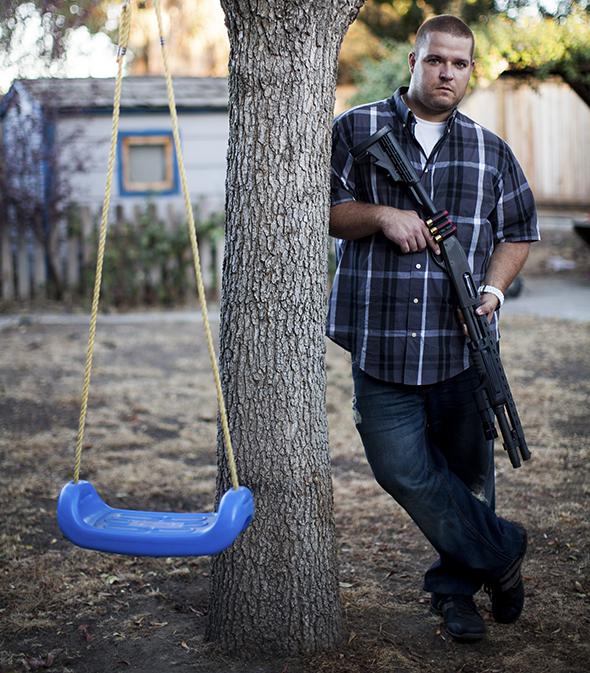 On the other side, shooting victim Robby Young is now Officer Rob Young, a policeman in the Bay Area who has actively lobbied against new gun laws. He traveled to Washington, D.C., last February to speak in support of a bill that would repeal "gun-free zones" around American schools; a few months later, Young visited the State Capitol to testify against SB 374. He acknowledges the perceived irony of a shooting victim advocating against gun control. He also argues that for those threatened by an active shooter, every second counts. "Why not have somebody on campus that's armed [and] can hopefully neutralize this threat and stop this threat before we get there?" asks Young, the father of a 6-year-old daughter and 8-year-old son. "By all means, if the cops get there, let us handle the situation. But why not have some security personnel, or administrator, or a teacher that's able to carry a gun? We trust these people with our kids' lives anyway."
Brandon Smith, now 34, is a paramedic for a private ambulance company in Stockton. He credits his time spent in the hospital as a Cleveland victim with igniting an interest in doctors and nurses. By the time he was 12, he'd resolved to become a medic. He speaks to few people about being shot 25 years ago or about the arsenal he has acquired as an adult. "In fact," he says, "I own the very gun I was shot with—an AK-47."
Smith explains how the rifle complies with all state and federal laws—domestically manufactured, 10-round detachable magazine with a modified manual release—and that he doesn't see anything macabre or strange about buying it. It's simply the gun he likes to fire off at the shooting range. "It's not like only crazy people are going to like that gun, or people who want to kill others are going to be attracted to that gun," he says. "It's just a firearm." Others, like Stockton first responders Gary Gillis and Gigi Olson—nèe Nault, who married her Medi-Flight 2 partner Kim Olson in 1989—still emphasize preventing the abuse that leads to mental illness. "I'm very pro-gun," Olson says. "I just could sit here and hate [Patrick Purdy] for what he did, but there's an ugliness that was in his life." Gillis himself admits exasperation with the fierce tenor of the gun debate, as well as sadness at the resignation that always follows the hype around every school shooting since Cleveland. "These people feel secure dropping their kids off at school," he says. "What's it going to take for them to know tomorrow it's going to be your school? Or someone you know?"
Max Whittaker is a photographer based in Sacramento, Calif. He is part of Prime Collective.
Update, Dec. 13, 2013: The headline on this article has been updated to clarify the Stockton shooting's status as the first mass school shooting of this cycle.
This is an excerpt from "Trigger Effect," an in-depth feature about the 1989 Stockton, Calif., school shooting and its lasting effects, from Sactown magazine's December/January issue. Please read the complete story, by S.T. VanAirsdale, at Sactown's website.