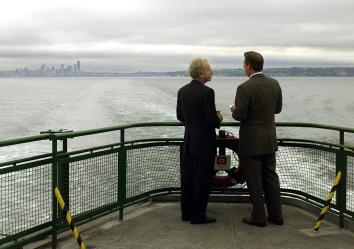 As multiple Seattle-based sources have reported, a man named Samuel K. McDonough checked "steal a ferry" off his bucket list on Sunday, allegedly scaling a fence at a Seattle dock, starting up the 132-foot Victoria Clipper IV, and sending it out into beautiful Elliott Bay, where it drifted for several hours before a SWAT team clambered aboard and put an end to the madness. (The SWAT team only intervened after talks between McDonough and a police negotiator hit a standstill, and I would love to know exactly where the talks went wrong. "I told you to call me Commodore McDonough. This phone call is over!") McDonough last made news in 2012, when he was convicted of felony indecent exposure after masturbating in front of two female baristas at a local coffee stand. His alleged exploits this Sunday were less disgusting, but ultimately just as fruitless; reports indicate that McDonough was unable to master the ferry's steering mechanism, and the ship just ended up spinning around in circles.
The Associated Press notes that, in the wake of Sunday's incident, the ferry's owner is "talking with the Coast Guard and a maritime consultant to review its security and block any other would-be pirates." This is probably justified—"build a higher fence" would be my first recommendation—although I doubt that we're going to start seeing a wave of ferry thefts. As every professional vehicle thief knows, there really isn't much you can do with a stolen passenger ferry. You can't hide it, or repaint it, or bring it to some seedy maritime chop shop. It has little to no black-market resale value. You can't use it to lead cops on an exciting high-speed chase, because the cops' watercraft will surely be faster than yours. About all you can do is drift along the water, maybe blowing your horn every now and then. Stealing a ferry is probably the least lucrative form of vehicle theft that exists.
It is also probably one of the most enjoyable. If you don't really care about speed and/or profit, then "ferry" has to be on any list of "Top Three Fun Vehicles to Steal," right after zeppelin and time machine. You're out on the water in a huge ship, cruising around at a reasonable speed, waving to the folks on the shore. What could be better? Sure, you're not going to make any money from your crime, but can you really put a price on the pleasures of joyriding upon the waves in a massive boat that you probably don't know how to steer? No. No, you cannot.
---