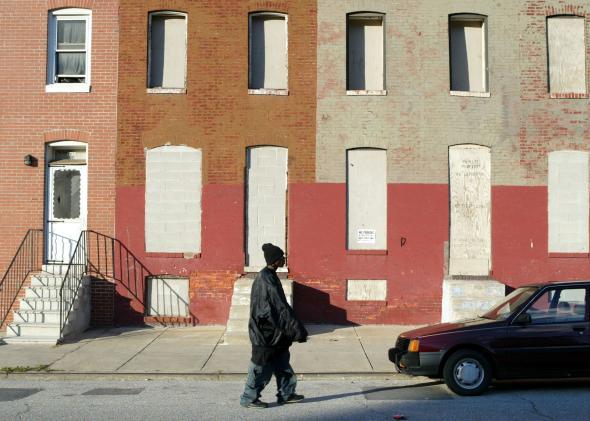 Justin Fenton at the Baltimore Sun had a fantastic story this weekend about the life and death of a Baltimore man named Marcus Lesane, a "stick-up boy" who robbed drug dealers for a living until he was shot to death this spring in a robbery gone wrong. If you know anything about Baltimore's stick-up boys, it's probably from watching The Wire, which featured a recurring character named Omar, played by Michael K. Williams. Like Marcus Lesane, Omar robbed drug dealers for a living, and, over the course of the series, he emerged as one of the series' most likable—and, in his way, most heroic—characters. (In a 2012 interview with Grantland's Bill Simmons, President Obama named Omar as his favorite Wire character.) Fenton's story shows that the lives of actual stick-up boys can be just as compelling as (and far more complicated than) those of their fictional equivalents.
If you're thinking that "robber of drug dealers" sounds like only slightly less insane a career choice than, say, "crash test dummy," you're not wrong. Drug dealers are often heavily armed, and generally have no qualms about shooting someone who tries to rob them. The stick-up boys aren't particularly gun-shy, either, which only serves to heighten these already-tense encounters. "City police say the stick-up crews drive a considerable number of homicides and shootings," writes Fenton. Why choose such a risky occupation?
The money, obviously. As Fenton notes, stick-up boys "represent a niche in particularly chaotic and thriving drug markets in cities like Baltimore," where there are lots of street-level dealers, not all of whom take the proper steps to guard their wares. A successful robbery can yield thousands of dollars in cash and narcotics, and your victim is unlikely to contact the police. If you're feeling lucky, or bold, sticking up a drug dealer sure beats sticking up an Old Navy.
An unsuccessful stick-up can end in the death of the robber, or the intended victim, or both. Marcus Lesane was successful until he wasn't, and Fenton does a wonderful job reconstructing the police investigation into his death. There's a great scene where police enlist Lesane's brother in an attempt to convince Lesane's former stick-up partner to cooperate in the homicide investigation:
For two hours they sat at the table on the fifth floor of police headquarters, two guys from Southwest Baltimore burning through a pack of cigarettes. Finally, Baskerville broke down and described what happened.
Baskerville said he and Marcus Lesane had hopped into the LeSabre on the night of April 10 with a plan to rob a man named Antonio Braxton at an apartment building in the 2400 block of Loyola Northway. Braxton, 21, had agreed to sell them $1,000 worth of cocaine, Baskerville told police – but they planned to steal it instead.
Braxton hadn't brought the full amount to the meeting spot, so Marcus Lesane led him at gunpoint to a home in the 2500 block of Oswego Ave. to get the rest. Baskerville said he stayed outside, then panicked and took off.
Marcus Lesane stayed inside, and there he died after being shot in the back with his own gun, killed by a frightened 19-year-old high school student who had come to Braxton's house to smoke marijuana and play video games. The teen claimed he acted in self-defense, and the police believed his story; no charges were filed against him. Both Braxton and Baskerville are currently in jail on unrelated homicide charges. Marcus Lesane is dead. In the Baltimore drug trade, the same sad stories happen again and again. We're lucky that Fenton and his Sun crime-beat colleagues are around to record them. Great work on this piece.
---