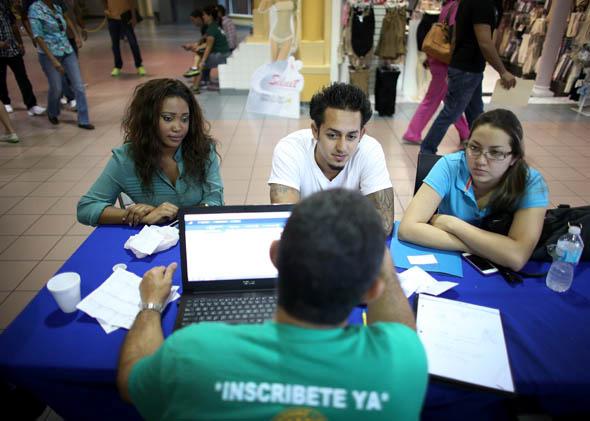 Three months ago, before healthcare.gov blinked to life, we asked readers of Slate who intended to buy into Obamacare exchanges to share their stories with us. Their stories—lucky for Democrats and the Obama administration—got sort of lost in the tumult of the government shutdown. Suffice it to say that no one could really get online and buy the insurance they'd been dreaming of.
Finally, after a much-derided "tech surge" and some ritual congressional torture of administration officials, the website is working. Insurers are starting to invest in the site, actually, buying a reported $500 million of ads for their wares. We've checked in again with our human guinea pigs to see whether the system now works. Short answer: The website has improved, but the costs are all over the place. Long answer: Read their stories in their own words below.
Toby Dillon, 36, IT manager, Tooele, Utah
We were able to get on and get everything set up for enrollment by mid-October, then we had the mind-numbing task of going through the various plans available to us. Not counting "bronze" plans, we still had more than a dozen to pick through. My wife wanted specific care providers, so that further limited the list. I wanted doctor-visit costs that weren't "$X after deductible." This put us into the gold plan range, which I expected to be more expensive but turned out to be only $40 more per month than our "benchmark" silver plan, for a total of $257 per month, with a $250 deductible, $5,000 out-of-pocket maximum, which is pretty posh for our family.
Our only hang-up is our new addition, due around Christmas. If we enroll now, we'd still have to do all this again in a month … so we're going to hold off until January and sign up for February, thereby saving the premium and making sure all the family is on the same plan with as few hiccups as possible.
Eufemia Scarfone, small business owner, Venice, Calif.
I managed to sign up on Oct. 4, and I chose a Blue of California (Blue Shield) 80/20 plan that was $386 a month and has no deductible. I had to choose this somewhat blindly because at the time the health care organization I use did not know exactly what plans from the exchange they would be accepting. Historically, they have always accepted Blue Shield, so I thought this would be a safe bet.
After I successfully signed up online, I got several confusing letters from Covered California. It was a mix of "congratulations, you're covered" and "we're sorry, we can't verify your income so you might not be covered." Because I'm self-employed, they couldn't find any employment data in their state database. I had to estimate my income at sign-up, and my estimate put me outside the range of the available subsidies. Coveredca.com told me that the premiums and any applicable subsidies would be auto-adjusted and applied to my account after I filed 2013 taxes.
Meanwhile, back at my existing health insurance company, they decided to jack up my premium from $617 a month to $730 a month in October and blame Obamacare. As you can imagine, I am anxious to get as far away from this fleecing as possible. I received a letter from Blue Shield on Dec. 9 informing me that I needed to hurry up and pay them no later than Dec. 21 to guarantee my plan. It would have been nice to get some prior notice, but whatever.
I went to their website right then and there and made an online payment. I intended to schedule the payment for Dec. 20, but while I was adding my payment information, their site had reset the date to that day and I didn't realize it until after I clicked "submit." I inadvertently paid them early. At that point I got a little paranoid, so just to be sure I was in good shape for January, I went to my health care provider's website only to discover that they are not accepting any Blue Shield plans from the health care exchange. At least they will be accepting the Anthem and some Healthnet plans, so all is not lost, and I still might save even more money on premiums.
I had to call Covered California several times due to call volume. I finally got through and ended up on hold for about 20 minutes. When the agent answered, I explained what had happened and that I needed to change my plan to something else. He informed me that, unfortunately, because I had made the payment already, it was now going to be a process to get that canceled. I had to get out of the plan I just paid for and into a new one before Dec. 23 or I would be stuck with the Blue Shield plan.
I called Blue Shield to cancel, and they were a bit confused at first but told me they "started the process" of cancellation and I would receive an email when it was complete, which would take about two days. Great! I call coveredca.com again, but they tell me I need a termination number from the first plan before they can vacate my enrollment from the system and I can choose a different plan. So I wait.
As of Dec. 13, still no email from Blue Shield regarding my cancellation. I call again, and the first agent disconnects me. I call back. Agent No. 2 seems to have a better handle on what needs to happen, so he went through the cancellation process. My guess is that it didn't get done right the first time I called. I get back on the horn to Covered California. After a nice 40-minute hold listening to the same horrid song over and over, the agent tells me she has to delete my application. Apparently a termination number isn't necessary. I think I would be far more aggravated by this process if every single person I have dealt with weren't so incredibly pleasant and trying very hard to be helpful.
Erin Molnar, 25, unemployed, Ferndale, Mich.
So we did the process, and the site seemed to work. It was a little irritating because you couldn't easily go back to correct something, and it asked for things multiple times. Oddly it asked me if I had ever been in foster care, but not my husband. Overall it was an OK experience, though. We compared plans and found a silver plan I think with a deductible of $2,500 at a cost if about $450 per month for our family of three. While I don't think that's an unreasonable price, I'm currently unemployed, and we have a lot of student loan debt as well as upcoming child care costs and medical bills from being uninsured throughout my pregnancy, so I just don't see where we'd get $450 a month. We are not eligible for subsidies even while I'm unemployed. So for now we have decided to take the risk of being uninsured in the hopes that with my new job I'll get employer-sponsored health care. Without a subsidy I still just don't think it makes sense to buy it on the private market.
Jim Matthews, 48, small business owner, Hanover, N.H.
The short version: After some website fiddling my wife and I are signed up for a bronze healthcare.gov plan with a much (49 percent) lower premium than we could get in the small group market, and I've confirmed our enrollment with the insurer, but I won't be totally at ease until I see that they've actually charged my credit card for the first month's premium.
The long version: I tried signing up on Oct. 1 and ran into a variety of website errors (e.g., telling me that my password was wrong when it wasn't). I set up three accounts with three different email addresses over the course of a week before I had one that worked well enough to show me my actual plan options and premiums.
The 10 Anthem plans (Anthem is the only New Hampshire insurer on the federally run exchange) had premiums ranging from $772 (bronze, $11,500 joint deductible) to $1,269 (gold, $2,000 joint deductible). At this point in the process I paused, waiting to hear from my insurance broker about what it would cost us to renew our small group policy. In early November we got the answer: $1,579 per month for an Anthem policy with a $6,000 joint deductible.
The exchange policies were clearly much better values—I could get a silver plan with a $5,000 deductible for less than $1,000 per month. The exchange plans have a narrower network, but it includes the local medical center where my wife and I get our medical care, so that isn't a drawback for us.
By mid-November I had picked a plan—a Bronze HSA plan with a $11,000 joint deductible for $808 per month. We aren't expecting big medical expenses next year, so I gambled on a lower-premium, higher-deductible option, and I'll put pretax money into our Health Savings Account to use for out-of-pocket expenses. But when I went back to healthcare.gov to actually enroll, I couldn't login to my account. After a number of attempts and a fruitless conversation with a Live Chat support person (who suggested I apply over the phone or on paper), it occurred to me that I could start over. So I created a fourth healthcare.gov account with a fourth email address and breezed through the application and enrollment process in about half an hour on Nov. 12. The speed and stability of the site were much improved from my experiences in early October.
Then I waited, as instructed, for confirmation from Anthem that I'd enrolled and directions on paying my first month's premium. As time passed and I read about problems with 834 forms I got increasingly nervous, so I called Anthem in early December. They confirmed that I was enrolled and told me that enrollment packets were being mailed out. When nothing had arrived after a week I called back. They repeated what I'd heard previously, and this time sent me a website link and an enrollment number I could use to pay my premium. I did so Dec. 11, but so far my credit card has not actually been charged.
Joe McReynolds, 27, defense contractor, Washington, D.C.
I looked at the D.C. exchange to see if there was anything competitive with the insurance I get from my employer. The D.C. exchange was broken the first week I tried it, but it's been working fine since then. Since I'm not eligible for subsidies, there wasn't anything competitive for me there; for my wife and me, the cheapest bronze plan on the D.C. exchange was more than double what we pay monthly for our (quite good) HMO coverage.
So far, sticking with my current coverage, there's been no change in my premiums—if costs are rising, someone's eating them before they get to me. No lost coverage, doctor changes, or other problems with our current insurance. I have begun to realize just how charmed a life I lead in the health care department by having a private employer making a large contribution.
For someone like me, working his first real job after grad school and having limited experience with the economics of health care, the changes brought on by the Affordable Care Act have mainly served to help me understand just how much health care costs to provide and how hefty that employer contribution ends up being. Seeing how much of my health care is subsidized by my employer, I'm actually pretty impressed now that the D.C. exchange could offer me coverage for only double what I'm paying out of pocket.
As a young and healthy person, philosophically I'd like to be on the exchange in order to broaden their risk pool and make the ACA work (even if it costs more, that's a small price to pay for a health-care system that covers my friends with pre-existing conditions), but if there's some way to direct my employer's subsidy toward purchasing on the exchange, I'm not aware of it.
Rachel Cory, rural health clinic manager, Washington state
In a word, my experience is mixed. Everything has taken longer than anticipated, from the navigator certification process to the general function of Washington state's website, wahealthplanfinder.org. The site continues to experience intermittent problems. I've only walked one person through the application from start to finish. When it worked, it worked beautifully. It made logical sense: As the client answered questions, the site took the information she'd given and led to the next step in the process. It took about 20 minutes. Unfortunately, the site is still plagued with functional glitches and has been unavailable for periods of time.
It must have been incredibly difficult to design this website. There are so many iterations of family sizes and economic statuses, and the site is tasked with processing all of those iterations against a very complex law. It then has to cross-reference this information with other federal sites, then direct the applicant to either a Medicaid application or the health insurance marketplace. I am in awe of the scope of this project. It helps to remember that when I hit a wall with a client.
I have a disclaimer that I give to prospective applicants when they call to schedule a meeting: I tell them that this is a completely new process for the entire country. People expect the navigators to have some magic knowledge that will help them get through the process. The truth is we are all learning as we go. When I present the process in this way, people are pretty understanding and a little less frustrated when we hit glitches.
I've heard mixed reviews from people, anecdotally, when they talk about how their coverage will change. For some, they had no insurance and are thrilled to be able to qualify for full coverage through the state or subsidized private insurance. These are the people who have already scheduled their appointments in January to catch up on the health care they've put off for years. Others have complained that they're being forced to do something they don't want to do. These are the individualists who don't recognize that their choices directly or indirectly affect the industry, and thus other people.
Tasha Huebner, 45, self-employed, Oregon.
Well, the Cover Oregon site isn't yet capable of letting people sign up online. Luckily, I sent in my paper application a few weeks before the deadline—because apparently they have so many they won't be able to process them all before Jan. 1.
I just received my packet of info from Cover Oregon—they processed my application and gave me the information I needed to sign up, and I can now go on the website and pick out my plan and register for it! So at least that part is working. I'll be paying around $300 a month for a plan with a $500 or $750 deductible (depending on which plan I choose) and $1,500 out-of-pocket max. This is compared to the $780 I'm paying now (it went up in October) or the $820 I'd be paying in January. (I just got notified of a rate increase due to "the costs of the ACA.") I'll be covered as of Jan. 1.
So it hasn't been a totally smooth process, but it literally took me about 20 minutes to fill out the Cover Oregon form—compared to the many hours I wasted filling out insurance apps this past summer, only to be denied.
All in all, I'm VERY happy. VERY VERY VERY. Ecstatic and relived.
Emily Terrell, 40, part-time appraiser, Sumner, Wash.
I ended up with a very different outcome than I expected. Yes, the plan I will get is still more expensive with a higher deductible. Also, my insurance company (same as before) seems to have dropped my medical practice. That's a bummer, but it might have happened anyway if I got a new job.
I told my present employer that because of the new insurance, I'd have to look for another job. I work part time (20 to 30 hours per week) for this employer, and I said I'd find a new part-time job to supplement my income. Failing that, I'd go back to one of the public sector full-time jobs I left behind several years ago. (I was a community development director at a local city; now I'm a real-estate appraiser and consultant.) My employer thought about it for a week or so and came back with an offer. Even though our company is only three of us, they'd find a way to offer benefits so I could stay.
We worked together but couldn't find an affordable group plan. My employer looked up options for Health Savings Accounts while I spent hours of frustration trying to find an HSA-compatible plan. After many attempts I almost bought insurance from the health exchange. I hesitated because the state wanted me to purchase dental insurance for my son. I already have dental for my son and didn't want to change up a plan that's working. I finally managed to get a call into my present insurer (they'd had real technical difficulties with the extra traffic they've been receiving). I found an HSA-compatible plan. My employer said if I paid for dental, he'd pay for health.
Though I'd still be better off financially getting a full-time job in my field, because my employer values me and is willing to provide benefits (effectively a $6,000 per year raise), I can stay working from home and doing all the things that make my life great.
In the end, I'd have to say this is a success story, but like the Karate Kid, I got beat up along the way.
Stephen Marsh, 39, freelancer, Carmel, Ind.
Sadly, I've been trapped in a Kafkaesque nightmare since Nov. 4. If you hadn't contacted me, my plan had been to contact YOU, because I'm really out of options that don't involve "alert the press" and "contact my senator/the president."
I'll try to keep this brief, but I know I'll fail.
Healthcare.gov said I successfully registered on Nov. 9, quoting me a VERY acceptable rate (after subsidies) and putting me in initial enrollment. Unfortunately, that information has been unable to populate to my chosen provider. To summarize the hellish bureaucratic loop I've been trapped in:
I call my chosen provider. They say they don't have my data and I need to call healthcare.gov.
I call healthcare.gov. They say the system shows my application in initial enrollment; from their point of view, they're done. I tell them my provider says they don't have the data. They say they'll escalate to an advanced resolution center (ARC) representative, and I'll hear back within two to five business days. If I don't hear back (they say), I'm invited to call back.
If I call back on Day 5, they won't do anything (because it's not the end of the fifth business day).
If I call back on Day 6, their system shows that I'm at initial enrollment; from their point of view, they're done. They tell me I should call my chosen provider.
Repeat.
I have made 12 phone calls since Nov. 9, all in excess of 20 minutes each.
There seems to be literally nothing I can do, because each of the two sides believes they're done. There's no "escalation" possible; the only mechanism I have is the ARC, which either won't return my calls or tells me that there's nothing they can do.
As of Dec. 6, my chosen health care provider had a novel idea: Try to cancel the policy entirely and reapply. Unfortunately, there's no mechanism to do so online; calling into healthcare.gov, they said they would escalate to an ARC (again).
Logging onto the website now, I see—amazingly yet surprisingly—that there are TWO canceled applications online for me on healthcare.gov, and one application that is currently in initial enrollment (again). I called my health care provider and—for the first time—they seem to have SOME of my data … but not enough to get me coverage. They suggested I call healthcare.gov again. However, I know I can't do so again until Dec. 16 (because if I call earlier they'll just tell me to call back since I'm still within the five-day window).
Dec. 16 is really my last chance, because if things escalate again to an ARC—which they almost certainly will—then the end of the next five-day window will be Dec. 24 (the day after the last day to enroll). After fruitlessly calling healthcare.gov on Dec. 16, my plan was to contact my Democratic senator (Joe Donnelly), President Obama, and the press.
I remain in support of the ACA. If I were actually able to get the policy I claim to be able to, it would be a HUGE win for our family: lower costs, much better premiums, much better coverage, etc. However, I've been trapped for more than a month between two sides of a bureaucracy, each side shrugging and saying, "Not our problem."
That's the short form; the longer version isn't as enjoyable as I've made it out.
UPDATE: I called my chosen provider, and they indicated (again) that my information wasn't complete. They directed me (again) to healthcare.gov.
The first person at healthcare.gov I spoke with tried to tell me that it wasn't their problem (again), but after I started screaming with the mouthpiece covered, crying, and getting hysterical—not my finest moment—I was put on hold and transferred immediately to an ARC representative. The very nice woman I spoke with indicated that, judging by my application ID number, I must have started my application late October (I did), and that most of those applications were broken. She offered to start a new application—an option that wasn't available when I specifically asked several weeks ago—and we started the application process anew via phone. We completed the application (72 minutes on the phone total), and now I'm waiting for my initial two to three days to hear from my insurer. I'm cautiously optimistic this will work—it feels like progress—but I'm nervous because my new application isn't showing up on the website. (She said to wait 24 hours for the database to refresh.)
---