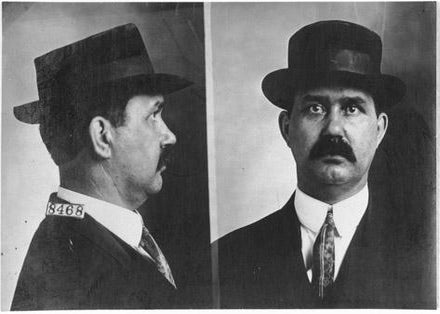 For my last Crime post of 2013, I thought I'd highlight some of my favorite Crime posts of 2013. These aren't necessarily the best stories I wrote this year—and they certainly aren't the most popular—but, for whatever reason, I liked all of these an awful lot.
"Sympathy for the Mass Murderer: Harry Chapin's Bizarre Tribute Song about University of Texas Shooter Charles Whitman." When I started writing the Crime blog, I had all sorts of big ideas for recurring features. (I was younger then, and much more innocent.) One of these features was going to be called "Murder Ballads," and, in it, I would analyze and review various crime-themed songs throughout history. I loved this idea, but audiences didn't, and so this piece about Harry Chapin's weird song "Sniper"—based on the exploits of mass murderer Charles Whitman—was the only one I ever wrote. Maybe I'll pick this series up again sometime next year.
"Man Accused of Horrible Crime Takes Consistently Jolly Photographs." This piece—about a very pleasant-looking young man accused of killing his grandparents—was sort of stupid, and not particularly meaningful or memorable, but it's still notable because of the headline, which is one of my all-time favorites.
"I Can't Believe It's Not Legal!: A Brief History of the Bootleg Margarine Trade." Early on in my Crime blog tenure, we had a Slate-wide meeting where staffers generously offered their thoughts on some stories I should do. As you might expect, I reacted to most of their suggestions with violence and profanity, but there were a few that didn't send me into a blind rage. I can't remember who suggested I write about the heyday of the bootleg margarine business, but I am forever indebted to that person, because the suggestion led to this funny and interesting piece.
"These Are the People Whose Houses Are Being Searched in Watertown." April 19, 2013—the day of the Dzhokhar Tsarnaev manhunt—was the busiest and most exciting news day of the year. As Slate's man in Boston, I was on the ground as the manhunt escalated, dodging cops, pursuing leads, and getting very little sleep. In the middle of all the tension and hysteria of that day, I was pleased to find a funny French guy to offer some humorous comments on the manhunt.
"How I Lost $1,350 by Falling for the Same Internet Scam Twice in One Week." My friends and family have long known that I am a greedy and gullible person. Now, thanks to this story about the dumbest few days of my life, the entire world knows it, too!
"The 'Career Girls Murders' Might Be the Most Important Criminal Case That Most People Don't Know About." The 50th anniversary of the March on Washington also happened to be the 50th anniversary of the Career Girls Murders, a nearly forgotten New York homicide case that had its own profound impact on civil rights in this country. If you want to know more about the Career Girls Murders, you should read T.J. English's great book The Savage City.
"How 'Zero Tolerance' Policing Helped Bad Cops in Florida Create a Civil Rights Nightmare." I tried my best to keep things light and insubstantial on the Crime blog this year, but every now and then I was forced to get serious. I remember gritting my teeth as I wrote this piece, because the alleged police misconduct detailed therein made me so angry.
"Hold Parents Accountable." I've been writing about unintentional child shooting deaths since May, and this long essay from December—about child access prevention laws, and why they're the best legislative option for reducing the number of child shooting deaths—was the culmination of all my reporting.
And, with this post, the Crime blog is going on hiatus for a while. As of Jan. 1, I'll be taking an extended leave of absence from Slate to expand my February profile of Aaron Swartz into a book that will look more broadly at copyright activism and the rise of "free culture" over the last few decades. If you want to know more about the project, or if you want to keep track of my progress, email me. If enough people are interested, I'll send out regular updates about the reporting and writing process.
I'll be dropping by Slate now and then if big crime news breaks, and I'll be covering the Winter Olympics in February—expect plenty of stories about my favorite Olympian, Prince Hubertus of Hohenlohe-Langenburg—but otherwise, I'm going dark until autumn. I should be back at Slate sometime this October. Talk to you then. Thanks for sticking with me all year.
---