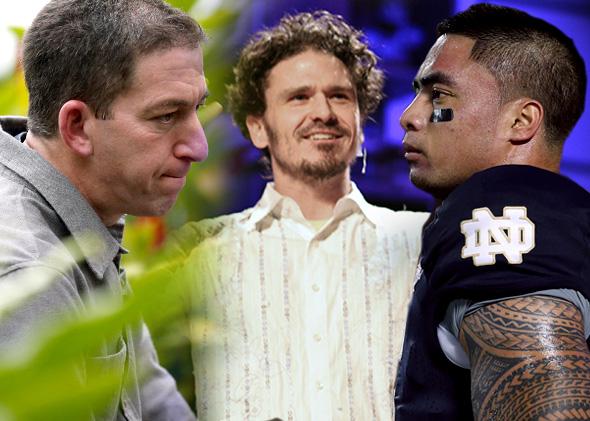 Journalists spent the requisite amount of time this year bemoaning the state of the profession—BuzzFeed this, Upworthy that—but secretly most of us recognize 2013 has been spectacular. This year, all those experiments in immersive multimedia reporting finally bore fruit with stories like the New York Times' "A Game of Shark and Minnow." You couldn't turn around on the Internet without smacking into some rich, long narrative. The business of journalism sprouted new branches—Kickstarter-funded (see: Planet Money's T-shirt) and Bezos-funded being two fun ones. And this was the year of Edward Snowden. His leaks inspired the most important, infuriating, and ambitious investigative reporting in a generation.

So it was easy for me and my Slate colleagues to name dozens and dozens of fantastic stories that we wish we'd published. It was harder to narrow the list down to 11 picks—our favorite 2013 stories that didn't run in Slate.
1. "The NSA Files"
By Glenn Greenwald in the Guardian
No matter what you think of Edward Snowden, there's no denying the NSA leaks were the most important story of the year. Greenwald, ferocious and brave, will be the brand name for investigative journalism in this generation the way Woodward and Bernstein used to be.
2. "Taken"
By Sarah Stillman in The New Yorker
How cops exploit horrid civil forfeiture laws to seize the homes, cars, and cash of basically innocent people. It's banditry, with a badge. Stillman's accounts of how particular people were victimized—the elderly couple who lost their house (their house!) because a grandson sold $20 of pot from their porch—will make you seethe.
3. "A Game of Shark and Minnow"
By Jeff Himmelman, photos and video by Ashley Gilbertson, in the New York Times
The standoff between the Philippines and China over some scrubby, uninhabited islands is the subject. Usually these interactive-crammed, video-drenched projects don't justify the effort. Shark and Minnow does: The story is important, the setting is vivid. It's how multimedia storytelling should be done.
4. "Manti Te'o's Dead Girlfriend, The Most Heartbreaking And Inspirational Story Of The College Football Season, Is A Hoax"
By Timothy Burke and Jack Dickey in Deadspin
Notre Dame's star linebacker met a girl online and fell in love. Then she was in a car crash. Then she got leukemia. Then she died. Then Deadspin discovered she didn't exist.
5. "On Smarm"
By Tom Scocca in Gawker
Scocca coined a term to describe the insinuating, sanctimonious ethos that has taken over so much of the culture. Scocca's manifesto in defense of naysayers, skeptics, and doubters will endure. Smarm-spotting is already everywhere, and the piece only came out this month.
6. "Murder by Craigslist"
By Hanna Rosin in the Atlantic
The author is my wife and the mother of my children, so mock away. But this story of a serial killer in Ohio who targeted down-on-their-luck white men has depth and importance many true-crime yarns lack. Hanna uses the Beasley murders to show the plight of working-class men, made vulnerable and alone by a collapsing economy.
7. "The Case Against High-School Sports"
By Amanda Ripley in the Atlantic
American kids spend obscenely more time playing sports than kids elsewhere, and schools devote a ridiculous amount of their energy to teams, pep rallies, and sports facilities. What suffers? Education.
8. "The Child Exchange: Inside America's Underground Market for Adopted Children"
By Megan Twohey in Reuters
Adoptive parents secretly—and illegally—give away their troubled children to other people, all via shady Internet marketplaces. All of Twohey's reporting is shocking: the pedophiles who prey on rehomed kids, the miserable lives of children abandoned and abandoned again. 
9. Wonkblog's coverage of the government shutdown, and the Affordable Care Act launch, and just about everything else
By Ezra Klein and others in the Washington Post
Ezra Klein's Wonkblog provided the only relief from the nihilism and incompetence that fogged Washington this year. Wonkblog's analysis of the shutdown and Obamacare was always rigorous, usually prescient, and sometimes even funny.
And finally the two things that brought me the most delight in 2013:
10. "For 40 Years, This Russian Family Was Cut Off From All Human Contact, Unaware of WWII"
By Mike Dash in Smithsonian
The Lykov family flees Stalin's thugs in the 1930s, and vanishes into the Siberian wilderness. They survived in one of the harshest environments on Earth, living more than 100 miles from any other humans, for the next 40 years. This story is beyond strange, and heartbreaking.

11. "Wild Ones Live"
By Jon Mooallem and Black Prairie on 99% Invisible
This is a podcast, not an article. In fact, it's a live podcast, not an article. So what! The writer Jon Mooallem performs a story about the decline of the American buffalo, and a naturalist who witnessed it. The bluegrass band Black Prairie accompanies him, sometimes with background music, sometimes with complete songs. Journalism can be different and better than it is, and Wild Ones Live is the proof. (For more on Mooallem's collaboration with Black Prairie, and to listen to more songs, click here.)
But what about the best stories from Slate in 2013, you ask? Read our 11 favorites here.
---