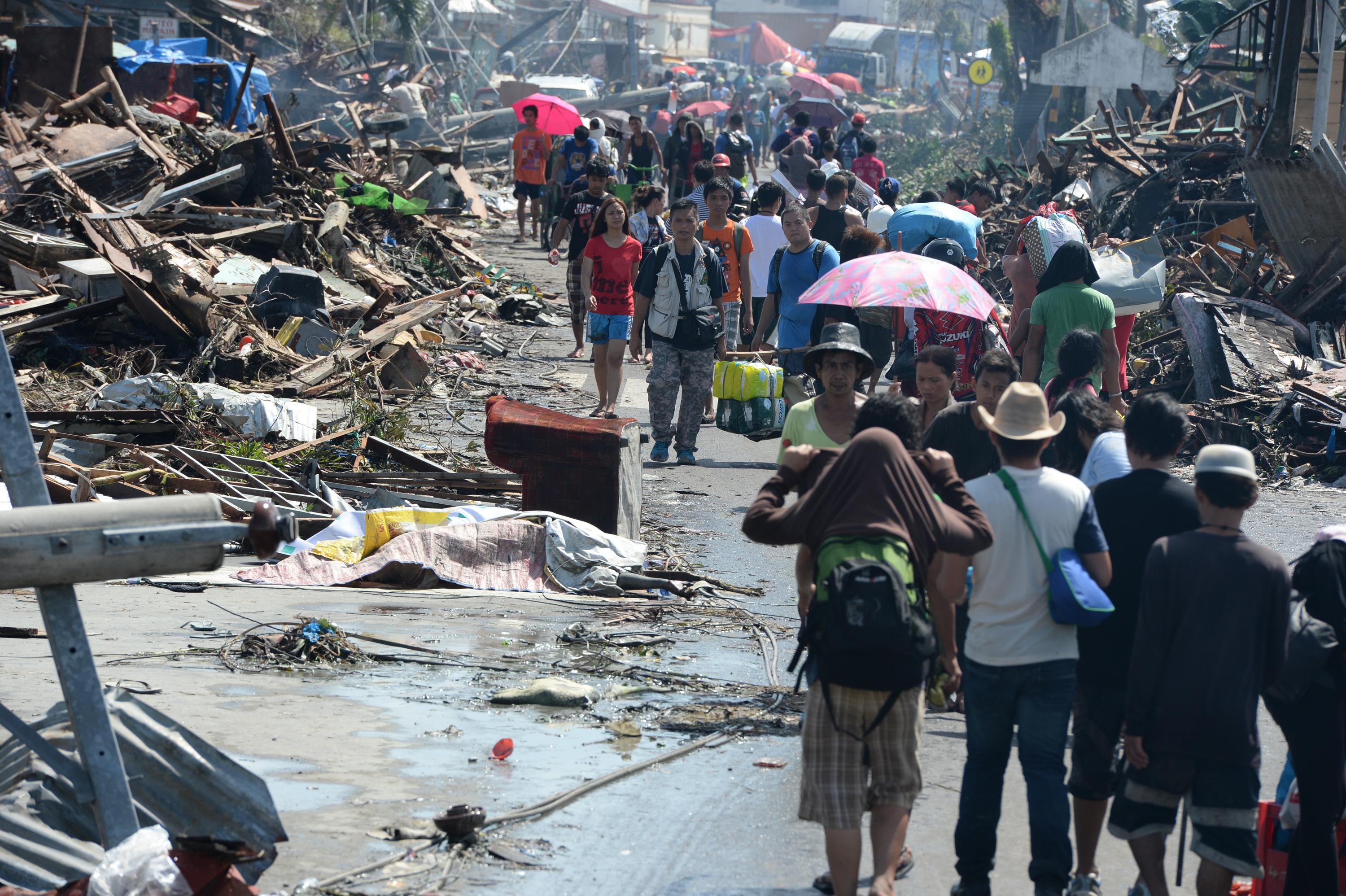 It has gone from disaster to catastrophe. One of the most powerful typhoons ever recorded has appeared to kill thousands, if not tens of thousands, and wreaked far worse damage in the Philippines than initially expected. As many as 10,000 people are thought to have been killed by super Typhoon Haiyan in one city alone, according to a senior police official. But that number will almost certainly continue increasing considering there are some areas that rescue workers haven't been able to even reach yet. In Tacloban, in Leyte Island, which so far appears to be the worst-hit city, witnesses describe complete chaos as survivors try to locate loved ones as they struggle to find food and water amid the devastation.
The Associated Press describes a harrowing situation: "Corpses hung from tree branches and were scattered along sidewalks and among flattened buildings, while looters raided grocery stores and gas stations in search of food, fuel and water." A witness tells Reuters that "people are walking like zombies looking for food." The national police and military sent reinforcements to Tacloban on Sunday to prevent the looting that has become commonplace as people broke into grocery stores and cash machines.
The typhoon appears to have destroyed almost all the structures that were in its path as it struck Leyte province Friday. But most of the deaths were not caused by the wind but rather by "a mammoth storm surge that reached up to 16 feet high," notes CNN, with witnesses saying it resembled a tsunami.
"All systems, all vestiges of modern living—communications, power, water—all are down," Interior Secretary Mar Roxas said after visiting Tacloban. "There is no way to communicate with the people."
US forces are being dispatched to the Philippines, reports NBC News. "At the request of the government of Philippines, Secretary Hagel has directed U.S. Pacific Command to support U.S. government humanitarian relief operations in the Philippines in the wake of Typhoon Haiyan," the Department of Defense said in a statement. It seems the Philippines will need lots of help in the coming days, weeks and months to recover from what appears to be its deadliest natural disaster on record.
President Benigno S. Aquino III declared a "state of calamity" to release emergency funds for disaster relief. But the state's "coffers have already been depleted this year by a series of other natural disasters, most notably an earthquake with a magnitude of 7.2 that also struck the middle of the country four weeks ago," notes the New York Times.
---